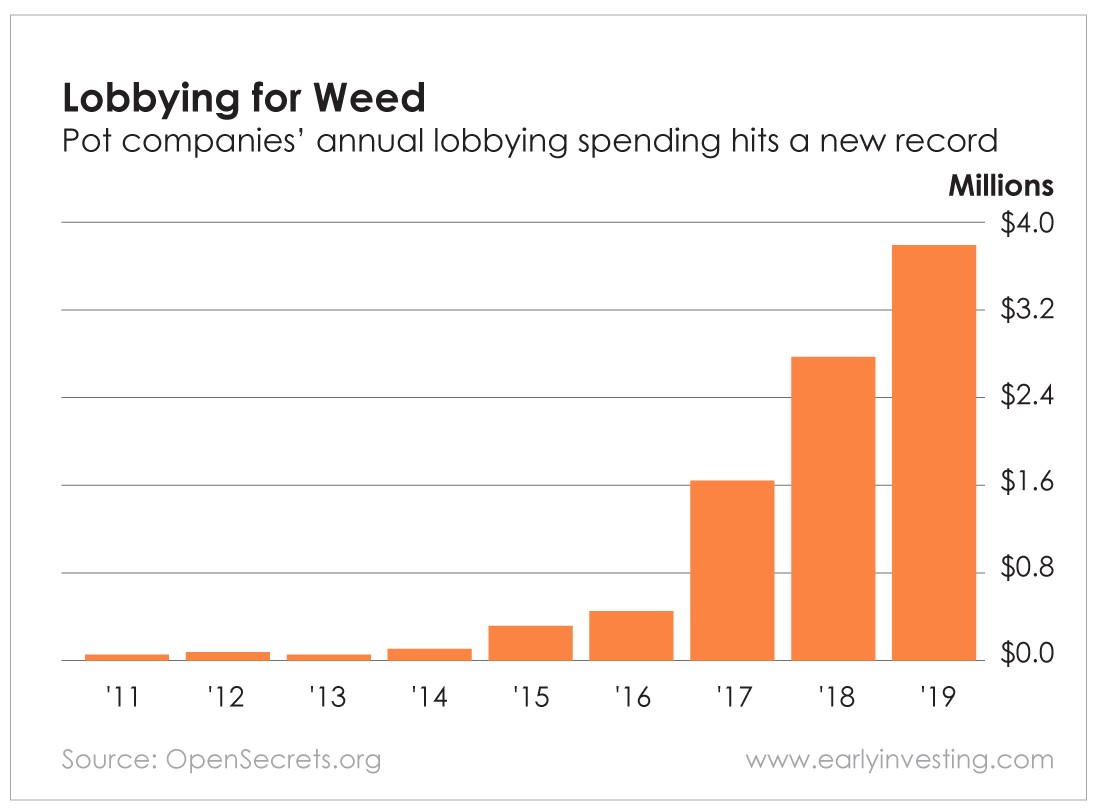 The cannabis industry is lobbying Washington officials more than ever. Marijuana companies have spent a record $3.77 million on lobbying in Washington so far this year. That's almost 40% higher than last year and 133% higher than 2017.
So what's going on here? Here's the big picture. Cannabis is a brand-new, rapidly growing industry. And cannabis companies are trying to set themselves up to conquer the market. But because cannabis is still illegal at the federal level, those companies are grappling with conflicting state and federal laws, the lack of interstate commerce, little access to banking, and monumental amounts of red tape. So they're pushing the government to make changes so that the industry can grow unhindered.
On a micro level, this spike in spending is coming from companies fighting for the SAFE (Secure and Fair Enforcement) Banking Act. The bill would protect banks and other financial institutions that do business with the cannabis industry.
As it stands now, financial institutions that serve cannabis companies face legal problems because the federal government still hasn't legalized marijuana. Lobbyists argue that this is a huge problem, because it forces cannabis businesses to operate without any banking services. Without banking services, those businesses are conducting sales largely in cash. That makes them a target for theft and other crimes. And it makes it difficult to raise the capital needed to expand and grow.
Though the SAFE Banking Act passed in the House, it has an uncertain future in the Senate. Senate Majority Leader Mitch McConnell is very protective of Kentucky's burgeoning hemp market. And since cannabis is a threat to that market, he's unlikely to allow the bill to get through.
Cannabis is also a threat to the pharmaceutical industry. And no one spends more on lobbying than pharma companies. The global pharmaceutical market was worth around $1.2 trillion in 2018. And pharma companies have spent $4.3 billion on lobbying since 1998 – more than any other industry during that time frame.
Cannabis will eventually catch up. The cannabis industry is currently worth $10.4 billion, according to New Frontier Data. Some estimate it could grow to $66 billion by 2025. And as the industry grows, so does its lobbying power.