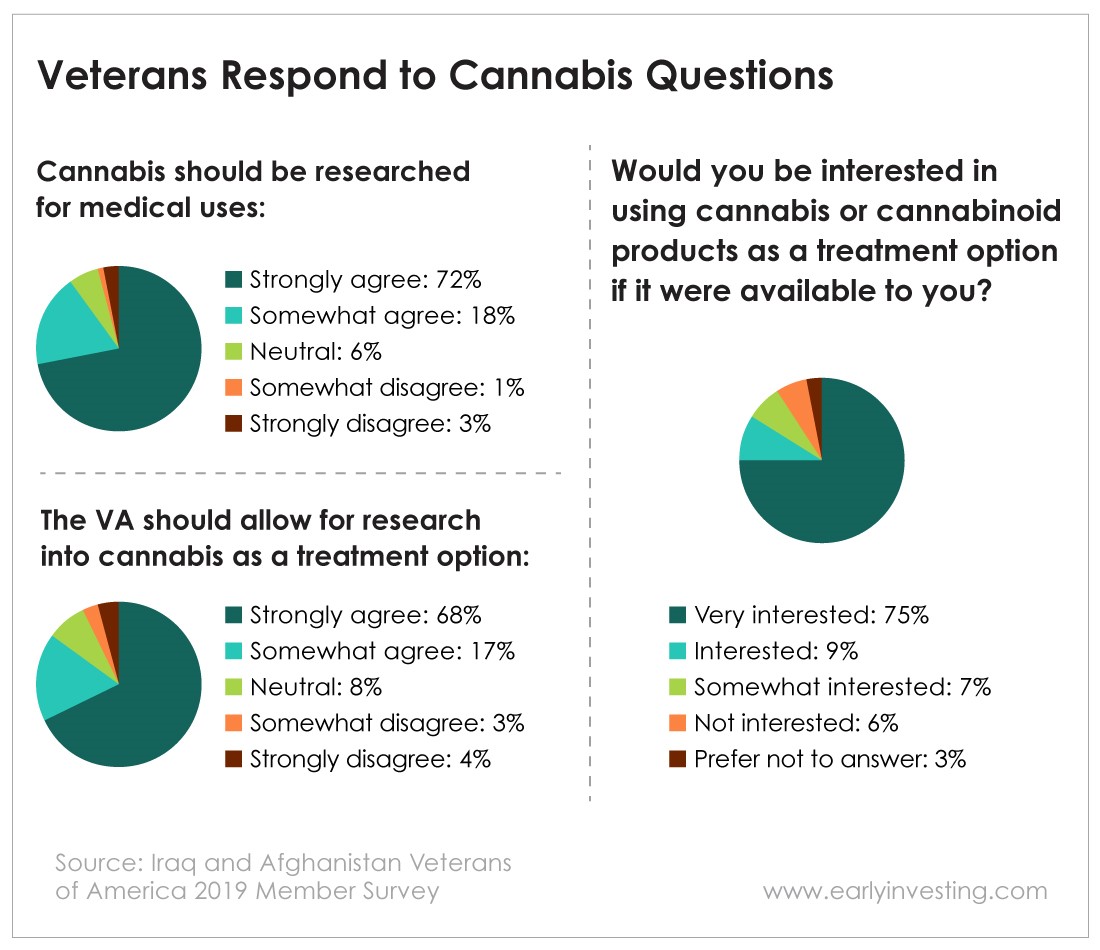 We've been writing about cannabis a lot lately here at Early Investing. And not just because we feel strongly that it's going to be an insanely profitable industry for investors. (Though it definitely will.)
It's also because we believe it has the power to improve – and save – millions of lives.
We have some personal experience with the trauma that prescription painkillers can bring. We've also heard stories from people with serious health problems who have suffered from opioid use but benefited immensely from medical marijuana. And we feel strongly that cannabis is a safer and more effective alternative to these drugs.
And we're not the only ones advocating for medical marijuana. There's another group of people who have all too much experience with health problems and psychological trauma: veterans.
The data in today's chart comes from the Iraq and Afghanistan Veterans of America (IAVA) 2019 Member Survey. IAVA is a nonprofit that advocates for America's veterans. The organization says its annual survey is the most comprehensive look at views of the post-9/11 veteran generation. And survey responses show overwhelming support for medical marijuana.
A full 72% of respondents strongly agree that cannabis should be researched for medical uses. And 68% strongly agree that the Department of Veterans Affairs (VA) should allow for research into cannabis as a treatment option. And while only 20% said they had ever used cannabis or CBD for medical purposes, a staggering 75% said they would be very interested in trying cannabis treatment if it were available to them.
The report outlines how veterans have become a strong voice for cannabis:
Veterans consistently and passionately have communicated that cannabis offers effective help in tackling some of the most pressing injuries they face when returning from war. Our nation is rapidly moving toward legalizing cannabis, and 33 states now permit medical cannabis. Across party lines, medical cannabis is largely unopposed. Yet our national policies are outdated, research is lacking and stigma persists.
They're absolutely right. The government still classifies cannabis as a Schedule I drug, which makes it very difficult to research. And since marijuana is still illegal at the federal level, VA doctors can't recommend it for treatment.
This makes for a very confusing marijuana policy. Here's the VA's current policy (emphasis mine):
The U.S. Department of Veterans Affairs is required to follow all federal laws including those regarding marijuana. As long as the Food and Drug Administration classifies marijuana as Schedule I, VA health care providers may not recommend it or assist Veterans to obtain it.

Veteran participation in state marijuana programs does not affect eligibility for VA care and services. VA providers can and do discuss marijuana use with Veterans as part of comprehensive care planning, and adjust treatment plans as necessary.
So veterans are allowed to discuss marijuana use with their VA doctors, but VA doctors can't recommend it as a treatment option or even help veterans get it. VA healthcare officials are also prohibited from completing paperwork that's required to allow veterans to participate in state-approved marijuana programs.
That's a problem. And veterans want that to change. The Senate just recently started discussing the possibility of opening up marijuana research, which is a promising sign. But we're not there yet.
The Veterans Health Administration, the healthcare branch of the VA, serves more than 9 million veterans across the country. Imagine if just a small percentage of those patients had access to a safe and effective cannabis treatment.
What a difference that would make.