Pre-IPO and startup investments are finally starting to attract the attention they deserve. Last week, CNBC published an article titled "Investors, 'starved for returns,' flood private markets in search of high-growth opportunities."
Here's an excerpt:
Many global investors are turning toward Silicon Valley instead of Wall Street in search of returns.

The total invested in private markets hit all-time highs last year and continues to break multi-decade records this year. In the first half of the year, total investments in venture capital hit a 19-year high of $53.3 billion, according to data from Refinitiv published last week. That marked a 21% increase by total dollar amount compared to the first half of 2018.
There's good reason money is flooding into private deals. The returns continue to crush public markets. The data below shows 2018 investment returns from the venture capital industry. It's put out by a firm called Cambridge Associates, which tracks thousands of venture capital firms' investment returns.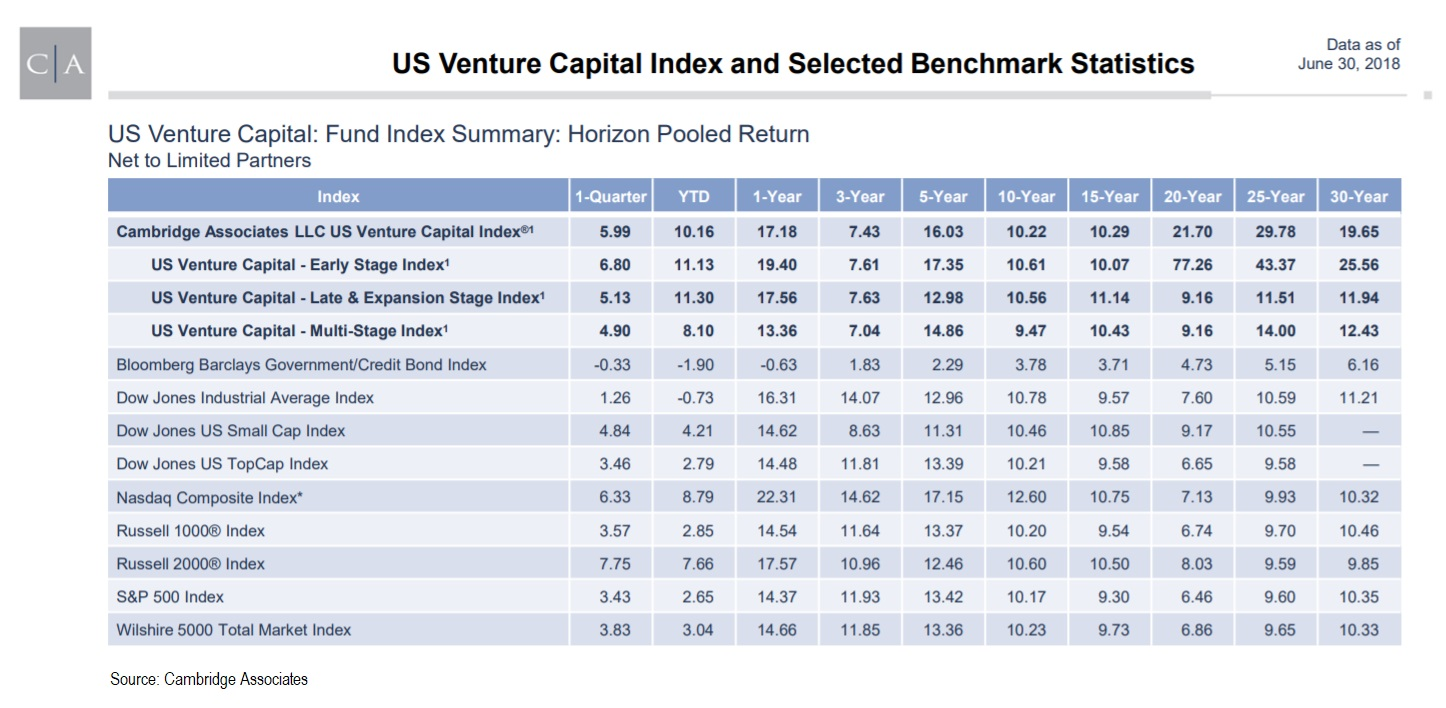 As you can see, the Early Stage Index has performed amazingly well over the long run. Over the last 20 years, it has returned an average of 77% per year. Over the last 25 years, it grew 43% annually. And over the last 30 years, 25%. Returns are volatile and bounce around quite a bit, but the possibilities are simply incredible in this market.
The Late Stage Index has also done very well, averaging about 12% per year (fees and expenses are accounted for). I strongly suspect this index's return is skewed lower by mega-deals like Uber, Palantir and WeWork, which are all well past their prime growth period. These companies are all mature and should have IPO'd long ago. Their returns are more in line with public markets. And it shows in the index data.
If you tilt your "late stage" investing toward the earlier end of that spectrum, I believe 12% is at the very low end of what's possible. In other words, I would recommend investing in companies that are still growing very fast and are worth only $1 billion to $4 billion, rather than huge private companies like Uber when it's worth $55 billion or WeWork at $45 billion.
There are plenty of great, fast-growing late-stage companies to invest in out there. According to data firm PitchBook, 70 startup companies have already become unicorns (worth $1 billion-plus) so far in 2019. Almost all of those are considered late stage, but most are growing much faster than the more mature private companies worth $20 billion to $60 billion.
Jason's Syndicate
Today, we're going to explore a unique early-stage investment platform called Jason's Syndicate. I discussed this site briefly in the "Angel Investing Bible," but we're going to go more in depth here.
First, let's define syndicate. A syndicate is a private investment group. AngelList was the first site to bring startup investing syndicates online.
Jason's Syndicate is run by Jason Calacanis, a well-respected angel investor. Jason was one of the first syndicates on AngelList, but has since parted ways with the platform.
Jason is one of the best angel investors on the planet. He has seven unicorn investments, including the first round of Uber, Thumbtack, Calm, Chartbeat and Whisper. Calm is one of his recent big winners. It's a wildly successful meditation app that his syndicate backed from the very beginning. Calm recently raised $88 million from venture capitalists at a valuation of $1 billion. I know a few people who invested in that first round through the syndicate, and let's just say they're extremely happy.
Jason runs a very professional operation. I found out his team is top notch when I met them at his Launch Angel Summit this summer. They do smart and thorough due diligence on all startups they invest in. And they have a very competent team working on deals. They communicate very well with syndicate members and make companies they invest in agree to provide regular (monthly) updates.
Jason's Syndicate is on track to offer more than 30 high-quality deals this year.
Compared with many syndicates out there, this one is a gem. So even though you have to register on another site (since it's not on AngelList anymore), I think it's well worth it. This is a professional operation with a great track record, an entire team doing research and diligence, and access to some of the best deals in Silicon Valley.
You will need to apply to Jason's Syndicate in order to get accepted. Simply go to the site and click on "Investors apply here to join." My advice is simple: be honest and thorough. Offer to help. Explain what your areas of expertise are. They may not take you up on the offer, but if they do, make sure you follow through. As long as you're an accredited investor and you take time to fill out the forms thoughtfully, I don't think you'll have a problem getting in.
When there are profitable exits, investors will pay 20% carried interest (percentage of profits) to Jason's Syndicate. The fund's setup fees are split between all investors and are reasonable.
Minimum investments in Jason's Syndicate are typically $3,000 to $10,000. If you're new, they may let you invest less than the minimum if you ask nicely and if the deal has room.
If you're interested in learning more about Jason Calacanis and his investment style, I recommend reading his book, Angel: How to Invest in Technology Startups – Timeless Advice from an Angel Investor Who Turned $100,000 into $100,000,000. It's a quick and excellent read.
Good investing,
Adam