Elon Musk finalized his deal to buy Twitter this week for $44 billion. If you've been following me on Twitter (@vinistic), you know that I've been obsessed with Musk's efforts to buy Twitter and take it private.
Now that the sale is closed, we can focus on Twitter's future as a social media platform. 
Musk clearly has some sort of plan here. The idea that Musk bought Twitter just because he could or because he was bored is an insult to thinking people everywhere. Sure, Musk is the world's richest man with an estimated net worth of $271.3 billion. And Twitter's asking price of $44 billion represents about 16% of his wealth. So he could definitely afford to buy Twitter.
But there's no shortage of things Musk can buy or do. If he wanted to live in the Cambrian Hotel and spend all of his time in the infinity pool looking at the Swiss Alps, he could do that. He didn't have to spend $44 billion on Twitter.
And Musk is not bored. He's the CEO of both Tesla and SpaceX. He's the founder of The Boring Company. He really doesn't need the extra work.
The explanation people seem to like the most is this is a free speech play. Musk is a free speech absolutist. And by taking Twitter private, Musk can "liberate" the platform and allow all people to speak with significantly less moderation. What that means for people that use social media to harass, abuse or harm others is unknown.
I believe there's some truth to this line of thinking. Musk is certainly vocal about his free speech beliefs. And taking Twitter private certainly gives the company a little more latitude to chart a fresh course. But (there's always a but) Musk can't just do whatever he wants when Twitter goes private. 
The EU just passed new rules regarding content moderation and taking down content that contains hate speech, incites terrorism or promotes child sexual abuse. The regulations will be far stricter than anything that exists in the U.S. And failure to comply leads to annual fines of up to 6% of annual revenue. This put Musk and EU regulators on a collision course. And I'm not sure Musk wants to pay up to $300 million a year in fines to build a platform that adheres to his version of free speech. 
I'm not convinced at all that Musk bought Twitter as part of a free speech crusade. Musk is a smart man. Yet he chose to buy Twitter and the headaches that come with it. Why?
A friend of mine believes Musk is doing this to help Twitter co-founder and former CEO Jack Dorsey. The two are friends. And they share a similar vision for Twitter. In fact, Dorsey endorsed Musk's takeover of Twitter.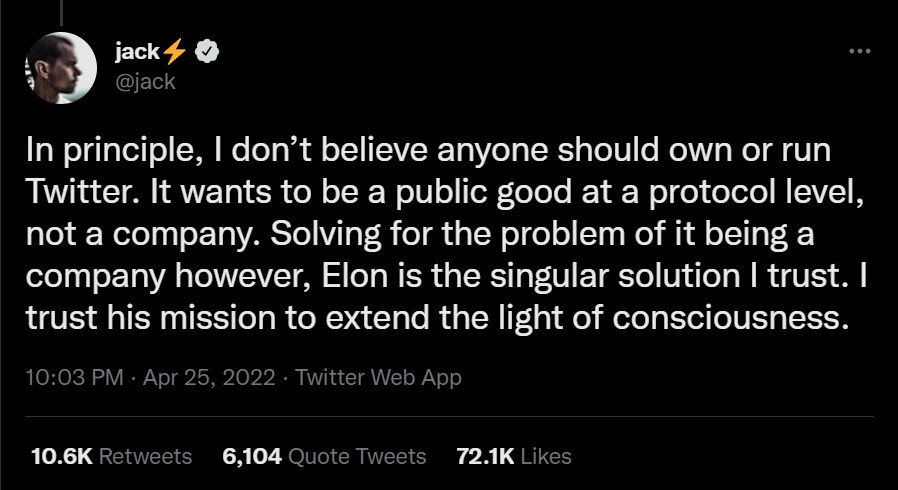 Dorsey is also no fan of Twitter's board. The board either forced Dorsey out or made life so miserable that Dorsey quit last year. And as the Musk takeover saga unfolded, Dorsey made sure everyone knew Twitter's board was problematic.
By acquiring Twitter and (eventually) taking it private, Musk has wrested control of the company away from the board. And he's cleared the path for Dorsey to return.
Will Musk and Dorsey actually do this? I have no idea. All of this is speculation. But this line of thinking seems much closer to the truth than "Elon Musk, free speech crusader."
Both Musk and Dorsey believe Twitter's future is as a private company – or maybe even a utility. Musk buying Twitter is the first step in trying to make that vision a reality.
The second step is anyone's guess. But this tweet I saw yesterday matches my thoughts on the subject nicely.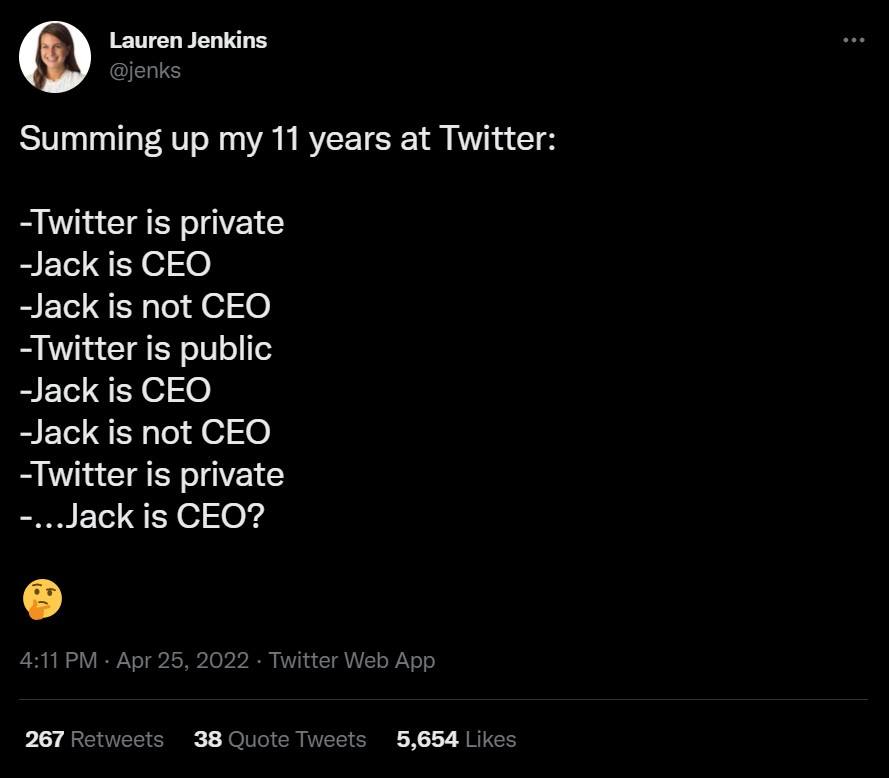 If you have any thoughts on the future of Twitter, feel free to hit me up on Twitter (@vinistic).