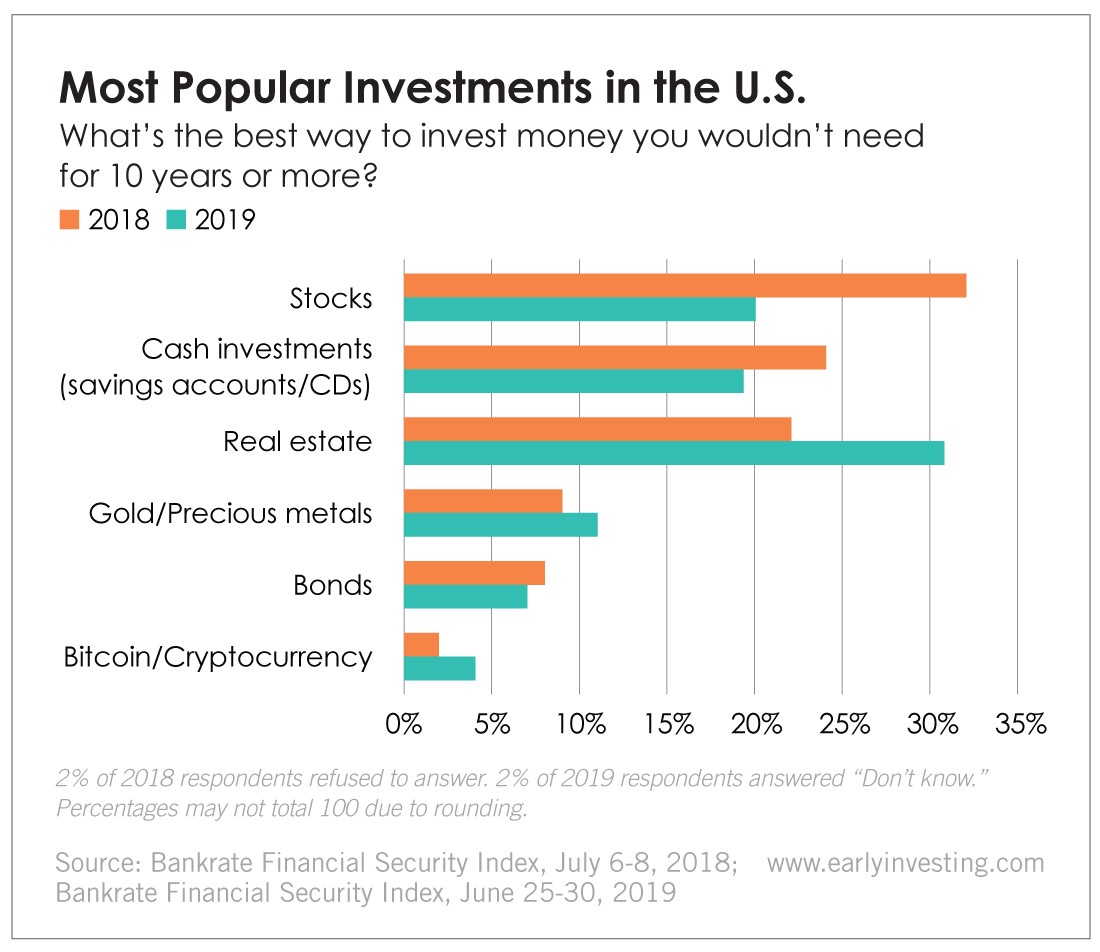 Stocks were the most popular investment in America last year. But this year, real estate is winning out. And cryptocurrency is growing in popularity as well.
According to a July 2019 nationwide survey from Bankrate, real estate is the most popular long-term investment across all age groups. Thirty-one percent of respondents selected real estate, up from 22% in 2018. Stocks dropped in popularity by nearly 40%.
And investing in bitcoin and other cryptocurrencies has doubled in popularity since last year – from 2% to 4%. The increased popularity of real estate and crypto investments is being driven by young investors.
In the 2019 survey, millennials scored highest among all age groups – 36% – in their preference for real estate investments. And millennials picked cryptocurrencies as their top long-term investment about 9% of the time. That's triple the rate of Generation X and far higher than any of the other age groups.
Millennials are turning to crypto because they've grown up with the internet. They're comfortable with digital assets. And crypto appeals to a group of people who don't trust banks.
They're also turning to crypto, in part, because they've demonstrated a strong preference for technology investments. They're interested in technological innovations that will change the world. Crypto certainly fits the bill.
Millennials are also suffocating under the weight of student loan debt, which is made worse by banks and student loan companies that are more interested in profiting from the debt than helping students pay it off. And student loan debt is often the biggest obstacle to millennial homeownership. So despite their aspirational interest in real estate, many millennials can't afford to buy a home.
As more millennials begin investing, the trend toward real estate (an asset they want to own that often seems inaccessible) and cryptocurrency (an easily accessible asset that could grow in value) is likely to continue.
Good investing,
Allison Brickell
Assistant Managing Editor, Early Investing