Editor's Note: At Early Investing, we research startups that are raising money on all sorts of crowdfunding platforms. Some of the most common platforms include Wefunder, Republic, StartEngine, Netcapital and SeedInvest.
But with so many platforms out there, it can be overwhelming for a founder to know which platform is best for their startup. And it can be just as difficult for an investor to figure out which crowdfunding platforms they should monitor to find good deals. 
Luckily, our friends at KingsCrowd dug up some data on crowdfunding deals across various platforms. And their findings may give investors a place to start. Check out their article "Which Platforms Have the Most Successful Deals?" on the KingsCrowd website here.
---
As the online private equity market rapidly grows, it becomes increasingly difficult for investors to keep up with the vast amount of deals across various platforms. Each platform has its own system for selecting companies. And with more than 20 unique platforms hosting active crowdfunding deals, it can be overwhelming for new investors to find and track exciting startups. Determining which platforms to focus on is crucial when starting out.
In this Chart of the Week, we set out to determine which platforms have hosted the most successful deals — meaning crowdfunding raises that were successfully funded. This data is representative of all 1,780 Regulation Crowdfunding deals that have closed from the beginning of 2018 to July 2021. To keep things simple, we chose to show the top 10 platforms that have the most closed deals — but we track more than 20 platforms in total.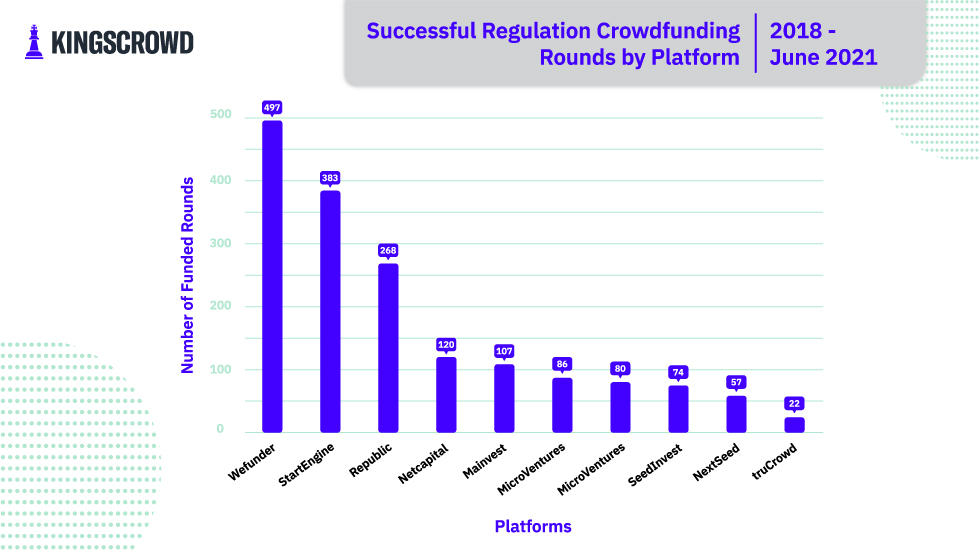 To read the full analysis on this chart, check out the article on KingsCrowd here.