I'm fascinated by antiques. There's something magical about objects with years of history behind them. They have stories. Anytime I visit an antique shop, I'm surrounded by stories waiting to be discovered. 
It can be a fun, sad, and spooky experience all at once. It's fun to go treasure hunting for pieces that speak to me. It's sad to think that they've probably been unused or shoved into storage for a long time. And it's a little spooky not knowing who these objects might have belonged to. Who were they? What were their lives like? How did they feel about these objects?
It's like seeing an abandoned amusement park — an empty place that still carries the spirit of laughter and joy from years past. To walk through an antique shop is to walk among ghosts. 
I recently visited an antique shop in Pennsylvania with my family. It was massive — three floors packed with furniture, glassware, paintings, toys, records, anything you could think of. It took us hours to explore all the stalls. I hoped to find something ship-related. (I'm fascinated by shipwrecks and love learning about ocean liners in particular.) It didn't take long before I struck gold.
I found a small die-cast model of the RMS Aquitania.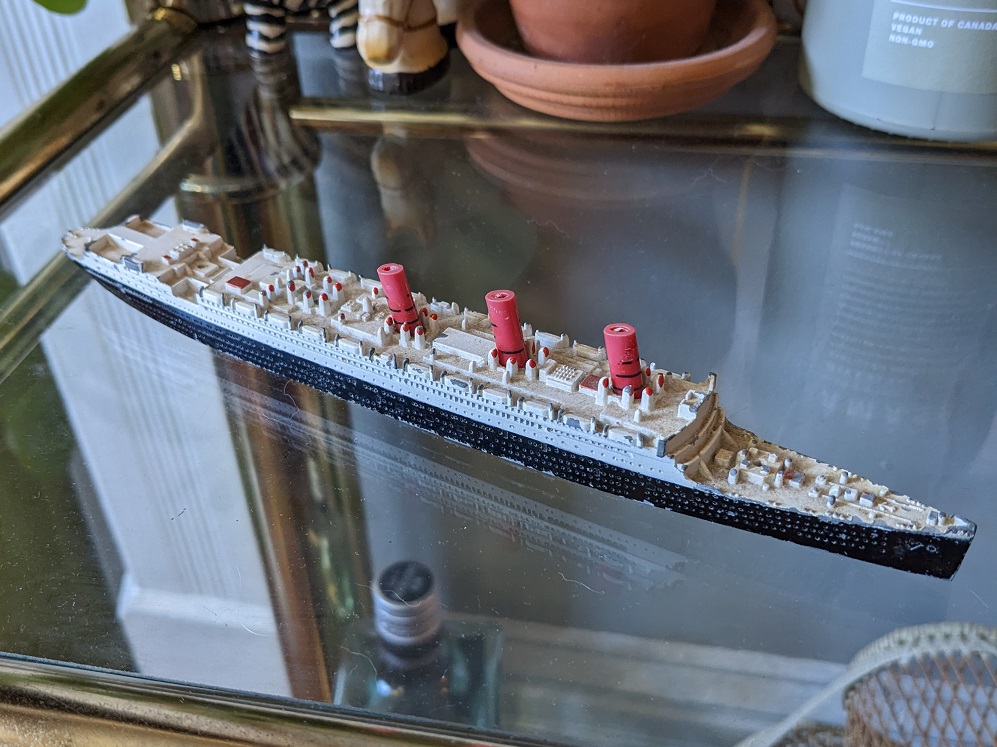 A very brief history lesson: The Aquitania, at 901 feet in length, was the largest steamer of the Cunard company line through World War I. It was also the only ocean liner to survive both world wars. Its counterparts included the RMS Lusitania (which was sunk by a torpedo in 1915) and the RMS Mauretania. (The White Star Line, Cunard's rival, built the ill-fated RMS Titanic.) 
I bought my 9-inch Aquitania model for $12. It's well-loved — the paint is chipped in many places and it's missing one of its funnels. Whoever owned it clearly didn't keep it in a box to preserve its value. So if I were to resell it, I probably wouldn't be able to make much from it. 
That's okay. At first, I wasn't really thinking about its value as a collectible. I just liked it and wanted to own it. But now I'm looking into similar die-cast ship models. And I'm considering buying the Aquitania's sister ships if I can find them. I'm not collecting them to sell them. I just want to own them — I like the thought of having a miniature fleet. And collectibles investing should be fun!
Tips for Investing in Collectibles
I've learned some things in my collectibles journey so far. Here are some tips to help you maximize the treasure hunting process. 
First of all, shop in person as much as you can. This won't be doable for everything. But it's worth the effort when you can. Antique shops and flea markets are full of treasures. And there's a major advantage to being able to hold something in your hands before you buy it. It allows you to inspect items up close, which will help you gauge its value. This is especially true for items where color is important (like fabrics or visual art), which don't always display accurately online. Plus, being able to peruse in person is just fun!
Secondly, just like any other kind of investing, it helps to build a network. There are antique stores and flea markets all over the country. See who carries collectibles in your area and make an effort to connect with them. Talk with shop owners. You can learn a lot just from casual conversation. You can also network in different places when you travel or attend events where you might find collectibles (like Comic-Con). Get to know fellow collectors and learn where they find items, how they source them, how they evaluate items' authenticity, etc.
Finally, consider investing in shares of collectibles. If you're not interested in having collections take up space in your home, you can use Rally to invest in collectibles without acquiring anything in person. Rally sources, verifies, and acquires valuable collectibles from all over the world and then turns them into "companies." Investors can then buy shares of the companies, build portfolios, and sell shares or add to their positions through registered broker dealers. It's a really cool way to get exposure to collectibles. And it's a nice option if you'd rather outsource the work of finding and verifying collectibles.
However you decide to approach collectibles, remember to have fun. I know I'm enjoying searching for my next maritime treasure. 
Go forth and find your thing.