NowRx will complete its third crowdfunding raise on SeedInvest later this month. We've recommended it twice. And it has worked out incredibly well for our members who invested. 
But the third time is not the charm. We're not recommending the company this time around. 
So, why not?
After all, NowRx continues to impress. It's meeting its ambitious milestones and expanding its product lines. I've got no quarrel with its progress to date. Founder and CEO Cary Breese has achieved the impossible, making a very difficult journey look like a breeze. 
In a nutshell, here's what Cary and his team have accomplished to date (excerpted from NowRx's raise page on SeedInvest):
Since its first raise on SeedInvest in 2016, NowRx has expanded from 4 employees to 122, grown its revenue from $600K to over $20M*, launched NowRx Telehealth which grew 1,200% in 2021, and expanded to 8 new territories with 4 more set to launch in the coming months.
You can't ask for more than that. Actually, it undersells NowRx's progress. Its latest annual run rate is more than $32 million. 
But I have good reason to not recommend NowRx a third time.
First, we invested at the ideal time — at the cusp of hockey stick growth. Valuation often follows revenue growth, as the chart below shows it did with NowRx.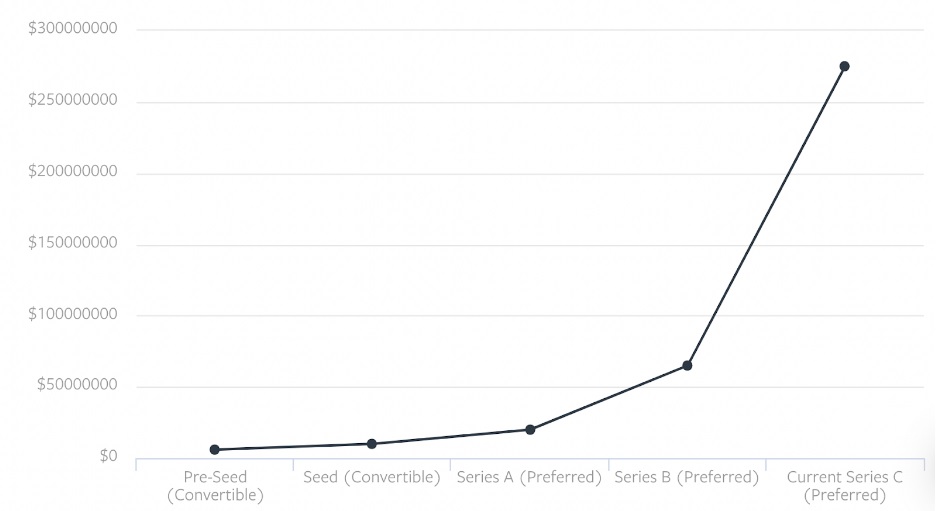 The Series A round took place in 2018 when NowRx's valuation was $20 million. The Series B round took place in 2019 when its valuation was $65 million. We issued recommendations for both raises. 
But now, with hockey stick growth already underway, the deal terms aren't as attractive. Investors can still do fine. But some quick math shows they won't do nearly as well as those who invested in the Series A and Series B rounds.  
If NowRx becomes a unicorn — and that's imminently achievable — how will investors do? Series A investors will do quite well. A $1 billion valuation is 50X the Series A valuation. Series B investors would also pocket some very nice gains. A $1 billion valuation is 15X the Series B valuation. Now, dilution will reduce these returns, but you get the idea. At $2 billion, those returns double. At $3 billion, they triple to "dancing in the street" levels.  
At $3 billion, it's all gravy for Series A and Series B investors. But for investors in the current round, it becomes the minimum of what investors need in order to get early stage startup-like returns. 
For those looking for 2X to 5X returns, this round is a good fit. But I have bigger goals for First Stage Investor members. I've said many times that we look for a minimum of 10X returns. 
It could happen for investors in this round, of course. Believe me, I'm not putting a ceiling on what NowRx can achieve. The sky's the limit. But it's far from a given. Our members who invested in the Series A or Series B round (or both) are already big winners. That's good enough for me. 
With less compelling deal flow, I might have been tempted to recommend NowRx again. But I have a number of companies lined up right now that I believe are exceptional startup opportunities. Even with our busy schedule of two recommendations a month, many deserving startups won't be getting a recommendation. There's a real opportunity cost at stake here if I were to choose NowRx over one of these other highly regarded startups. 
And, lastly, this is not the venture capital world. In that world, a major or lead investor who decides NOT to invest in a startup's current round is perceived to be sending a negative signal. Its progress is disappointing. Or something is wrong with this company. 
Crowdfunding rules and practices are different. There is absolutely no reason why I should let perceived signaling influence my recommendations in even the slightest way. Let's not adopt venture capital practices when there is no need or reason to.
If anything, I am more impressed with NowRx than I've ever been. And I wish the company megatons of success in the future.