DEAL DETAILS
Startup: Thuzio
Security type: Preferred equity
Valuation cap: $5 million
Share price: $0.165
Minimum investment: $1,000
Investment portal: SeedInvest
Raise: Seed
Deadline: August 30, 2019
*Note: You're running out of time to invest in this startup. Thuzio's fundraising round ends on August 30, 2019.
In this age of Facebook, Twitter and the relentless bombardment of push notifications to your phone, it's HARDER THAN EVER to meet face to face with anyone – let alone your heroes and favorite celebrities.
In fact, between Twitter and Instagram, celebrities can reach their fans quite easily on a daily and even hourly basis. They can interact with them without having to "meet" them. And they can control the narrative.
I can think of only two ways to meet celebrities in real life (without things getting creepy in a hurry). They're both old school. Book signings is one. It's how I met one of my heroes, Quentin Crisp (he wrote the caustically hilarious The Naked Civil Servant).
The other way is paying a ton of money to the celebrity's charity of choice. I have friends who have done this, and let me tell you, it's expensive.
I suppose you can also hang out the back door of a stadium for a couple of hours for a glimpse of players as they head out to their car. But good luck getting close to them.
Until two months ago, the closest I ever got to a sports figure I admire was hanging out in the VIP section of the Preakness (the second race of horse racing's Triple Crown). I caught a glimpse of Tom Brady about a 100 feet away.
So what changed a couple of months ago? I was invited to a gathering of like-minded sports fans in New York City. It took place in an iconic restaurant. And the invitation came with an intriguing (and hard-to-believe) promise…
Meet Yankee great Tino Martinez and hear his story. Take your picture with him or just shake his hand. And enjoy the camaraderie of your fellow sports fans. By the way, the beer and wine are on us.
The invitation not only lived up to its promise but also exceeded it. The audience got exactly what they came for. I not only met Tino (nice guy) but also met Tiki Barber (an even nicer guy) – the all-time rushing leader for the New York Giants and the co-host of the event. It was a great time and the kind of evening I thought was reserved for only the wealthiest individuals.
The invitation came from a tiny startup called Thuzio.
Thuzio puts you in the same room as the favorite sports heroes (current or retired) in your city. The room is at an upscale venue, and the event itself is a pretty intimate affair. And the price for the event is terrific. For me, these Thuzio events are an opportunity to meet some of my sports heroes, like hockey great Ray Bourque, retired tennis pro James Blake (he had the best forehand on the pro circuit back in the day and quite a story to tell), basketball legend Julius Erving (Dr. J was a junior when I was a freshman at the University of Massachusetts), and the uniquely charismatic football Hall of Famer Ray Lewis.
They're all past or future guests of honor at Thuzio's events.
For Thuzio's customers, these events are an opportunity to give its customers and clients a chance to meet and chat with their sports heroes. It's like taking a client to a game (which happens all the time in business). But emotionally, the payout is much more satisfying.
Thuzio is now operating in 10 cities (it was in six cities last year). By the end of this year, it'll be in 12. Thuzio expects to host 60 events across those 12 cities.
Next year, it plans to be in 20 cities, including London and Toronto (but, unfortunately, not Baltimore where I live and work). And by 2022, it expects to host 200 events annually.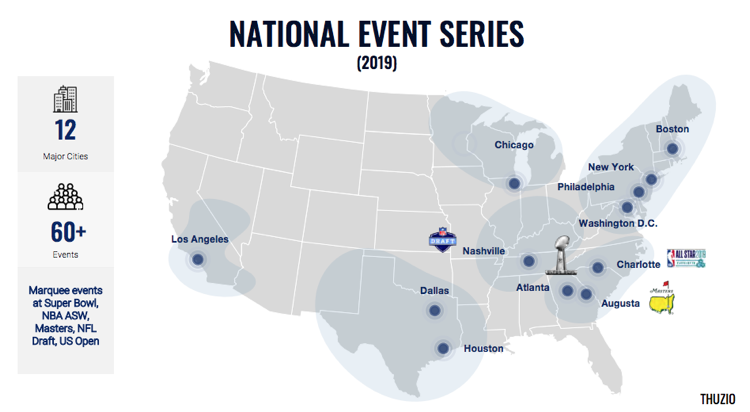 The Sweetest Spot
Thuzio operates in the sweet spot of sports, media and events, and social media – specifically "influence" marketing. Its market is big and global because sports itself has a vast global following. By 2022, the worldwide sports industry will exceed $480 billion worldwide. North America has a big chunk of that… reaching $80 billion by 2020. It involves billions of people. Soccer, alone, has a global following of 4 billion.
And, yet, Thuzio has no competition to speak of, which is remarkable for a market this large. Sports teams come closest. Like Thuzio, sports teams can make players available to the public. Both sell tickets to sports fans… offer sponsorships to corporations… and arrange special sports events.
But regarding access, it's no contest. Thuzio offers a significantly better way for the public to connect with athletes… at a price that compares to a team's premium seat cost – but more exclusive and convenient.
As for future competition? Wannabes would have a difficult time catching up to Thuzio's established and growing networks in athletic talent, venues and corporations.
Aside from competition, there are four other critical criteria we look at. I call them the four M's (markets, monetization, metrics and management). Our recommendations must pass all four before we send them on to you. First, let's address markets…
A Huge Market Gearing Up to Grow Even Faster
As I mentioned earlier, the global sports market will hit $480 billion by 2022. Since 2014, the market has grown by an average of 4.3% annually. And that growth rate is expected to increase to an average of 5.9% annually over the next few years.
A number of factors are driving accelerated growth, including the rise of sports sponsorships, strong economic growth, an increase in the number of smartphones and the emergence of multiple sports channels.
Another way to view Thuzio's market is through the lens of its targeted audience – well-connected and ambitious Gen Xers and millennials. They average more than 500 connections on their LinkedIn pages! Thuzio offers the perfect kind of event for them to make new connections or leverage the ones they already have.
Next up is monetization…
Making More From Sponsors and the Booming Video Craze
Thuzio's 2018 revenue of $2.75 million came from selling tickets (80% of revenue) and sponsorships (20%). Its 80-20 breakdown needs to improve, and indeed, management is aiming for a 60-40 split next year. The company pulls in about $30,000 to $35,000 per member event. That number should increase as the company aggressively raises both ticket and sponsorship prices.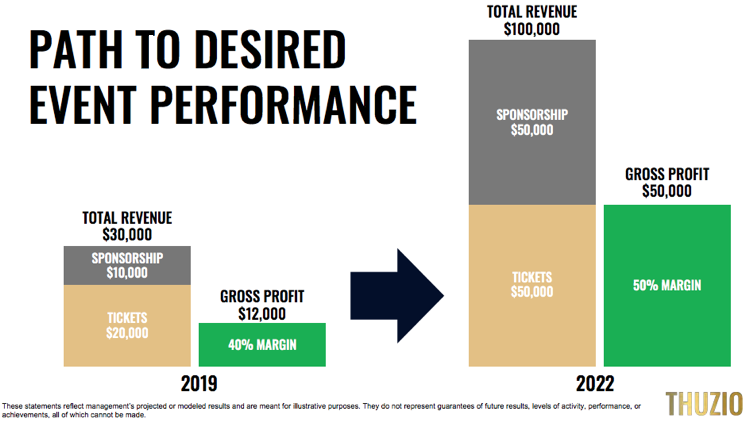 Thuzio plans to use funds from its current raise to grow an already solid base of 250 corporate customers, which includes customers from seven of the top 10 U.S. banks, six top U.S. consulting firms and four top U.S. B2B (business-to-business) SaaS (software as a service) companies.
Funds will also be used to create a media unit to produce video, audio and editorial content from its live events. It already has 100-plus hours of unreleased interview video and audio content in the can.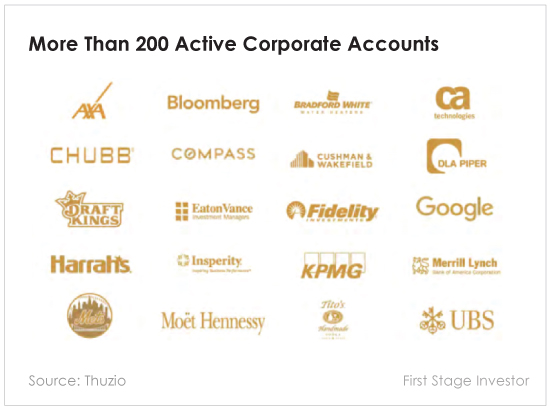 Thuzio is also planning on increasing its prices substantially. And it's throwing more events. It had 50 last year. And by the end of next year, it will be at 65 events. That number will only go up from there. (Remember, its goal is 200 events annually by 2022.)
As a result of better monetization, revenue growth should take off beginning next year. And much of it will flow to the bottom line because of the improvement in key metrics, our next criterion…
Rising Margins Set the Foundation for Profitable Growth
While revenue temporarily stalled in the last 12 months, margins popped. They were 10% in 2018. By reducing event-related expenses and increasing sponsorship revenue, margins have increased to nearly 40% today. Over the next six to nine months, co-founder and CEO Jared Augustine expects margins will reach 50%.
One thing pushing margins higher is Thuzio's emphasis on negotiating free venues for its events. Here's another helpful development: Public relations firms are beginning to turn to Thuzio to arrange events for their clients, which means Thuzio gets the "talent" for free.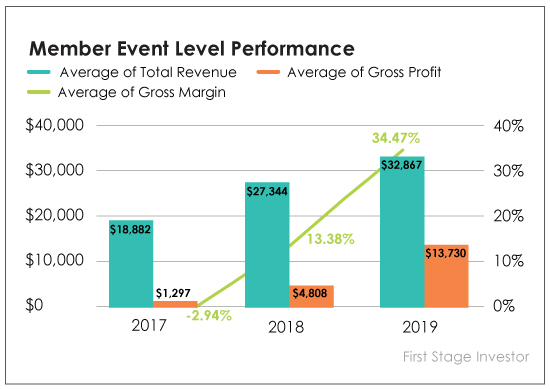 The combination of rising revenue with increasing margins means the company is setting the stage for generating REAL PROFITS. The target date for becoming self-sustaining is 2021. The company was founded in 2018. A three-year path to profitability is outstanding and would be a major accomplishment for Thuzio's management team… which is the last of the four M's.
Thuzio's Management Team Knows Growth
Jared Augustine first experienced entrepreneurial success with SeamlessWeb (now Seamless). He led a successful market expansion that saw a seed valuation of a few million dollars blossom into more than a $100 million purchase by Aramark in 2017. Jared also co-founded Julius, an influencer marketing software company.
When Julius spun off Thuzio to stand on its own, Jared took over the reins and was joined by Mark Gerson. Mark is one of the co-founders of GLG (the world's leading B2B knowledge marketplace "connecting professionals with insight"), and he is a proven entrepreneur. GLG employs more than 2,000 people and generates about $500 million a year in revenue. Mark, like Jared, was also a co-founder of both Julius and Thuzio.
Jared and Mark's third Thuzio co-founder is Tiki Barber. Barber, who played running back for the New York Giants for 10 seasons, is the charismatic voice of the company and hosts several events. Barber also provides strategic guidance to the company in his role as board member.
It's an extremely impressive and well-rounded team that has the expertise and experience to lead the company on a steep and sustained growth path. In the short term, the co-founders are aiming for $23 million in revenue by 2022. At a 5X multiple, that would put Thuzio's valuation at more than $100 million.
In terms of the long haul, the sky's the limit. Sports and media have spawned several multibillion-dollar companies. For North America, sports sponsorship was valued at $18 billion in 2018… sports media was valued at $70 billion… and sports premium hospitality was valued at $12 billion.
Yet, despite its unusual level of early success, Thuzio has a share price of only $0.165 and a valuation of just $5 million. That's less than a 2X multiple when compared with current annual revenue of $2.75 million. It's a very fair price.
The minimum investment in this fundraising is $1,000. That's a small price to pay in order to become an early-stage investor in a company with an established track record of revenue and a high-caliber team expertly leading the way.
But you better hurry. This raise closes on August 30, 2019. This could be your only shot to get Thuzio at such a fair price.
How to Invest
First, you'll need a SeedInvest account. Sign up for one if you don't already have one.
Once you've created your account and logged in, go to Thuzio's page on SeedInvest.
Click the blue "Invest" button. The minimum investment is $1,000.
Then choose your payment option and make sure you complete all the steps.
If you run into any problems, email SeedInvest at contactus@seedinvest.com.
Risk
As with all early-stage investments, there is significant risk the company could fail. It could fail to secure further funding, lose important revenue streams or have any number of other things go wrong.
This is the nature of early-stage investments. You should not invest any money you can't afford to lose.
Note: As always, our research is 100% independent. We don't accept compensation from the investment portals or the startups we recommend.