Scrap recycling may be boring and unexciting to some. But that's not how I see it.
To me, it's a huge opportunity crying out for a solution to one of the world's most rampantly dishonest industries.
I know this because I've been a victim of fraud in loosely regulated markets.
I was never in the scrap business myself. But back in the day, during my business travels throughout Asia, I heard plenty of stories.
If nothing else, swapping "bad beat" stories was a form of therapy. You told me how you were lied to and cheated out of hundreds of thousands of dollars, and I did you one better with my story.
I usually held my own in these competitions, except when I talked to those poor old scrap guys.
They had it bad. I could never top them.
So when Tradefox founder and CEO Chris Yerbey started telling me how, as a trader, he paid $150,000 for a pile of worthless junk, it was déjà vu. I could just as easily have been in a seedy bar in Jakarta talking to the expat trader sitting next to me.
A Scrap Metal Gold Mine
Scrap metal is a $250-billion-a-year business. It's massive. The company that can fix this market will be positioned to grow a large and profitable global business. And it'll be doing hundreds of companies caught in this dysfunctional industry a huge favor.
But you don't have to take my word for it. Listen to what a company that's been around for 170 years says. (Tradefox has sworn us to secrecy on the name of this company for competitive reasons.) In fact, this company collects so much data that the only comparison that does it justice is Google.
"[We've] spent the last three weeks looking into what you are doing, and to be honest, this is a market segment that has [been] completely overlooked, and you have no real competitors. You are sitting on an absolute gold mine, and we want to be your partner." 
A gold mine, indeed. Tradefox's mission is to make the scrap and recycling business more transparent and efficient, and it has a three-point plan to make it happen…
Provide detailed "Trade Reputation Reports" on every business that is actively involved in trading recyclables.
Partner with insurance companies to provide cover on currently uninsurable risks like fraud, canceled agreements and more. (These risks currently cost companies several hundred million dollars a year.)
Add multiple additional software as a service (SaaS) products, such as shipping quotes and a booking engine, a proprietary "SureTrade" safe trading system, and an industry crowdsourced mediation system.
It is also now possible for any Tradefox member to review trades and request reviews from their trading partners. Just as buyers pull credit reports on suppliers before making big purchases, scrap traders can pull Tradefox business intelligence reports on each other before agreeing on a deal.
The Tradefox report gives them critical information on whether the companies consistently live up to the terms of the contract, whether they pay on time, whether they ship on time, whether they grade shipments (as a supplier) according to industry standards, whether they're professional in their dealings… and so on.
Tradefox has more than 800,000 trades listed in its company business reports. And it's planning to issue "reputation scores" on 10,000 companies (it currently has scores on 2,100 companies). Those scores should be out by the end of 2019.
Speaking of scores, let's see how well Tradefox scores on our "four M's" (market, monetization, metrics and management), beginning with market size and growth.
More Markets, More Transactions, More Profit
The $250 billion scrap and recycling market is just the beginning for Tradefox. It plans on entering multiple markets, which is why it dropped its original Scrap Connection moniker and became Tradefox (the corporate name change will be completed later this year). That means massively expanding its reputation database to cover more markets, more companies, more transactions, more users… setting the stage for fast-growing revenue.
Chris is thinking big. He plans to expand soon into recycled plastics, paper, electronics and fibers. Then he'll jump into enormous verticals – like the global trade of all industrial raw materials, agricultural products and energy – that dwarf the size of the global scrap recycling industry.
And that, of course, means collecting even more data.
Tradefox has increased its data feed from information on 7,000 companies last year to information on 112,000 companies… and eventually will be covering 400,000 companies. In the meantime, it's now adding 500 million transactions that have taken place over the past five years into its database.
What does that mean in terms of profit?
The company is aiming for a 10% share of the $250 billion scrap market.
My research shows that, in the long run, a 10% market share would result in a valuation for this company some 111 times higher than its current worth…
Enough to turn the $200 minimum investment in the company into more than $22,200. 
Chris says that once the company expands into the global trade of all industrial raw materials (a multitrillion-dollar market), it will be on track to become a $1 billion business.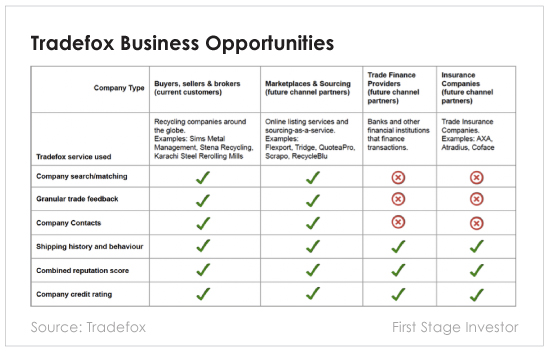 Next up is monetization…
Recurring Revenue Headlines Effective Monetization Strategy
The company is building recurring revenue through its membership fees and reputation reports. The company will have several membership levels with monthly and annual options. Its basic plan is $55 a month. Higher membership levels charge $125 and $195 a month. Tradefox also just began a new campaign to add customers. It expects to have 250 customers by the end of 2019, giving it $22,125 in monthly income. In 2021, sales are expected to take off. Monthly income should hit $693,000, with annual sales of more than $8 million and profits coming to more than $4 million.
So what are its metrics showing to date?
These Three Key Metrics Are Early Signs of Success
Let's take a look at three telling "soft" metrics…
First is competition, or in this case, the lack of serious competition. The only direct competitor to Tradefox is a brand-new company building a marketplace for scrap traders. Tradefox is much further ahead than this company.
The second "soft" metric is bootstrapping. That's when a startup runs a lean operation with the core team, sacrificing current salary for greater future gains. Tradefox's top three executives, including Chris, make less than $3,500 a month. The company's overall burn is $42,000 a month, which is remarkably low.
The third metric is partnerships. A startup needs to partner with established companies in order to rapidly grow. Tradefox has made a number of key partnerships, including shipping and customs agencies and the 170-year-old data company. Up next?
It's pursuing two needle-moving partnership deals. The first is with one of the largest shipping data companies in the world that will give Tradefox data from more than 25 countries and hundreds of ports. It opens the door to Tradefox making good on its plans to enter many more verticals than recyclables.
The second is a win-win idea with two of the three top insurance companies in global trade. Insurance companies can lower rates for Tradefox clients and offer additional types of coverage, which up until now have not been available. This could be a game changer as it removes substantial market friction from the supply chain.
As I said, everybody wins, especially Tradefox, which would see a huge leap in business as this partnership turns into a reality. Chris says the discussions are going well to date.
A Management Team With 20 Years in the Industry
In the past 2 1/2 years, I've had numerous trans-Atlantic phone conversations with Chris. Chris was born and educated in Alabama, but he runs his company out of Amsterdam. I finally met him earlier this year in New York City. He's a 22-year veteran of the recycling industry. He has a deep knowledge of the business. As an entrepreneur, he's also had several companies he's headed or helped lead that have had successful and profitable exits. Chris has formed a global team (U.S., India and Europe) more than capable of executing his ambitious growth plans.
Tradefox is at the beginning of what could be a very exciting and profitable journey. I'm constantly on the lookout for companies that move the needle… Tradefox's data-rich and versatile platform qualifies. We have seen what truly disruptive platforms can do. Airbnb's platform is now worth $31 billion. Uber's is worth $74.5 billion. Alibaba's is worth $427 billion. They've all put their industries on a new path, which is exactly what Tradefox is doing to the recycling business (and soon other industries too).
When a well-thought-out platform meets a huge need, profits can go through the roof. Tradefox has that potential.
How to Invest
Tradefox is raising up to $1 million in this round of funding on Wefunder. You'll need to sign up for an account there if you haven't yet.
Once you're signed in to Wefunder, head over to the Tradefox page on the Wefunder site. Enter the amount you want to invest and click the green "Invest" button on the right-hand side of the screen. The minimum investment on this deal is $200.
Risks
All early-stage investments are risky. While this one has substantial traction and a very reasonable valuation, you can still lose your investment. As always, don't invest money you can't afford to lose. You should expect to hold on to this investment for at least three years.