How to Get Started in Startup Investing
So you've made up your mind.
You're going to invest in a company that's set to completely transform healthcare just as Uber did to the transportation industry…
Or the way that Apple completely changed the world with the iPhone.
All you need to do now is – *Gulp!* – navigate a website you're completely unfamiliar with in order to make the investment.
But even if you've never invested in private shares this way before, there's no need to worry.
It's no sweat. And I mean that.
Here at Early Investing, what we've done is take a process that's not so difficult in the first place… and made it even easier by EXPLAINING EVERYTHING.
If you're used to doing things online, you probably won't need this manual. But just in case you're not, we've covered your bases with a step-by-step guide. We'll tell you how to handle every new screen you click into.
Ready? Let's get started!
First off, you'll need to contact MicroVentures by clicking right here.
It will bring you to our landing page, which features a green "Sign Up" box. It looks like this:
Go ahead and click on the box.
Next, you'll see an "Investor Sign Up" application that looks like this…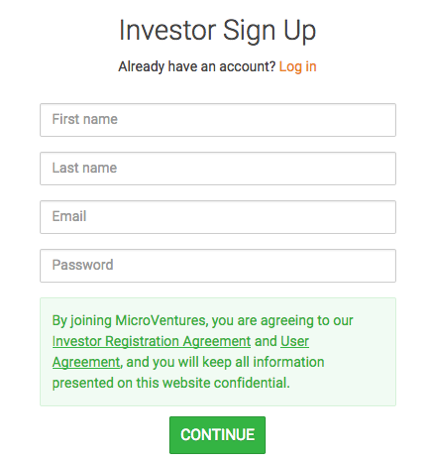 Fill in your name, email and password choice, as requested. And make sure you remember that password. If you have trouble remembering, jot it down immediately on a piece of paper.
Then click on the green "Continue" box.
If you already have an account with MicroVentures, simply click on the orange "Log in" link right above and to the right of the "First name" box.
Here's what you'll see next…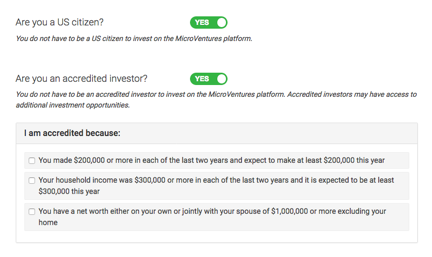 Assuming you're a U.S. citizen, you can leave the green "Yes" buttons alone.
But you must tell MicroVentures how you qualify as an accredited investor.
This is important. If you're not an accredited investor, you can't invest in this particular opportunity.
So how do you qualify?
It's all right there – under the line that reads: "I am accredited because." As you can see, it includes three choices…
Click on the top box if you make $200,000 or more.
Click on the middle box if you and your spouse make $300,000 or more together.
Or click on the bottom box if your net worth is $1 million or more, excluding your primary home.
If you qualify in more than one way, choose the one that's easiest to document. (Yup, MicroVentures will be asking for documentation – it's easy though. More on this later.)
Scroll down a bit until this appears…

This is easy. MicroVentures wants to know what sectors and industries interest you. Click on as many as you want, even if it's all of them.
Then click on the green box that says "CONTINUE."
Now it's time to give a little personal information…
Give MicroVentures the phone number that's easiest to reach you on. They don't care if it's your cell or landline. But they do need to talk to you.
For the "I live in…" box, type in your city or town. As you type, you'll see a pop-up box that shows potential town/city, state and country combinations. When you see the correct address, simply click on it and the site will automatically fill in this box for you.
It's time to click on "Continue" again. When you do, this will pop up…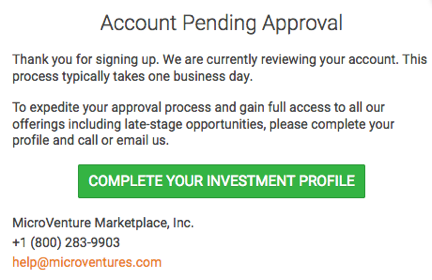 At this point, you have a choice. You can provide some more information online by hitting the green box that reads: "Complete Your Investment Profile."
You can also save what you've entered so far by clicking on the "Continue" box at the bottom of your screen, and then wait for one of MicroVentures' brokers to call you and ask you pretty much the same questions.
Or if you don't want to wait until the next day, you can pick up the phone right away to call MicroVentures at 1-800-283-9903. Someone should pick up within minutes to explain your risks and benefits.
That person will also ask you to provide documentation that you are, indeed, an "accredited investor." This could be in the form of tax documents, bank statements or paystubs.
I've also asked MicroVentures to accept a simple letter from your broker, CPA or lawyer indicating that you qualify.
If you don't have the documents – or if getting your hands on them takes you more than 10 minutes – just give one of these guys a call. A couple of sentences' worth of conversation should do. And be sure to tell them that you'd like the letter to be emailed to you (as an attachment) or faxed by the end of the day, if possible.
If you do click on the green "Complete Your Investment Profile" box, these are the questions MicroVentures will ask you over the phone or that you'll enter digitally ahead of time.
There's this…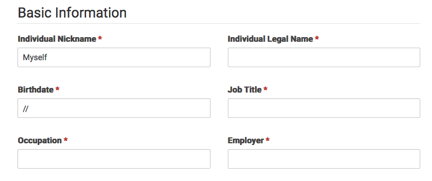 And this…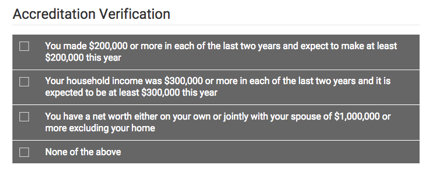 And this…

And this…
The Financial Questionnaire, as detailed above, is optional. It enables MicroVentures to email you investment opportunities in the future that align with your financial status and goals.
Regardless, if you don't call them, a MicroVentures broker will call you… in the next 24 hours or so. It wants to be sure you know what you're getting into here with the benefits, investment timeline, etc.
That's a good thing. It's one of the reasons why we've chosen to work with MicroVentures in offering you this amazing opportunity.
Okay, so let me jump ahead at this point and be clear on the two things you'll need to do BEFORE officially making this investment.
The first is to make sure you've talked to someone at MicroVentures and provided the needed documentation to prove you are an accredited investor.
The second thing is to have $10,000 in cash handy to make the minimum investment amount in Reliant.
If you don't have it in a savings or checking account, you need to transfer it into one or the other. Once you've done that, instruct your bank to wire the money to MicroVentures.
OK. Now let's continue with our online application…
If a business day has already passed and you haven't talked to a broker, it means one's called you and left a message to call back. If there was no message, it means your voice message box is full OR you provided a bad number accidentally.
Please don't agonize about what happened. Just call back and ask to speak to a broker. Here's the number again: 800-283-9903.
All you need to say is that you just signed up to Early Investing's Startup Investor service. MicroVentures should immediately know who you are and why you're calling.
So let's assume you've been approved. Go to MicroVentures' home page by clicking here or pasting in the URL https://app.microventures.com/offerings/reliant-immune-diagnostics. You'll be asked to log in…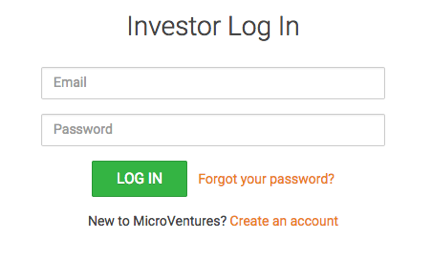 Go ahead and put in your email and password. And click on the green "Log In" box. It'll bring you right to the page featuring Reliant.
There, you'll see all kinds of information on the company. Feel free to read whatever you'd like.
But don't forget that, in addition to this report, we've also sent you a special briefing on Reliant called "Collect 1,500% From 'Instant' Prescriptions with Reliant Immune Diagnostics." It tells you all the reasons why we think this is a very special company offering exceptional profit potential to investors who get in now.
On the left-hand side of the page, you'll notice this orange box…

These are the final steps you must take to execute your investment. So go ahead and click on it. You'll next see this…

Put in the amount you'd like to invest. Remember, you must invest at least $10,000 – but you can choose to invest more if you want.
Now click on the green "Continue" button… And select a profile by way of the left-hand box. Mine (as shown below) is Andy…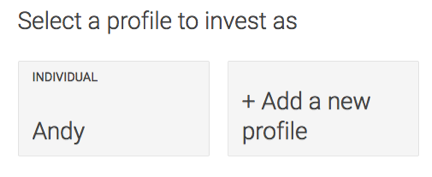 Click on "Continue." The next screen you'll see is…

Your address should already be filled in. So all you have to do is click "Continue" again. Then this will pop up…

ACH stands for Automated Clearing House. It's quick and easy.
Or you can choose to send a wire transfer. Doing it this way means you don't have to give MicroVentures your banking information, if that matters to you. It remains in-house with your bank.
Either way is fine. For the purposes of this instructional manual though, let's choose ACH.
MicroVentures will now ask for your banking information via this pop-up…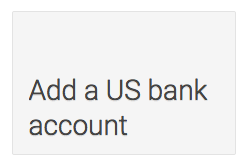 You can select a bank from the options below or click for more choices (by clicking on the orange box)…
Once you've identified your bank, MicroVentures will ask you to go to that website by filling in the username and password you use to access your bank account online…

Your bank will probably ask you one or two security questions. Answer them the same way you've done a thousand times before. Then you'll see this…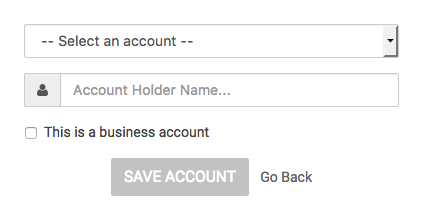 Select your account, and put in the name as it appears on your checks. Or you can use your other accounts. Then hit "Save Account."
Now it's time to review the details of your investment…

If everything looks good to you, then click on the green "Sign Documents" box. When you do, this will pop up…

Click on the little white box next to "I agree to use electronic records and signatures." Then click on the orange "Continue" button on the far right. You'll then be presented with five documents in a "Signature Packet."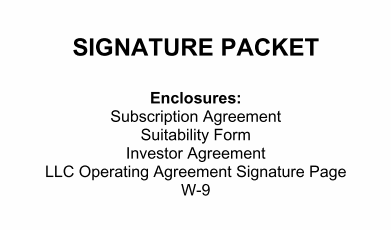 Go through them slowly and carefully. And whenever it asks for you to do something, follow the instructions. For example…
On Page 4, it asks you to check the accredited investor categories that apply to you. It should have automatically selected some based on information you've already given. So make sure the right ones are checked (in the far left column).
On Page 12, it asks for your signature. Click on the little yellow box that says "Sign" with an arrow below it that points down. You'll go to an "Adopt Your Signature" page that looks like this…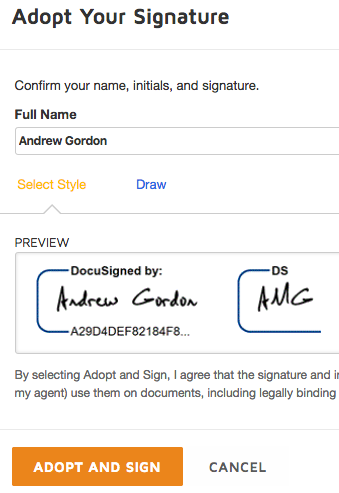 Of course, when you do it, you'll see your own signature instead of mine. If it looks good, click the orange "Adopt and Sign" box.
For the next document, the Suitability Certification, it again asks for your signature. Click on the little yellow box (like you just did a few minutes ago). This time, the software quickly captures your signature and goes to the next document – Acknowledgement and Acceptance of Investment Risk – and its subsequent signature page. Once again, click on the little yellow box to submit your electronic signature.
Appearing next is the LLC Operating Agreement signature page, where you'll follow the same exact instructions.
Then it's on to the W-9 "Request for Taxpayer Identification Number and Certification" signature page… where you'll follow the same set of directions .
Finally, click on the orange "Finish" box. After that, yup… You're all done!
Congratulations! You did it. And this screen is proof…
The next time you'll hear from MicroVentures is when one of its brokers calls you with an update to confirm that the investment is closing at the end of the month.
Then, at the beginning of next month, you'll get an email with your officially executed investment transaction attached.
MicroVentures will keep it on file, but make sure you save it, too.
And that, my friends, is my last instruction here.
So we're finished.
Once again, congratulations! You are now an angel investor.
Welcome to the new, better way to invest… with higher upside.