Robert Heinlein famously said, "There's no such thing as a free lunch."
Generally speaking, this is as true in the crypto world as anywhere else.
However, there are a number of ways you can receive cryptocurrencies at no cost other than a bit of your time.
In this report, we'll show you the best free crypto strategies… And give you the top websites you can use to get involved.
If you spend some time on these and pick your projects well, you could receive cryptocurrency that's worth thousands of dollars right now.
And based on the speed at which many cryptocurrencies are appreciating… it could be worth quite a bit more down the road.
Before you discover how to get started and claim your share of the free crypto up for grabs over the coming weeks and months…
Let me explain why this is happening.
Profit From The Network Effect
I'm sure you're familiar with the network effect…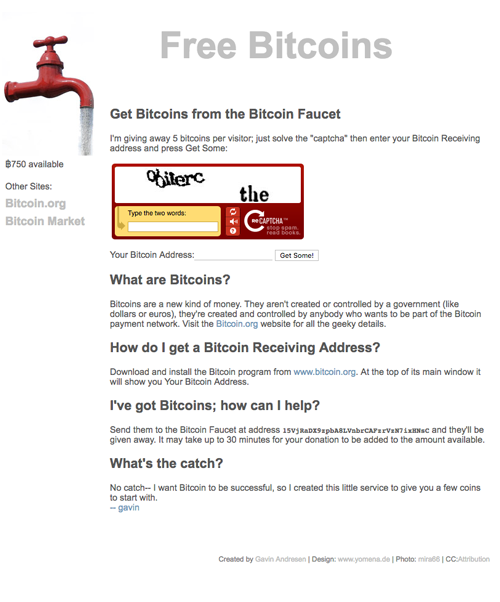 This scientific fact states networks rise in value as more people use them. Examples of this powerful concept in action include Facebook, Google, Reddit, Twitter, Uber and many other companies.
This is true of crypto too. The more users, advocates and coders a project has, the better off all its stakeholders will be.
And there's no better way to attract new users than giving away free coins.
In fact, one of the original bitcoin contributors, Gavin Andresen, jump-started bitcoin adoption by giving away 10,000 free bitcoins.
This was back in 2010, and you can even see a copy of the original webpage in the Internet Archive.
MIT Technology Review even called Gavin "the man who really built Bitcoin," in part due to this giveaway.
So those 10,000 early adopters jump-started the network effect… As the value rose over time, they told their friends, family and colleagues, some of whom bought bitcoin too.
And, as you know, the rest is history.
In total, Gavin gave away $150,000,000 at today's bitcoin price… And the 10,000 people who entered their email address each received bitcoin worth roughly $75,000 today.
The founder of Ethereum, Vitalik Buterin, says, "This new 'free model' gives new cryptos a competitive advantage."
FREE crypto giveaways like this are happening every day in the crypto community. So let's dive in by getting set up to collect them.
Set Up a New Email Account and Set Up Your Bitcoin, Ethereum and Neo Wallets
The first thing you need to do before claiming your free crypto is to get set up to both collect… And protect yourself.
There will always be a small group of people out there in every market who are looking to scam you. That's true in the crypto market too.
So to get started, you'll need to do these two things. You can do them in an evening.
FIRST, you should set up a separate email account you use to get free crypto.
This is simple, so I won't walk you through that. I recommend using an email provider with a good security reputation, such as Google's Gmail.
Use a secure, original password for all your email accounts. I recommend at least 10 characters, chosen randomly (don't use your birthday or dog's name!).
The important point here is you simply keep all of your free crypto emails separate from your personal account.
This will help you change your mindset when you log in to it.
And that mindset is simple: Trust NO ONE, and be alert.
There's a small group of people around the world who spend their days coming up with creative ways to scam people out of their crypto. So whenever you log in to your free crypto account, remain vigilant.
More importantly, NEVER respond to any personal emails in this account. Think of it as an "inbox only" account. Most importantly, NEVER give away your private key for any of your crypto wallets or your email password.
Once you have this email address, you can move on to the next step.
SECOND, set up a new bitcoin, Ethereum and NEO wallet to claim your free crypto in.
If you're brand-new to crypto and don't yet have a wallet, here are some wallet options to consider…
io – A user-friendly "software wallet" to store bitcoin, Ethereum and other popular "altcoins."
MyEtherWallet – The most popular "online wallet" for Ethereum and Ethereum-compatible coins. (These coins/tokens are powered by the Ethereum network and operate under a standard known as ERC20.)
Neon Wallet for NEO – A "light" wallet for holding NEO.
I recommend keeping these addresses separate from any other crypto wallets you own. It's safer and will allow you to keep track of your "free crypto" portfolio easier.
Also, some projects won't give empty wallets any free crypto (to prevent spammers from abusing the system) so I suggest you fund each with a small amount of bitcoin, Ethereum and NEO. Twenty dollars should be enough to make sure you qualify. This isn't required for all giveaways, but some of the higher-quality ones require it. And after you're done, you can transfer the coins back to your main account.
Bitcoin and Ethereum can be purchased at Coinbase.com or Gemini.com using a bank account. If your country isn't supported by either of these exchanges, use a search engine to find a local crypto exchange.
NEO can be purchased at Kucoin.com, Bittrex.com and Binance.com, all of which are "crypto-only" exchanges. So you'll need to buy either bitcoin or Ethereum first from Coinbase or Gemini, then transfer a small amount to your new account at Bittrex, Kucoin or Binance.
Note: Most cryptocurrency exchanges are flooded with new customers, and a few have been forced to shut down new user accounts.
So as soon as you are set up with your "free crypto" email address, as well as your "free crypto" bitcoin, Ethereum and NEO addresses…
Read on to discover the exciting opportunities I promised.
Airdrops: An Easy Way to Claim Crypto
The most common way to claim free crypto is by participating in an "airdrop." Airdrops are free giveaways of crypto to create a user base, recruit evangelists and build awareness.
The way it works is simple.
First, you discover and research the airdrop. Second, you sign up for the airdrop and send the crypto project your public bitcoin, Ethereum or NEO address. Then, on a certain date, they'll deposit the free tokens in your wallet.
Airdrops are more popular than ever, with many new opportunities available every week.
So now that you have your "free crypto" email address as well as your "free crypto" bitcoin, Ethereum and NEO addresses…
You can check out the following resources to identify airdrops you can participate in.
A great resource to check every day is AirdropAlert. It lists the top airdrops as well as little-known airdrops that could become big in the future.
You can visit the website here and the Twitter page here.
Another great place to find the best-known opportunities is to visit the Reddit airdrop and crypto giveaways groups.
What's great about the Reddit links is that you can see what other people are saying about the airdrop too.
When you find an airdrop that looks interesting ,click on the link to learn more about the token. If it looks good to you, follow the instructions to claim your free crypto.
Some of these crypto projects want you to follow them on Twitter or join their Telegram group. If you decide to join Twitter and install Telegram, I advise using a pseudonym… and remember to use your "free crypto" email address.
Here are the direct links to Telegram and Twitter if you want to get set up now.
If you are at all serious about claiming free crypto, you'll want to join both.
Waves Airdrops
While we're covering airdrops, there's one more little-known way you can set yourself up to claim dozens of airdrops over the coming months…
Without having to do any additional work after you are set up. How?
You can sign up and fund (with $20) a Waves wallet.
Waves is a platform that allows projects to quickly set up and distribute new crypto tokens.
Many of these projects airdrop free tokens to anyone who has a Waves wallet address… and owns at least one Waves token.
To be clear: Once you are signed up on the Waves exchange, all you need to do is buy at least $20 in Waves tokens. Then, you can log in from time to time to discover new free crypto in your account.
It's that simple. You can visit the site here and get set up using the online client.
Free Stuff, Free Cash, Free Crypto Concepts
Another way to claim free crypto is by participating in contests.
There are at least 176 trading exchanges on which you can buy and sell crypto. The market is highly competitive. To incentivize new users, guess what some exchanges do?
You got it: give away free crypto.
They work out special deals with crypto founders to distribute FREE tokens to their users.
The top two exchanges for this are Binance and KuCoin. The only thing you need to do is sign up as a new user on the exchange.
Here are the links for Binance and KuCoin.
At any given time, there are multiple contests going on.
Just visit the contest home page of each site, get the rules of the contest and decide if you want to get involved.
Note: Many of the contests put on by these sites are based on trading volume. I do NOT recommend trading large volumes simply to have a small chance at winning a prize.
However, the rules of every contest are different, and for some you simply need to own a small minimum amount of the coin.
"Click to Get Free Crypto" – Bounty Programs
Another way new crypto projects jump-start adoption, create a user base, recruit evangelists and build awareness is through bounty programs.
By joining a bounty program, you agree to contribute to a crypto project in return for free tokens. Bounty programs are great for people with computer programming, writing, translation or marketing skills.
You can also do something as simple as click your mouse to participate… Or you can devote more of your time. How deeply you want to get involved is up to you.
For example, some bounty programs pay out free tokens for simply following their Twitter account. Others pay out free tokens for Tweeting about their token. Others pay out free tokens for writing an article about their token.
Others pay out free tokens for translating their website, marketing material or technical documentation to another language. So if you're fluent in multiple languages, this could be an excellent way to pick up free crypto.
Others pay out free tokens for software developers and designers to contribute to their GitHub code.
Others pay out free tokens to 3-D designers.
And most, if not all, announce their bounty programs on the BitcoinTalk forum.
So if this interests you, sign up to be a BitcoinTalk forum member (it's free).
Once you are a member, you can check out the Bounty section of the forum here.
On that page you'll find a lot of opportunities to contribute to a project. Take your time. Research the token. Communicate with the team.
Find a few projects you like… and get involved. If you prove yourself to be a valuable contributor, the team will reward you.
Also, you can find some of the better-known bounty program on BitcoinTalk listed on the ICODrops site too.
Collecting Crypto Dividends
Some tokens pay out "dividends". The best-known project to do this is NEO. It is China's original open-source blockchain project, launched in 2014.
NEO is a unique and high-potential crypto project. It is a "smart contract" platform, similar to Ethereum. Crowdfunding and ICOs are among the first applications being developed.
NEO's platform is also capable of digitizing the ownership of both real-world and digital assets. The platform will also be able to manage online identities securely.
NEO has two distinct cryptocurrencies that are native to its system. The first trades under the symbol NEO and is the base unit of this system. It allows holders to vote on protocol changes and is required as a payment unit for certain services within the platform.
When NEO is held in an official wallet, it generates "dividends" in the form of the second currency, GAS tokens.
You can find out what the payout is here.
GAS tokens are what power the smart contracts hosted on NEO's platform. The cost of a transaction is relative to the required computing power.
To learn more about NEO, click here.
Here are two other quality cryptocurrencies that offer "dividends" (also referred to as staking or harvesting)…
PIVX – Focused on privacy, PIVX has an active community and good exchange volume.
PART – Particl is also a privacy coin, offering anonymous transactions and tools for merchants.
In addition, at some point in the near future, Ethereum will move to a "dividend" (proof of stake) model too. I currently recommend you hold 20% of your crypto portfolio in Ethereum. (This may change in the future, so be sure to check the First Stage Investor portfolio on EarlyInvesting.com.)
Dividend-paying coins are becoming increasingly popular, and we are currently looking for the next great opportunity in this space, which we will notify members of immediately.
"Set It and Forget It" – Masternodes
Another dividend-like token is called a masternode. A masternode is a computer that runs the software that helps run a given blockchain.
In return for owning tokens and running the software, you get paid a percentage of free tokens a year.
The biggest masternode coin right now is DASH.
Dash has privacy, extremely fast transactions, and a large base of users and merchants who accept the coin.
There are a lot of masternode coins. You can take a look at the list here.
But make sure to sort by market cap and focus on the tokens at the top of the list.
While crypto investing is high risk and very high reward… I don't recommend investing in small cryptos… especially small cap masternode tokens.
But there are even more exciting ways to collect free crypto…
Affiliate Programs
If you work in marketing or advertising, you might like this next way to get involved.
Another quick and easy way to make free money from the crypto market is to become a member of an affiliate program. In short, you can market for a wide variety of crypto market companies… And get paid a percentage for every sign up you refer.
These include crypto exchanges like LocalBitcoins and Coinbase…
Hardware wallets like Trezor, KeepKey and Ledger…
Blockchain services like Salt…
VPN services and more (click here and here for an extended list).
Make 64x the Average Writer's Salary – Steemit Rewards Users for Posting Great Content
Steemit.com is one of the most fascinating and fast-growing blockchain projects in the world today. I believe it is the best opportunity out there to earn free crypto.
All it requires is writing and posting articles on Steemit's social media platform.
Steemit is a social network, but it's powered by a native cryptocurrency that trades under the symbol STEEM. In return for providing content for its social media platform, freelance writers are compensated with rewards that can be exchanged for Steem crypto. (If you're familiar with Reddit, it's very similar.)
Some successful Steemit contributors have found it very profitable, earning more than $100,000 simply by posting popular content. The site currently ranks among the top 1,500 most popular sites on the internet. That puts it in the top 1%. However, I believe that long term it has the potential to compete with similar but much larger media sites such as Medium.com.
The beauty of this strategy is that anyone can do it… from anywhere. Admittedly, most of us are no Ernest Hemingway or Mark Twain, and it takes time to get good at this. On the flip side, if you are a good writer or like to write and are willing to learn the necessary techniques, the rewards can be extremely lucrative.
That's because there's no middleman like Yahoo or YouTube taking a large cut of money from the network. Instead, the value of the social network flows back to the users in the form of cryptocurrency.
Users earn rewards by posting high-quality articles and comments on the network. These rewards can be converted into Steem, which is a popular cryptocurrency traded on major exchanges such as Bittrex and Poloniex.
Quality on the platform is determined by voting. Any user can "up vote" any article or comment.
Below, I have listed a few extremely helpful examples of great Steemit posts. Not only are they examples of great content, but they're also educational about the system. Some of these articles earned the author more than $5,000 in rewards…
Once you are able to, I strongly recommend powering up your rewards to Steem Power. Once you do, you will start to earn a small amount of interest and receive more rewards.
You will also accumulate Steem Power automatically, but you can opt to shift your other rewards there as well. This is the best way to build long-term value on the Steemit network.
So if you've always dreamed of the writer's lifestyle, the sooner you get set up on Steemit, the better.
Tips…
Post original content about whatever you are passionate about.
Use images to add color to your posts (original if possible, otherwise credit the source).
Focus on what you know well.
Be casual and don't worry too much about perfect grammar.
To date, Steemit is the most successful crypto site. However, there are many up-and-coming competitors, all aiming to take market share away from social media sites like Reddit, Facebook, Twitter, YouTube and others.
Keep at it! Your first posts may not do well, but keep trying and learning.
If I see another project nearing an adoption tipping point, I'll be sure to alert you.
Presales – A Simple Trick to Purchase Tokens at a Steep Discount
This next free crypto trick is the last one you should try out once you've claimed some free crypto… bought some… and been successful at it.
Many crypto projects start off with something called a presale. This comes before an initial coin offering… the ICO. This is similar to an angel investing round. During this round, investors often get bonus tokens for investing early.
For example, instead of getting 10 tokens for one Ethereum… you might get twice the amount… or 20 tokens.
That's like getting double the tokens for free. A 50% discount.
Others may offer a 15%… or 30% discount. It all depends on the project.
But, again, unless you have some experience, you're going to want to stick to the other methods here.
After you have a few months of First Stage Investor knowledge under your belt, you can decide if this strategy is for you.
Until then, if you are interested in presale opportunities, take the time to paper trade them.
You can find a lot of opportunities and can start tracking on the ICO Alert website here.
Get Paid to Play Video Games
Over the coming months and years, expect to see widespread integration of crypto in video games.
These won't likely be from established developers because they don't want to lose out on the profits they make from selling in-game DLC…
But, instead, they'll be from new, up-and-coming software companies who integrate the blockchain within the game.
There are two promising projects doing that right now.
The first one is BlockV.
You can think of it kind of like Pokémon for the blockchain. This app allows you to create and trade digital assets tied to locations in the real world.
And while we're in the early stages of the project right now, you can download the app to claim free VEE tokens.
The second free token opportunity is right around the corner.
A new game called HashRush will be released soon that allows players to mine crypto in the game…
And get FREE crypto deposited in their wallet for doing it.
Forks
The last and easiest free crypto strategy you can take part in is a fork. Forks happen when a crypto splits into two different cryptos.
This happens when a change is introduced in the code behind a given crypto. When this change is introduced, everyone who owns the original token becomes the owner of both the original and the new one.
The two most famous examples are bitcoin/Bitcoin Cash… and Ethereum/Ethereum Classic.
I won't go in to the details as to why these forks happened here.
But if you had owned bitcoin on the day of the Bitcoin Cash fork, you would have also become the owner of an amount of Bitcoin Cash equal to the amount of bitcoin you owned.
So, for example, if you owned 2 bitcoins… the moment the fork happened, you'd own both 2 bitcoins and 2 Bitcoin Cash.
Now, what most people don't know is that forks like these happen every few months. And what even fewer know is how to "unlock" these forks so they can be sold for "free money."
Here's how to do it with bitcoin…
How to Unlock "Free Crypto" You Didn't Know You Had
First things first.
Before you unlock any bitcoin forks, you should transfer your bitcoin to a new address. This will allow you to secure your original bitcoins.
Once you've done that, you'll perform the following four steps for each fork you own.
Install a wallet that supports forked bitcoin versions and open it.
Transfer your forked bitcoin to an exchange.
Sell your forked bitcoin for bitcoin.
Send the bitcoin to the new address you created in the first step.
So how do you know which forks you own?
Simple: If you held bitcoin in a wallet you controlled on the fork date, then you have the forked bitcoin in your wallet.
(Unfortunately, if you held your bitcoin on an exchange like Coinbase or Bittrex, they control your wallet. That means you have to check with the exchange to see if they unlocked it for their customers.)
In total, you should be able to pick up 10% to 20% of the value of the bitcoin you own.
So, for example, if you own 1 bitcoin and bitcoin is trading for $10,000… you should be able to pick up between $1,000 and $2,000 extra dollars per bitcoin.
So what forks should you "cash in" on?
Here's my list, along with the fork date, a link to its current price, a link to how to unlock it and a link to an exchange you can trade it on.
I sorted them in order of current value so you can work down the list until you decide it's not worth the effort.
Bitcoin Cash
Forked at Block 478558[4]
August 1, 2017
For each 1 BTC, you get 1 BCH.
Current Price
https://coinmarketcap.com/currencies/bitcoin-cash/
How to Unlock It
https://bitcoinmagazine.com/articles/beginners-guide-claiming-your-bitcoin-cash-and-selling-it/
Exchanges You Can Sell It On
https://coinmarketcap.com/currencies/bitcoin-cash/#markets
Bitcoin Gold
Forked at Block 491407[6]
October 24, 2017
For each 1 BTC, you get 1 BTG.
Current Price
https://coinmarketcap.com/currencies/bitcoin-gold/
How to Unlock It
https://bitcoinmagazine.com/articles/beginners-guide-claiming-your-bitcoin-gold-and-selling-it/
Exchanges You Can Sell It On
https://coinmarketcap.com/currencies/bitcoin-gold/#markets
Bitcoin Diamond
Forked at Block 495866[7]
November 24, 2017
For each 1 BTC, you get 10 BCD.
Current Price
https://coinmarketcap.com/currencies/bitcoin-diamond/
How to Unlock It
https://steemit.com/cryptocurrency/@olsm/how-to-claim-bitcoin-diamond-bcd-super-bitcoin-sbtc-and-bitcoin-gold-btg
Exchanges You Can Sell It On
https://coinmarketcap.com/currencies/bitcoin-diamond/#markets
United Bitcoin
Forked at Block 498777[8]
December 12, 2017
For each 1 BTC, you get 1 UB.
Current Price
https://coinmarketcap.com/currencies/united-bitcoin/
Exchanges You Can Sell It On
https://coinmarketcap.com/currencies/united-bitcoin/#markets
Super Bitcoin
Forked at Block 498888
December 12, 2017
For each 1 BTC, you get 1 SBTC.
Current Price
https://coinmarketcap.com/currencies/super-bitcoin/
How to Unlock It
https://steemit.com/cryptocurrency/@olsm/how-to-claim-bitcoin-diamond-bcd-super-bitcoin-sbtc-and-bitcoin-gold-btg
Exchanges You Can Sell It On
https://coinmarketcap.com/currencies/super-bitcoin/#markets
Bitcoin God
Forked at Block 501225
December 27, 2017
For each 1 BTC, you get 1 GOD.
Current Price
https://coinmarketcap.com/currencies/bitcoin-god/
How to Unlock It
https://www.bitcoingod.org/#wallet
Exchanges You Can Sell It On
https://coinmarketcap.com/currencies/bitcoin-god/#markets
Major forks happen, on average, once per quarter.
As a member of my First Stage Investor service, I'll send you an email alert whenever there's an opportunity to pick up 10% or more on the bitcoin you own.
But you can also keep track of upcoming forks on this site.
Simply search this calendar for the word "fork."
Conclusion
These are exciting times right now in the crypto markets. Many projects are providing incentives for people who support them.
These include free airdrops of crypto directly into your wallet for simply signing up with your wallet address…
Plus, opportunities for you to claim free crypto for clicking, writing, marketing, coding and designing… you could be on track to make hundreds of dollars out of the gate or maybe collect up to $10,670.
And there's more.
By researching the links above, you'll be well on your way to finding the top crypto opportunities in the market…
While I send you my monthly First Stage Investor newsletter, alerting you to the top cryptos to invest in.
There's never been a market in human history with this much profit potential… Where a little bit of your time can turn into thousands or more in free crypto…
And small $50 investments can pay out big.
For example, the top 35 cryptos in 2017 paid out an average of $38,660 per $50 invested.
Today, it's harder to find opportunities like those we saw in early 2017, but there are still opportunities to make many times your money in the crypto market.
Far less than 1% of people own any cryptocurrency at all today. I believe we're headed for mainstream adoption as consumers continue to lose confidence in "fiat" government money.
So congratulations – you're an early adopter.
Keep an eye on your inbox for my next email.