Andy Gordon and I recommend a startup for our First Stage Investor members to invest in every two weeks (click here to sign up). When Andy and I first started working on startups together in 2018, we couldn't do that. We felt fortunate when the quality of deal flow improved to the point where we could recommend one startup investment a month.
The quality of deal flow is so good now that there have been several companies a year that we could have recommended. But because we only want to present the best of the best to you — and because we don't want to overwhelm you with investment opportunities — we didn't write about them.
That shows just how much the startup sector for everyday investors — like you and me — has grown over the past few years.
But improved deal flow isn't the only change to the Regulation Crowdfunding space for everyday investors (or Reg CF, as industry insiders like to call it).
According to the 2021 KingsCrowd Market Intelligence Report, Reg CF startups raised $486.8 million in 2021. In 2018, REG CF startups raised $75.8 million.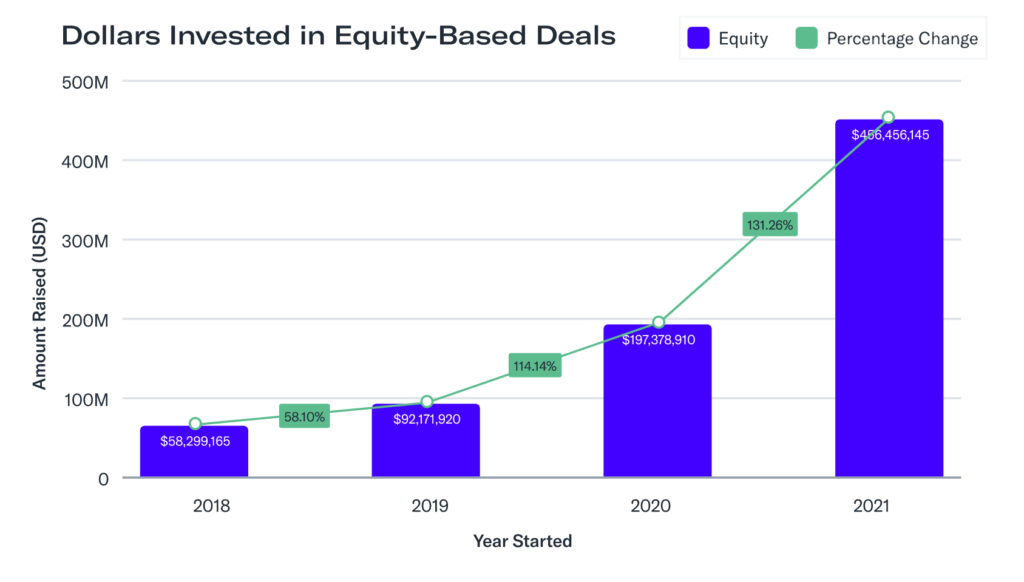 The volume of deals increased 125% from 2018 to 2021, according to KingsCrowd. And in 2021, almost 90% of the Reg CF fundraising rounds were successful.
You can read more excerpts of the 2021 KingsCrowd Market Intelligence Report here. But here's my key takeaway:
There's never been a better time to be a startup investor. And there's never been a better time to be a startup founder.
Everyday investors are finding quality companies to invest in that sit in the blind spots of traditional angel investors and venture capitalists (VCs). From medical technology startups to drug development companies, startups with female founders and consumer goods with significant traction, investors are seeing more and more opportunities to invest in high-quality startups.
And because VCs and traditional angel investors haven't adapted to the new ecosystem yet, everyday investors can invest in these startups without VCs driving up the price of investment.
Meanwhile, founders are discovering they have a good alternative to the traditional VC/angel investor ecosystem. Reg CF gives founders a way to raise the capital they need to grow a business without giving up control of the company or giving away board seats. And it gives founders who don't necessarily have access to the VC system an opportunity to succeed.
The growth we've already seen in the startup ecosystem shows these two powerful trends at work. And our friends at Kingscrowd forecast that "by 2025, the market is likely to exceed $2 billion in annual investments."
Startup investing is entering a magical era. Everyday investors have the opportunity to build a portfolio of companies that can potentially yield at least 10x returns. And founders can reach out to a new group of investors to help them build amazing new businesses. I can't wait to see what happens next.