Deal Details
Minimum investment: $99.20
Valuation: $2.728 million (pre-money)
Share price: $0.62
Deadline to invest: March 13 at 12:00 p.m. ET
Investment Portal: Netcapital
Note from Adam: This deal is only available to U.S.-based investors. This is unfortunate and beyond our control. We apologize to international members and will ask the company to do another raise that allows international members to invest.
---
Legendary venture capitalist Marc Andreessen is famous for his saying that software is "eating the world." In other words, in every corner of the world, new technologies are disrupting the status quo.
The startup we're recommending today has a chance to revolutionize an institution that hasn't changed much in centuries: our court system.
The opportunity I'm going to present today is one I feel very strongly about. This company has the first U.S. product to market in a multibillion-dollar area.
The opportunity closes March 13, 2017, and the minimum investment is $99.
I believe this deal is a gem.
The company we're recommending today is Court Innovations (CI).
CI has built a software platform called Matterhorn, which enables courts and citizens to resolve cases online.
Matterhorn is currently being used by 20 court systems and has resolved 10,000 cases so far. The market is huge and wide open, with more than 15,000 courts in the U.S. alone.
How It Works
Let's look at a very common court case: speeding tickets. When someone gets a speeding ticket in a district that uses CI's Matterhorn system, there is a web address on the ticket where they can go online to resolve it.
The offender can now negotiate terms online, without hiring a lawyer or appearing in person. For example, they can offer to pay the fine, but not take the points on their license. This offer then goes to the prosecutor and judge, who can accept it or counter-offer.
Matterhorn is a brilliant piece of software. I see a lot of software demos from startups, but this one was special. It's a highly sophisticated, polished, easy-to-use and flexible system. Its design is also optimized for use on mobile phones and tablets.
The best part is Matterhorn was built primarily using $2.8 million of government grant money. These funds are "non-dilutive," meaning they don't water down the company's shares.
The government gave CI these grants because it believes this system can save local courts a lot of time and money. It's doing exactly that, as you'll see from the customer testimonials below.
CI has deep connections to the courts in its home state of Michigan. The company was spun out of the University of Michigan Law School. It enjoys the strong support of local and state governments, which will be hugely helpful for CI in gaining a foothold in this market. CI even licenses some of its technology from the University of Michigan for $5,000 per year (which was well-negotiated by CI).
Court cases, like everything else, are inevitably going online. But most courts don't have the resources to build their own online systems.
Enter CI, which is extremely well-positioned to take advantage of this shift.
Highlights from case studies of courts using CI's Matterhorn product include…
Reduced case time (from open to close) from 50 days on average to 17 days
Can cut time required to resolve cases from 2.5 hours to 27 minutes
Saw 92% of cases using CI software collect money within 30 days, compared to 51% of cases without CI
Decreased default rate from 17% to 32% to under 2% with Matterhorn
Improved fine collection rate from 51% to 92% in the first 30 days
Improved overall fine collection rate to 99% within 90 days.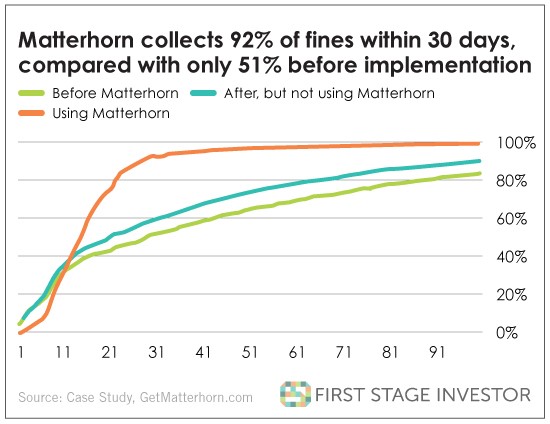 Leadership
I have had extensive conversations with CI CEO MJ Cartwright. MJ is an experienced and successful entrepreneur, having previously been part of the executive team that built HealthMedia, which was eventually sold to Johnson & Johnson.
During our conversations, she demonstrated a deep understanding of how to take this business to the next level. She is a very capable leader who is thinking years into the future.
CI Founder J.J. Prescott is a professor at the University of Michigan Law School with deep ties to the legal system. He graduated magna cum laude from Harvard Law School and got a Ph.D. in economics from the Massachusetts Institute of Technology.
Chief Technical Officer Saaed Fattahi also has relevant startup experience and sold one of his startups, Jigsaw Data Corp., to Salesforce.com. Based on what I've seen of Matterhorn, Mr. Fattahi is extremely talented, and CI is lucky to have him.
Tracy Davis, product director, worked with MJ at HealthMedia. It's always good to see team members who have worked together well in the past joining forces again. Tracy is doing an excellent job on the product (Matterhorn).
Revenue and Traction
Matterhorn increased revenue from $15K in 2015 (when it launched) to $54K in 2016, a 260% year-over-year increase.
I can't disclose its current monthly revenue numbers, but it has grown healthily since.
While it's still early in this company's development, CI's business is growing at a very nice pace.
CI is first to market with a complete online court case resolution system, and competition is practically non-existent, with only a few online dispute resolution companies in the mix. This will likely change in the near future, but CI has a nice lead and real traction going.
CI's early success in getting 20 courts to use Matterhorn speaks volumes of its determination and grit. Now that it has a real product out in the field getting rave reviews, it will get easier from here.
Its business model includes recurring monthly and transactional revenue streams. Every fine or fee that is paid through its system can bring revenue of $5 to $15, depending on volume and the specific customer. CI is still figuring out the ideal combination of recurring subscription fees and transactional revenue.
Selling to government is a long sales cycle, typically six-plus months. However, local governments are very "sticky" customers, meaning they're very likely to be long-term revenue generators once they buy in.
For now, CI's focus is on growing its customer base. Proceeds from this round of funding will be used to expand its sales and support teams, accelerating growth.
Matterhorn is built on a highly scalable cloud-hosting environment, so it'll be able to handle rapid growth.
Customers Love CI's Matterhorn
CI's customers genuinely love the Matterhorn platform. Here are a few testimonials from GetMatterhorn.com (CI's sales website).
"Online ticket review helps to make the justice system more accessible and convenient for the public. The system also saves time for judges, prosecutors and law enforcement, making our justice system more efficient."

– Hon. Robert P. Young
Chief Justice, Michigan Supreme Court

"Matterhorn not only improves the process of resolving a warrant, it alleviates the fears that people might have about coming to court to do so, and getting arrested."

– Hon. Dawn A. Klida
Michigan 74th District Court

"Currently those with civil infractions are getting an initial court date on average of 21 days; with Matterhorn, from date of ticket issuance through to closing of the ticket is averaging 6.1 days."

– Hon. Brigette Officer-Hill
Michigan 30th District Court

"…The way budgets are these days, the police do not have to show up, which means they can do it from their office if they have to do anything. It eliminates the court time, which means we don't have to put that on our docket. And it also frees up time for the magistrate, of course."

– Hon. Thomas Truesdell
Michigan 14A District Court
Conclusion
Court Innovations is perhaps the most promising equity crowdfunding deal I've seen yet. It has a lot going for it:
Strong leadership team
Very reasonable valuation
Low minimum investment
Highly polished, valuable product
Positive mission (increasing access to justice for all)
First to market in a potentially massive space
Great branding and marketing
The potential for more grant money.
If you haven't yet made an equity crowdfunding investment, now is a great time to make your first.
I would personally invest more than the minimum in this deal. (We're not allowed to invest in our recommendations, unfortunately.) But don't invest more than one-tenth of your startup investment budget for this year. So if you have a $1,000 budget for the year, I would only invest the minimum here. There will be more great opportunities to come.
The valuation for this round is a bargain. Remember, CI used $2.8 million in grant money to build out its platform. And now it's raising money at a $2.728 million "pre-money" valuation. The software assets of the company are extremely valuable and make this deal far more "de-risked" than your average early-stage company.
How to Invest
This opportunity is on a relatively new equity crowdfunding portal called Netcapital. I can almost guarantee you won't hear about this deal anywhere else.
We have vetted Netcapital and its founder, Jason Frishman. We feel very comfortable recommending this deal on its platform.
First, you'll need to register for an account on Netcapital.com. Go to the home page and click on the "Sign Up" button in the upper-right-hand corner of your screen.
Click "Sign Up" on Netcapital.com.
You'll need to confirm your account via an email from Netcapital titled "Confirm your email address." Now follow the steps and fill out the required information. This shouldn't take more than a few minutes.
Once you're registered, click here to go to Court Innovations' investment page. You can also find this opportunity listed on Netcapital's home page under "Available for investment."
Once you're on the Court Innovations investment page, click on the "Invest in Court Innovations" button pictured below:
Now choose the payment method that works best for you and transfer the funds. Your money will be held by an escrow agent until the deal closes, when it will be transferred to Court Innovations, and you will officially own a piece of this exciting software company.
How You Can Help
Court Innovations is expanding to courts around the country. If you have connections to local judges, courts or any other potential business leads, please email hello@courtinnovations.com. You can also point relevant contacts to CI's sales site, GetMatterhorn.com. There, they can request a demo and learn all about the powerful Matterhorn system.
If you have friends in the court world, tell them about the Court Innovations deal. The more investors from within the ecosystem, the better. Some of them will go on to act as "champions" of Court Innovations, working to bring it to their place of work.
Risks
Like all early-stage investments, there are risks with this opportunity. The sales cycle for government sales can be long, and Matterhorn will need to continue building its sales pipeline. We feel it has the leadership team in place to execute its growth plan, but there is always the risk that the company will not succeed. The company will have approximately 12 months of runway after this round, and it could fail to secure further funding. This is typical of seed-round funding.
Given the low valuation of $2.7 million, I am extremely comfortable with the risk/reward equation here. That said, understand that you're investing in an illiquid, high-risk, high-reward asset. We encourage members with smaller portfolios to take advantage of the low investment minimums and build a large diverse portfolio over time.
Invest early and well,
Adam Sharp
Founder, First Stage Investor