Note: This report was co-authored by KingsCrowd Investment Research Manager Francis Vu.
I was wrong about the Internet of Things (IoT).
I began touting the coming revolution in smart devices about eight years ago. I said it would completely change how we live, work, and play. 
Oops. 
Okay, I admit, we've come a long way since then. Adoption has steadily increased over the years. IoT has entered our homes through products like Ring, Nest, and Alexa. And some companies, like GE, deploy hundreds of tracking sensors on their products.
But, man, it could have been so much more. We've barely scratched the surface.
I (and a lot of other people) completely underestimated how difficult it would be to develop an IoT ecosystem where various technologies and the products that flowed from them would be compatible with each other. 
Would you tolerate being forced to buy all your new kitchen appliances from just one brand even though, say, the company that makes your coffee maker doesn't make a very good refrigerator?
Of course not. But that's exactly what consumers have been forced to do with smart home devices. They have to commit to a single ecosystem: Google's Home, Amazon's Alexa, or Apple's Homekit. This walled garden extends to product choices as well, such as Philips Hue, Ring, Nest, and others.  
"Once they choose," LEXI co-founder Scott Cahill told me, "there is a sense of being locked in. They don't want to forgo their investment in their existing smart home purchases. And I don't blame them."
That's a big problem. And, right now, LEXI is the only company that has figured out how to fix it. Its technology — featuring a universal IoT gateway — is truly agnostic. (IoT gateways are often required in several smart home protocols. A universal IoT gateway serves a secondary purpose of interconnecting different wireless protocols.)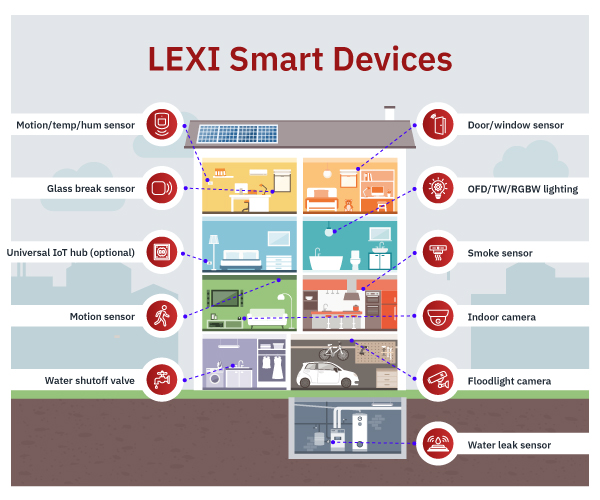 It works with all five primary IoT wireless protocols. (Wireless protocols, such as Wi-Fi, are simply the modes of communication that transport and ensure security to the data being exchanged between connected devices.) Those five protocols — Bluetooth, Zigbee, LoRa, Z-Wave, and Wi-Fi — drive 98% of the market.
Only LEXI offers a product capable of unifying a fractionalized market made up of dozens of brands that dot the market very much like islands in a vast ocean, unable and unwilling to communicate with each other. 
Not surprisingly, it's the consumers who pay the price for this disjointed market. Those who dare buy smart devices from more than one brand are stuck with devices that can't work together. And those who have committed to a single brand have a limited range of products to choose from. 
While the problem is pretty obvious, the solution isn't. Otherwise, it would have been done by now. 
Because for the company that can unify the various technologies and bring that solution to retailers, brands specializing in security, HVAC firms, utilities, telecoms, commercial buildings, homebuilders (the list goes on)… 
For that company? 
Simply put, the sky's the limit. 
That company is not just bringing a solution to the underwhelming world of IoT. It's bringing the solution.
The question to ask of that company is not "can it grow?" but "just how big can it grow?"
Here's a clue. LEXI not only works with all five existing major protocols, but also works with the newer protocols like Matter and its companion technology, Thread. Matter allows smart home accessories to work across all the major smart home platforms. Consumers won't need to know if a device is supported by Google Assistant, Amazon Alexa, or others. All they need to know is whether it says "Matter."  
Thanks to LEXI (along with the newer protocols), consumers can now buy a broad range of smart products for their home. And device makers gain access to a much bigger customer universe now that they don't have to worry about obtaining support from individual platforms.
Consumers aren't the only big winners. Enterprises also benefit greatly from LEXI's technology. Besides the interoperability and major ecosystem coverage that LEXI confers, enterprise customers also get customer relationship management (CRM) integration, fleet management of devices across campuses, buildings, floors and rooms, "Big Data" storage (with rich analytic tools), and customer service systems, just to name a few enterprise-focused capabilities. Enterprise customers will get practically everything they need once they deploy the LEXI Platform.
LEXI's recent revenue is promising. As the first IoT-enabling company to develop an end-to-end solution that deploys, manages, reports, and supports IoT devices, LEXI has already captured the interest of major retailers, enterprises, insurance companies, telecoms, and a host of other user groups. Below are just 10 of LEXI's most exciting enterprise prospects.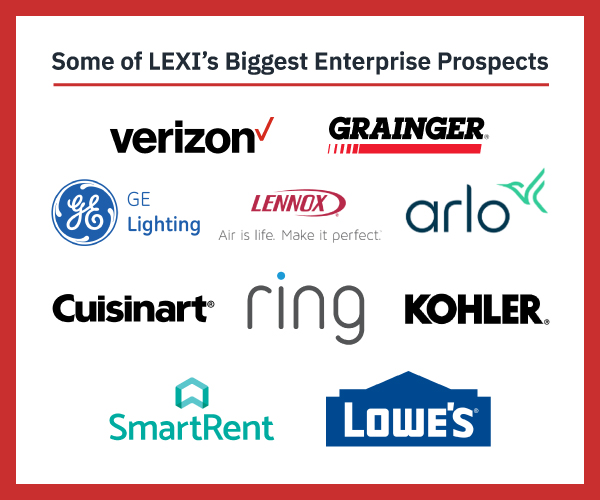 But this is just the beginning.
An Early Clue of What's Ahead
LEXI earned more than $2 million in 2021. That's a solid start and an early clue that much bigger revenue streams are not far off. LEXI has built an incredibly large sales pipeline of more than 175 opportunities. At the company's current size, it's too much for LEXI to handle right now. 
That's okay. As problems go, it's a good one to have. Given time, LEXI should be able to turn many of these potential pipeline opportunities into contracts. 
As for the present, two pipeline opportunities stand out. One is with a major non-U.S. telecom company that's launching its smart home pilot program using LEXI. The 300-home pilot is scheduled for launch in the first quarter of 2023. The other is even more exciting. It's with a large U.S. retailer with thousands of stores. 
Both represent big contracts that would range from several million to tens of millions of dollars per year.
An All-Star Team 
The LEXI team is perfectly capable of helping the company realize its potential. Co-founder and CEO Scott Cahill has a long and varied background as a sales and marketing executive at a number of companies. Scott was also CEO at a number of companies before finally becoming co-founder and CEO of AdForge, which was later acquired by a strategic investor.
Co-founder and CTO Deepak Saxena has deep experience as a software engineer. In one of Saxena's earlier ventures, he co-founded Fantasy Politics, which was later acquired by MassDigi in 2013. In 2018, Saxena joined AdForge as co-founder and CTO. AdForge's success led to Cahill and Saxena joining forces at LEXI. 
COO John Osborne II previously worked as the president of the North American side of LEEDARSON, the world's largest LED lighting as well as IoT manufacturer. Osborne has also sat on the board of the Connectivity Standards Alliance for more than 14 years (as both chairman and chairman emeritus for the last eight years), where he led the creation of the Matter protocol. Osborne is also vice chairman of the Z-Wave Alliance.
Lastly, Vice President of Global Sales Michael Bailey Smith has more than 20 years of experience in business development and sales. According to Cahill, Smith has an amazing ability to close deals. At National Technical Systems (NTS), Smith had an average close ratio of more than 78%. Smith later joined LEEDARSON, where he led IoT business development for nearly six years before joining LEXI as the startup's sales leader. Since joining LEXI, he's taken the company from zero to $400 million in sales. Smith single-handedly took LEXI's sales pipeline from 12 to 175 leads in his first five months with the company. Smith's deep experience and relationships in the IoT space have proven valuable as he's helped generate hundreds of warm leads representing millions of dollars in revenue. 
Now Is the Best Time to Invest
LEXI currently has a 12.5x revenue multiple ($30 million valuation cap and approximately $2.5 million in revenue). While that's quite good for an IoT company, I expect the multiple to dramatically decrease as revenues surge. A year from now, this valuation cap is going to look incredibly cheap.
Had a device of LEXI's caliber been introduced years ago, the market would be dramatically larger than it is today. For the past decade or so, the market has been held back. The absence of a universal, interoperable, multiprotocol, all-encompassing solution stunted growth. 
LEXI is taking the lid off a market whose growth spurt is long overdue. And it won't just ride the upcoming IoT expansion. LEXI is gearing up to become the single most powerful driving force behind what is expected to be explosive market growth. 
According to McKinsey & Co.'s January 2022 IoT report, the global IoT market will be worth $5.5 trillion to $12.6 trillion by 2030. It's expected to triple from 2022 to 2025, as the chart below shows. And then it should at least triple again from 2026 to 2030.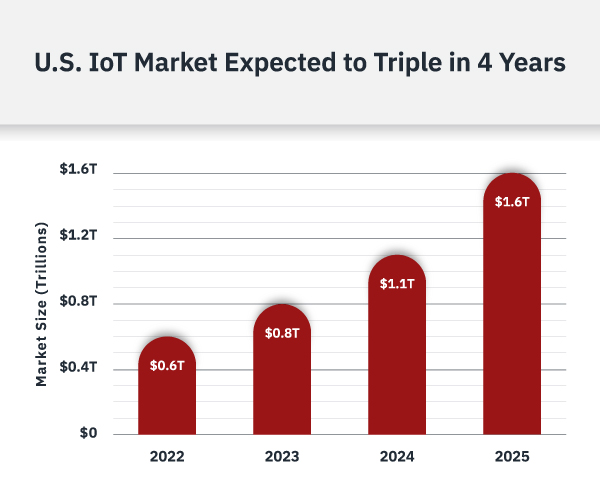 There's no doubt in my mind that LEXI is on the cusp of a revenue gusher. You're investing ahead of the gusher… but not by much. Things will begin to heat up as soon as a month or two from now. 
Because potential unrealized revenue is not the same thing as actual revenue, our timing is technically risky. But that's not how I see it. For the upside that should be right around the corner, it's a risk worth taking. 
Absent this risk, the price you'd be paying for shares would be several times higher than it is now. The best time to invest is right now.
---
Deal Details
Startup: LEXI
Security type: Crowd SAFE
Valuation cap: $30 million
Minimum investment: $100
Where to invest: Republic
Deadline: January 23, 2023
---
How to Invest
LEXI is raising capital on Republic. If you don't already have an account with Republic, you can sign up here.
Once you're logged in, visit the LEXI raise page. Be sure to review the LEXI deal page and offering documents thoroughly before making an investment. When you're ready, click the blue "Invest in LEXI" button. Enter in the amount you want to invest, starting as low as $100, and then move through the required steps. Make sure that your investment is confirmed, and then you're good to go.
Risk
Startup investing is inherently risky, and startup investors should expect to hold their investments without liquidity for five to 10 years. Never invest more money than you can afford to lose.