Great investment opportunities come in all shapes and forms. Some startups are solving the world's biggest problems — like climate change and the global pandemic. They focus on the scary problems that can do great harm. These problems get the most attention.
But I greatly appreciate the startups that address less "glamorous" problems. We tend to submit to everyday problems without complaint. But they can be every bit as vexing and difficult to solve as many of the world's biggest problems. Taxis come to mind as an example. So do home services.
Fixing everyday problems doesn't require amazing technology. But it does need very different ways of thinking about an industry and user experience. That's much harder than it sounds. But when you find a company whose business model and operations create a dramatically improved customer experience, you probably have a terrific investment opportunity on your hands. 
The taxi industry met its match in Uber and Lyft — a convenient user experience paired with a new take on the ride-hailing industry. In home services, Angi and TaskRabbit dragged the industry into the 21st century. Both companies have been richly rewarded for their efforts. Angi reported 2021 revenue of $1.7 billion. And TaskRabbit was bought by IKEA in 2017 for a reportedly handsome (but not publicly disclosed) price. 
Both companies have built a large national legion of gig workers. Angi has more than 240,000 gig laborers on its platform. And TaskRabbit has more than 140,000. Early investors in both companies have done extremely well.
But don't worry. I have an even better company for you.
Hidrent is really small. It has a valuation of only $8.5 million. But it already has 6,000 gig workers in its network. And it's growing fast. Its upside is ridiculous (in a good way). 
Sure, Hidrent's gig workforce doesn't compare with Angi's or TaskRabbit's right now. But — in a single stroke of brilliance — it has found a way to massively expand its workforce. And that same stroke of brilliance addresses a critical gig laborer issue — that of trust — with a far better solution than either Angi or TaskRabbit. 
Who Do You Trust? 
Good question. For most people, the list of people they trust is short. Immediate family — and a few close friends — come to mind. But beyond that, not many people make the cut. And one of the main results of that limited trust is a reluctance to let strangers into our homes. 
I understand this reluctance, perhaps more than most people. A few years ago, we gave contractors and handymen free reign around the house during a remodeling project. And things started to disappear. Pills from the medicine cabinet… Rare gold and silver coins… Even a wad of cash I had tucked away in a corner of my filing cabinet. 
It was a painful lesson. And I won't repeat it ever again. 
There are as many stories of trust betrayed as there are people. But the fact remains that we can't all take care of issues like leaking pipes and yard maintenance by ourselves. We need to bring strangers in for these tasks. So how do we balance the need for safety against the need for home services?
The best solution is to only select workers you trust. And broadly speaking, people trust firefighters — even enough to come into their homes. Which is why Hidrent's gig workforce is made entirely of firefighters.  
I don't know exactly why people implicitly trust firefighters. But that doesn't matter. What I do know is that it's a brilliant (if quirky) choice on Hidrent's part. And it gives the startup a distinct advantage over Angi and TaskRabbit. Neither vets their gig workers — there's no basis of trust with these companies. But not just anyone can become a firefighter (volunteer or otherwise). It's also a big advantage operationally. Hidrent doesn't have to conduct its own background checks. The savings in terms of time and money are significant. 
The Perfect Partner
In order to grow its gig workforce, Hidrent has partnered with the International Association of FireFighters (IAFF). The IAFF has agreed to promote Hidrent to its more than 330,000 members. The partnership is already yielding results. It's enabled Hidrent to jump from 1,500 firefighters last November to more than 6,000 now. 
That number will need to get much bigger. And I fully expect it will. The IAFF is highly motivated to help Hidrent. It has a 5% equity stake in the company, which aligns the incentives of both organizations. It also gets a 2% slice of Hidrent's revenues. When Hidrent signs up 10,000 firefighters, that slice will increase to 4%. 
Hidrent isn't solely reliant on professional firefighters. It's also going after a massive pool of more than 722,000 volunteer firefighters. So let's do some quick math. To get to the same level as Angi, Hidrent would need to capture a little more than 20% of the entire 1 million-strong firefighter workforce. 
That's a tall order. But we don't need Hidrent to grow as large as Angi to make investors windfall profits. Remember that its current valuation is $8.5 million. And let's say it captures roughly 10% of volunteer and full-time firefighters, putting it at half the size of Angi's workforce. To keep things simple, let's assume it would then make roughly half of Angi's $1.7 billion revenue. That's about $850 million. Angi's pre-pandemic peak price was 7-times revenue. Applied to Hidrent's hypothetical $850 million revenue, that's a $6 billion valuation. If we want to be more conservative — and take a 5% capture of firefighters — that amounts to a $3 billion valuation. 
I'm bandying about big numbers here. Is it really possible? It depends on how fast and far Hidrent can grow its gig force. Here's what I think about those odds, starting with the present.
Done deal:

6,000 firefighters are in the bag.

Probable

: Getting to 10,000 should happen soon (within the first quarter of 2023 is the company's timetable).

Possible

: Getting to 50,000. A pathway is for Hidrent to capture 15% of IAFF's members plus a smattering of volunteer firefighters. I think 15% is probably the top end of what Hidrent could reasonably expect. A somewhat easier way to get to 50,000 is to capture around 10% of IAFF's firefighters plus a higher percentage of volunteer firefighters. It's doable.  

Possible but difficult

: Hitting the 50,000 to 100,000 range is a stretch. The receptiveness of volunteer firefighters to becoming a Hidrent gig worker is the big X-factor. Just getting 10% of these firefighters would add more than 70,000 to Hidrent's rolls. That brings 100,000 well within range. It would represent a huge win for Hidrent and investors. But it's a very tall task.
As you see, I'm settling on 100,000 workers as Hidrent's ceiling. That's 40% of Angi's total workforce. And by our math above, it would represent a huge win for investors in Hidrent's current round. Angi's pre-pandemic peak price was $12 billion, and 40% of that is $4.8 billion. 
More realistic is getting to 50,000 gig workers. It won't be easy, but I believe it's within Hidrent's reach. At that level, Hidrent could achieve a $2.4 billion valuation, giving investors a windfall 282X profit (excluding dilution). 
The basically guaranteed (in my opinion) 10,000-strong gig workforce would provide a 56X return. 
This is why I like this investment opportunity so much. Even at the lower end of expectations, Hidrent's upside is amazing. And it still has several other things going for it.
Hidrent's Continuing Balancing Act
Jacking up the supply of firefighters is the first requisite to growth. Hidrent gets high grades there. But the company will also need an equal surge in at-home jobs. Otherwise, firefighters unable to find jobs through Hidrent will lose interest in participating — creating unwanted churn. 
Building up the demand (or jobs) side is the second requisite for growth. 
And right now, Hidrent does not have enough jobs for its 6,000 firefighters on the app. I can't check this box quite yet.
But Hidrent is working on this. It's expanding the business-to-business (B2B) side of its operations to boost the number of jobs created on its network. B2B is actually making more money right now than the business-to-consumer side. Hidrent is aggressively engaging partners with businesses across the country that have the need for outsourced labor. And it's not just handyman-type labor either. For example, Hidrent has partnered with companies in the healthcare industry to provide rides to doctor's visits, COVID testing, home health wellness checks and home safety assessments. 
Many firefighters are required to obtain an EMT certificate. So it makes sense that the types of jobs they can do span multiple industries. And it's another advantage that Hidrent has over Angi and TaskRabbit!
Just the Beginning of Revenue Growth
In 2021, Hidrent generated $429,438 in revenue, up 64% from $261,786 in 2020. Even better, Hidrent is now projecting 74.8% revenue growth for 2022. Hidrent founder and CEO Dave Heimbuch has done a superb job in building solid traction and sustainable revenue growth — with just himself and one other full-time employee plus five contractors. And the company's three-year marketing agreement with the IAFF has enabled Hidrent to jump from covering a handful of states to a majority of states.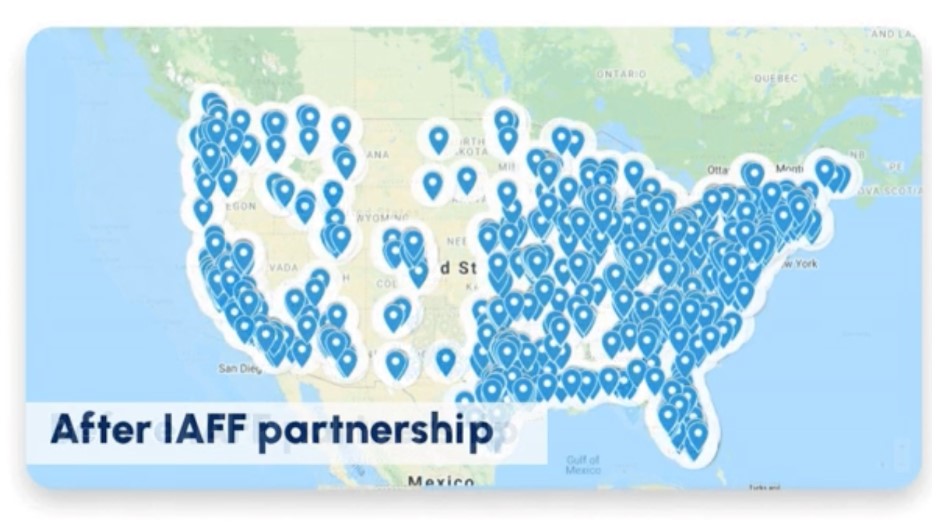 Hidrent's upside is very real. Its valuation is very low. It's growing its supply out.  It's focusing on building the demand side — as it should — with positive early results. And its founder knows how to grow a business. Right now, it's in good shape.
Add it all up and there's a lot to like. I believe Hidrent is going to surprise a lot of people.
---
Deal Details
Startup: Hidrent
Security type: Preferred equity
Offering Maximum: $534,999.72
Valuation: $8.5 million
Price per share: $0.57
Minimum investment: $228.00
Where to invest: StartEngine
Deadline: September 19, 2022
---
How to Invest
Hidrent is raising up to $534,999.72 on StartEngine. If you don't already have a StartEngine account, you can sign up for one here. Once you're logged in to StartEngine, go to the Hidrent deal page. Be sure to review the deal page and offering circular thoroughly before making an investment.
Then click the green "Invest Now" button. Enter the amount you want to invest, starting as low as $228, and proceed through the required steps. Be sure your investment is confirmed, then you're good to go.
Risks
This opportunity, like all early-stage investments, is risky. Early-stage investments often fail. Hidrent might need to raise another round of funding in a year or two, if not sooner. If it executes well, this shouldn't be a problem. But that's a risk worth considering when investing in early-stage companies.
The investment you're making is NOT liquid. Expect to hold your position for five to 10 years. An earlier exit is always possible but should not be expected. 
All that said, I believe Hidrent offers an attractive risk-reward ratio.