Note: This recommendation was co-authored by KingsCrowd Senior Investment Research Analyst Léa Bouhelier-Gautreau.
---
I'm "lucky." Cheating is in my blood. If anything gives me an advantage as an investor, I'm all in.
I make no apologies — quite the opposite. The more unfair the advantage, the better I feel about the investment.
Don't misunderstand. I'm not advocating for breaking the law or abandoning your moral compass. 
It's more about ruthlessly gaining an edge. 
And not just in investing. It could be anything.
For example, I go to a lot of investment events. Sometimes, they hold a lottery. You drop your business card in a bowl. If it's picked, you win.
I crumple up my card a bit before dropping it into the bowl. It's a small edge. And the odds are still against me. But I won a free trip to Europe that way once. 
Did I feel any guilt? Nah, not even a twinge.
I won a trip. I felt like a winner. 
And right now, investing in Global Composite Piping Solutions (GCPS) feels exactly like cheating and winning. 
When I first came across this raise, it didn't feel that way. GCPS had a great product and appealing upside. But it had no money coming in. And no money paired with a $100 million valuation just wasn't appealing to me. The co-founder and CEO, Doug Jones, told me he was chasing a half-dozen large projects and had a good shot at capturing at least one of them. But I wasn't sure if I believed him. Founders tend to overstate such things. 
Nonetheless, the company had a lot going for it. Its large-diameter thermoplastic pipes are made by fusing together multiple layers of tough and corrosion-resistant materials. These pipes could be a natural successor to concrete pipelines. They're lighter… easier to install… and offer much lower upfront and maintenance costs while still being able to hold high pressure. 
Hundreds of concrete pipelines in the U.S. (and thousands globally) that were originally laid down decades ago are now suffering from severe corrosion and serious leaks. They need to be replaced. 
The problem has become so extensive that the American Water Works Association (AWWA) calls our current period "The Replacement Era."
The problem is real, large, and looming. And GCPS has a great solution. So — despite the high valuation — I thought it was definitely worth talking to one of the founders.
Then a remarkable thing happened.
In the middle of its raise, the company won one of the projects it was going after — a big one. It will take GCPS about a year to make the pipes for this project. And for this one year's work, the company will generate several hundred million dollars in revenue. 
Its valuation has gone from too high to an incredible bargain — the kind of bargain typically only found if a company were going out of business. The revenue-to-valuation multiple is not 10-to-one (which would be entirely acceptable). It's not five-to-one, which would be considered dirt cheap. It's not even one-to-one, which would be unprecedented and raise eyebrows, as in "what's the catch?"

No, the multiple is less than one-to-one. In 99.9% of cases, that would indicate a scam is being foisted on investors. 
But just the opposite is happening. Not only is GCPS getting a huge check for its work, but the project should also kickstart the company's ability to capture other large projects. 
Literally overnight, GCPS has gone from pre-revenue to being on the verge of producing notable revenue… from medium-to-high risk to low risk… from expensive to an incredible bargain. 
It is that true 0.1% anomaly — in a good way. 
It is an incredible opportunity for investors — and all the more reason to make absolutely sure the company checks out. At this point, what you need to know is…
Is the problem truly real, massive, and urgent?

Does GCPS offer the best solution?

Does its technology work as claimed?

And are there any major disincentives to widespread adoption?
Let's take these issues one at a time.
Time's Up for This Ancient Technology 
Steel and concrete are the most commonly used materials for large-diameter, high-pressure pipes that transport water, oil, or gas. But they have shortcomings. 
Steel pipes corrode over time and are heavy. Steel fabrication is energy intensive. It melts only at extremely high temperatures, which requires large amounts of energy. More often than not, that energy comes from fossil fuels. 
Concrete pipes are even heavier than steel. They also contribute significantly to climate change. The production of concrete for infrastructure accounts for about 7% of global carbon emissions. For perspective, that's twice the amount of global aviation emissions.
What does that tell us? Steel and concrete pipes are heavy, expensive to transport, and, worst of all, bad for the environment. There's a growing consensus that we can't continue to use materials that contribute to climate change. 
Timing is also in GCPS' favor. The recent infrastructure bill will trigger $55 billion in government spending in water infrastructure to eliminate leaking service pipes. The need for new pipes is serious, and funding is coming.
Its Lighter Pipes Must Now Pass Muster
GCPS' technology was created by co-founder and COO Terry Shafer. He licensed the technology for small-diameter thermoplastic piping to another company but maintained all rights to the large-diameter technology. His plastic pipe technology is amazing… because it's not only plastic. 
Composite fibers — such as fiberglass, carbon fiber, and heat-resistant aramids — are fused around the plastic to make it stronger. 
The good news? The material can theoretically hold any pressure as long as the amount of composite fibers is increased. And the pipes are lightweight — which makes them perfect for transportation to remote areas.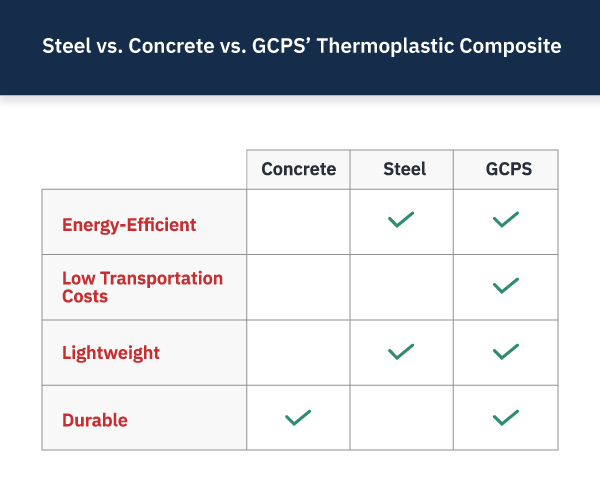 It should be noted that this technology has not been tested yet in pipes with large diameters — the diameters that GCPS will commercialize. I know how that sounds. How can an unproven product get a deal worth hundreds of millions of dollars?
That's the exact question I put to Doug. He told us that before winning its big project, GCPS had been considered for the Saudi Vision 2030 project to bring its technology to Saudi Arabia. The project did not happen. But the company's technology was given a multi-year, expert, and thorough evaluation that was made available to GCPS' new project customer. It convinced them that the technology should work.
There is technical risk here. Doug told me that the worst-case scenario is that the technology might need tweaking to make sure the pipeline is strong enough to accommodate the desired pressure. With his extensive experience in the pipeline industry, Doug was able to reassure me that the risk is small. But — with apologies to Doug — that's not actually the worst-case scenario. As small as the risk is, investors like us need to understand that the technology might not work in the field.  
But I believe it is a very small risk and — given the potential financial rewards — a risk well worth taking. 
Will Thermoplastic Pipelines Conquer the World?
GCPS offers an obvious advantage for water, oil, and gas projects in remote areas. And that already is enough to provide an exceptional return on your investment in the case of a liquidity event. 
For customers, GCPS' pipes are also cheaper than steel pipelines in the long run because they require very little maintenance. They also avoid the significant transportation costs that steel and concrete have since… wait for it… GCPS will produce its pipes on site. That's even better for the environment.
GCPS' many advantages should allow it to quickly make headway in the private markets. The difficulty increases with public contracts. The company needs to test its pipes for a year to get the AWWA certification necessary to bid on public water projects. That's the main reason it's raising today. 
Like many early stage startups, GCPS still has work to do. The company is not ready to fully deploy on the market yet, and the investment opportunity isn't entirely risk-free. But in the context of the company having won a multimillion-dollar project, I'm frankly ecstatic to put up with these concerns. It still feels like a winner. 
And — amazingly — it's not even cheating. It's just an improbable set of circumstances that has presented us with an extremely lucrative investment opportunity. It's luck.
---
Deal Details
Startup: Global Composite Piping Solutions
Security type: Preferred equity
Valuation: $100 million
Minimum investment: $100
Where to invest: Wefunder
Deadline: April 30, 2023
---
How to Invest
Global Composite Piping Solutions is raising capital on Wefunder. If you don't already have an account with Wefunder, you can sign up here.
Once you're logged in, visit the Global Composite Piping Solutions raise page. Be sure to review the deal page and offering documents thoroughly before making an investment. When you're ready, click the red "Invest" button. Enter in the amount you want to invest, starting as low as $100, and then move through the required steps. Make sure that your investment is confirmed, and then you're good to go.
Risks
Startup investing is inherently risky, and startup investors should expect to hold their investments without liquidity for five to 10 years. Never invest more money than you can afford to lose.