Note: This recommendation was co-authored by KingsCrowd Investment Research Analyst Teddy Lyons.
When you evaluate consumer packaged goods (CPG) startup investment opportunities, you need to focus on three critical components:
Traction

Brand

Team.
As long as the market size is big enough — and it usually is — these are the three most important factors in deciding whether or not to invest in a CPG startup. 
Pureboost checks every box. The clean energy drink startup is already generating more than $7 million in revenue. That's incredibly rare for a relatively early-stage drink company.
It has managed to differentiate itself in a crowded market. Energy drinks attract mostly male customers. Almost every energy drink focuses its branding and marketing on men. But most of Pureboost's customers are women. No other energy drink brand has been more successful at attracting women than Pureboost.
And Pureboost's team is savvy and quite experienced at building successful businesses. It has figured out how to tap into this underserved market to build a strong brand. And its team is filled with founders and executives who have both executed at a high level so far AND know how to build a powerhouse.
But as strong as the company's qualities are, we were on the fence about Pureboost. Then we tried it. And it was AMAZING!
An Energy Boost Without the Crash
Energy drinks are typically nasty. They usually taste terrible. Most of them are filled with ingredients that people shouldn't be drinking — especially in the quantities found in energy drinks. In fact, they're so bad that BOTH sets of our parents banned us from drinking them.
They're typically the type of drink you have a few times in high school or college — and then never again. And whatever energy boost you get is followed by energy levels falling so hard that you need a nap (or several hours of sleep) to recover. (We know because we both ignored our parents' well meaning directives.)
So when we saw Pureboost's raise, we were skeptical. Even though the energy drink market is massive — about $86 billion globally and $21 billion in the U.S. — we had to be convinced that Pureboost was healthy, tasted good, and provided an energy boost without the subsequent crash.
We're happy to report that Pureboost is the real deal on all three points. Pureboost is NOT a ready-to-drink beverage. You don't buy it in a bottle or can. It comes in a box of single-serve packets. You mix the powder (no measuring required!) with some water in a glass and it's ready to go.
Pureboost is delicious! It comes in a variety of flavors. And they all taste good. The flavors are light and refreshing. And the fizziness is pleasant.
Pureboost also provides a solid energy boost. The energy boost comes from the caffeine found in green tea. You can feel it almost immediately, and there's absolutely no crash. We've been using Pureboost for almost a month, and the energy boost is real. It lasts several hours. And when you burn through the energy, you feel normal.
Pureboost is more than clean. It's healthy. There's no sugar. There's no sucralose. There are no artificial flavors. There are no preservatives. It's dairy-, soy- and gluten-free. And Pureboost has an "immune" product and a "superfoods" product that add in all sorts of vitamins and rich nutrients (to go with the vitamins already in its baseline drink). The immune and superfoods drinks work well too. You can feel the boost after drinking them.
Pureboost is stunningly good. It's picked up two long-term customers in this review process. But more importantly, it's carved out a remarkable brand in the energy drink space.
New Energetic Demographic
Energy drinks have historically been synonymous with masculinity. Monster Energy and Rockstar built multibillion-dollar businesses convincing young men to drink extremely sugary and excessively caffeinated drinks.  
Pureboost has built its business by going in a different direction. It's appealing to a more health-conscious demographic with a new category of clean, sugar/sucralose-free energy drink that uses caffeine from green tea. 
And guess what? It's working better than anyone could've imagined.
Since Pureboost has been exclusively sold online so far, the company has access to rich data sets about its customer base. And the data shows that around 60% of Pureboost's customer base is women. That's shocking. With its clean, bright packaging and natural ingredients, Pureboost is resonating with mothers and families looking for a healthy energy boost — truly unprecedented territory for the energy drink industry.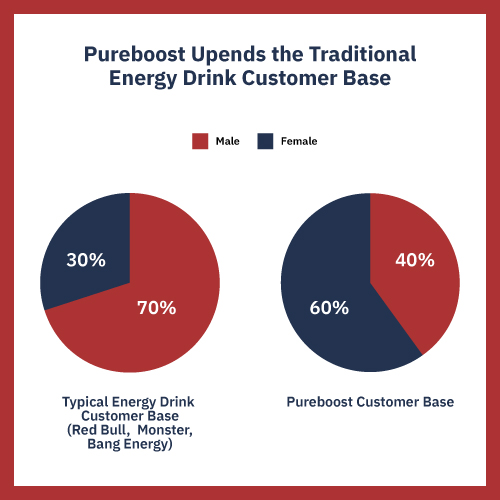 The chart above shows just how skewed the customer demographics are for energy drinks in the U.S. And this is the result of a very intentional branding message put forth by these drink companies. Just look at the packaging differences between Pureboost and Monster.
Pureboost has found a way to appeal to a completely untapped market. It doesn't need to take away market share from the Monsters and Red Bulls of the world. It's additive. It's making the energy drink market larger by bringing in new customers. This is nearly impossible for most CPG companies to do. And it gives Pureboost a huge competitive advantage in an ever-crowded space. 
Extraordinary Revenue
Pureboost's traction is undeniable.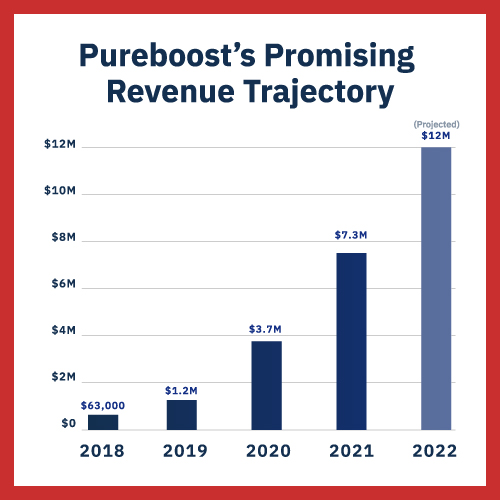 The company recorded 2021 revenue of $7.3 million, up 98% from 2020. Gross margin on these sales were 80%, far above the industry average of around 40%. And the company is projecting $12 million in 2022 sales. 
For CPGs, starting in the direct-to-consumer (D2C) setting and gaining any sort of meaningful traction is extremely difficult. However, Pureboost has managed to show consistent revenue growth and strong margins in its four years of operation, and it's done so while selling exclusively online. The company's D2C website generates 20% of its revenue. The remaining 80% comes via Amazon sales. 
Pureboost is now entering the second phase of its growth: retail rollouts. For CPG brands, strong traction in BOTH retail and D2C is essential in eventually becoming an attractive acquisition target. The company recognizes this and has risen to the challenge. Pureboost will be in 2,500 retail stores by the last quarter of 2022 — specifically Costco.com, Walmart, Walgreens and Meijer. Discussions with Wegmans, Kroger, Publix and Target — among others — are also underway.
It is very rare for early-stage companies to find traction with Walmart and Costco.com. Getting into these stores is significantly harder than getting into stores like Whole Foods or Market Basket, which have higher levels of product rotation and churn. Pureboost began its conversations with these retailers early in 2022 and is already gearing up to ship products to them. This is a great early sign that Pureboost's management knows how to negotiate these deals quickly and efficiently.  
Competitive Landscape
Pureboost co-founder Brian Enge did a great job of illustrating the energy drink space for us in our conversation with him. Imagine a table split in half. On one side, you have the "dirty energy" players like Monster, Red Bull, Rockstar and Bang Energy. These brands have high sugar content and embrace masculine-heavy marketing messages. And they're HUGE. In 2021, Red Bull's global revenue was $9.2 billion, Monster's was $5.5 billion and Bang Energy's was $1.4 billion.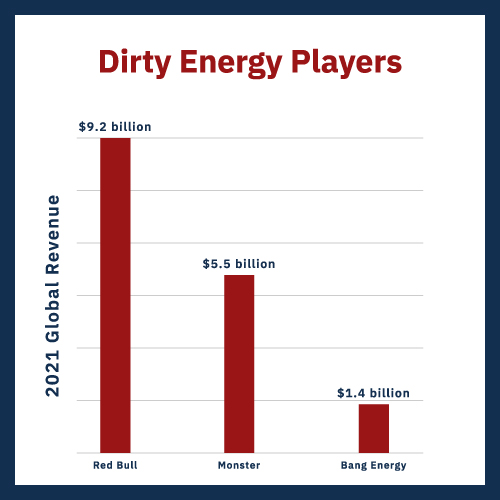 On the other half of the table, you have "clean energy" companies. On this half, you have Pureboost, Celsius, Zipfizz — and to a certain degree, Yerbae. These are companies that embrace a clean energy, family-friendly message.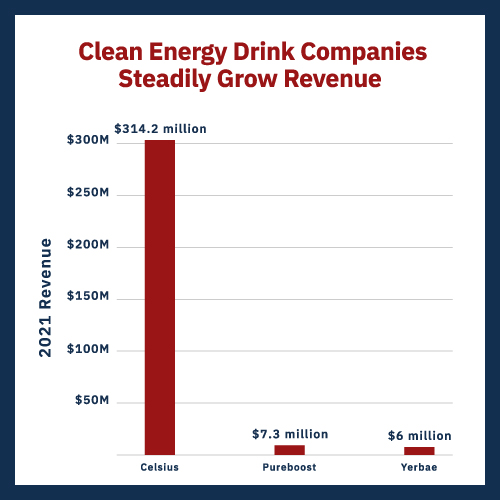 Clean energy drink companies are emerging and trending upwards. They are disrupting the dirty energy way of doing business. And Pureboost is quickly becoming the leading brand in powdered energy products because it is cleaner than its clean energy drink competitors. 
Celsius' main product is a ready-to-drink can that is artificially sweetened with sucralose. Celsius does have a stevia-sweetened product, but the company does not market it heavily. The company does also offer powder sticks, but those are only a fraction of its revenue. 
Zipfizz offers a similar branding message to Pureboost and successfully rolled out in Costco. But Zipfizz uses sucralose to sweeten its drink. Pureboost uses natural stevia to sweeten its drinks — and it does a good job of minimizing stevia's flavor.   
LiquidIV has done extremely well selling powdered beverages. But it's a hydration product. It doesn't provide the energy boost found in energy drinks. And while companies like LiquidIV do offer caffeinated products, their core marketing message is one of hydration and not clean energy. 
Embrace the Gatorade Bath
Hydration companies are starting to appreciate the clean energy drink market opportunity, though. In fact, the biggest and most well-known player in the field, Gatorade, recently entered the energy space with its sugar-free Fast Twitch product.
Gatorade's origin story is fascinating. It began in 1965 as a science experiment at the University of Florida. Researchers wanted to discover why football players didn't need to go to the bathroom during games. By 1967, their focus switched to replacing the incredible amounts of water players lost while playing with a drink that mimicked the composition of sweat. The drink worked. Athletes started using it. But it tasted terrible. So Gatorade's inventors licensed the technology to canned bean company Stokely Van-Camp to improve the taste, bottle it and sell it.
Gatorade's inventors wanted to sell their invention for $1 million. But Stokely Van-Camp didn't want to take that big a risk. It wasn't sure if Gatorade would sell. Instead, the two sides agreed on a perpetual license. 
Stokely Van-Camp created the lemon-lime, orange and grape flavors for Gatorade. And it took off almost immediately after it was launched. Quaker Oats acquired Stokely Van-Camp in 1983 for $230 million. Pepsi acquired Quaker Oats — mostly because it wanted Gatorade – for $13.8 billion in 2001. In 2020, Gatorade generated more than $6.7 billion in revenue. 
The perpetual license the inventors received turned out to be much better than the $1 million purchase price they originally sought. Here's how one founder described it several years ago:
The perpetual royalty turned out very well for us… as 35 years later we still get a royalty payment every other month which is several times larger than the $1 million we had asked.
Gatorade is a good example of the type of path Pureboost (or any other CPG) should follow. Create an innovative new drink. Get some traction. Get acquired by a larger drink company and make some money. 
But should Pureboost (or you) be worried that a powerhouse like Gatorade is entering the market? No.
The fact that a huge legacy player has entered the clean energy market further validates the space. The clean energy drink sector is real. It's significant. It's worth entering. The fact that Pureboost has already shown strong traction in clean energy drinks gives it a significant advantage.    
More importantly, this is how the CPG space works. Big legacy brands struggle to innovate. Gatorade hasn't really changed that much since its inception. The marketing, sales and brand message have evolved and improved. But the basic product remains the same.
Because legacy CPG brands struggle with creating new products, they tend to buy them instead. So if Gatorade fails, it will be in the market for a clean energy drink because it understands its value. If Gatorade succeeds, then one of Gatorade's competitors will want to acquire a clean energy brand to compete with Gatorade. Either is a good result for Pureboost.
Additionally, this isn't a winner-take-all market. There's room for more than a few winners in this space. 
Retail Risk
Things are setting up nicely for Pureboost. But there are definite challenges the company needs to overcome in the near future. Rolling out any new product in stores is a challenge. But Pureboost is attempting its retail rollout in an uncertain economic environment. Between rising fuel costs and inflation, consumer spending habits are hard to gauge and predict. And in order to stay in stores — or expand into more stores — Pureboost has to hit certain sales targets. If it doesn't hit those targets, growth will slow down.
Additionally, Pureboost believes that its sweet spot as an acquisition target is when its sales are in the $75 million to $100 million range. Pureboost is raising at a $40 million valuation on a little more than $7 million in revenue. If it is acquired when it hits $75 million in sales, its valuation will likely be around $450 million. Once dilution is factored in, investors will likely make less than 10X on their investment. If it is acquired when revenues reach $100 million, Pureboost's valuation would likely be in the neighborhood of $600 million and comfortably in the range of returns we'd like to see for startups.
Ultimately, we believe that the upside Pureboost presents outweighs the risks. Even if Pureboost is acquired at the low end of its sweet spot, that's okay — because Pureboost has taken much of the risk off the table. Its considerable traction and ability to attract women and health-conscious customers gives the company a significant competitive advantage — and proof that people are willing to buy its product.
Pureboost also has a savvy team to lead it through this tricky stretch. Enge is a serial entrepreneur who knows what success looks like. He was part of the senior management team at four different companies that had successful exits. He understands the space he's operating in, and he knows how to build a team.
Enge's co-founder, Danny DeMichele, is an e-commerce ninja. He previously founded Quiverr, an agency that helps companies optimize their sales on Amazon. And he is one of the driving forces behind Pureboost's e-commerce success so far.
And Pureboost's relatively new CEO, Jay Mercer (who started in January), has shown in two quarters that he knows how to get Pureboost into stores. 
Nothing is easy in the energy drink space. The makers of Bang Energy drinks just declared bankruptcy. But Pureboost is the rare de-risked CPG — and energy drink — that's poised for success. It has outstanding traction, a well-differentiated brand and a talented team that knows how to execute — everything you want to see in a CPG startup. That makes it an attractive investment opportunity for startup investors.
---
Deal Details
Startup: Pureboost
Security type: Common equity
Valuation: $40 million
Price per share: $3.40
Offering Maximum: $4 million
Minimum investment: $250
Where to invest: Wefunder
Deadline: April 30, 2023
---
How to Invest
Pureboost is raising up to $4 million in this round of funding on Wefunder. You'll need to sign up for an account there if you haven't yet.
Once you're signed in to Wefunder, head over to the Pureboost raise page. Now enter the amount you want to invest and click the red "Invest" button on the right-hand side of the screen. The minimum investment on this deal is $250.
Risks
This opportunity, like all early-stage investments, is risky. Early-stage investments often fail. The investment you're making is NOT liquid. Expect to hold your position for five to 10 years. An earlier exit is always possible but should not be expected.
All that said, we believe Pureboost offers an attractive risk-reward ratio.
---