Note: This recommendation was co-authored by KingsCrowd Investment Research Analyst Teddy Lyons.
I prefer to stay as far away from hospitals as possible. 
Don't get me wrong. I appreciate hospitals. But I also know that hospitals are businesses that are concerned with revenue and profit just like any other company. And that means that patient care is not always a top priority. This is America. We live in a capitalist, for-profit society. So I get it. But for some reason, knowing this about hospitals rubs me the wrong way.
I do give hospitals credit for having the most cutting-edge tools at their disposal, which is some consolation. That's certainly true for imaging and surgical technology. 
But what if I told you that there is an area of patient care where practitioners use tape as the main source of stabilization? Can't be, right?
Well, that is precisely the case when it comes to the stabilization of breathing tubes used to keep ventilated patients alive. Tape! Let that sink in. Because it's as bad as it sounds. Tape is so unstable that unplanned extubation (the accidental removal of a breathing tube from an airway) is associated with 33,000 preventable deaths each year in the United States. 
The technology is archaic. In fact, it's a joke. Somehow, no company has stepped forward to offer a product that can prevent the epidemic of endotracheal tube slippage and unplanned extubation. 
Until now.
The company I'm introducing to you today — Securisyn Medical — has patented a tube stabilization device that solves the life-threatening issues surrounding unplanned extubation and tube slippage. 
For hospitals, this is huge. Any opportunity to lower fatality rates is an obvious reason to purchase a product like SolidAIRity Flex, Securisyn's flagship breathing stabilization product. 
And because the product never enters the body, Securisyn's products do not need FDA approval. That's a big investing risk off the table. 
The Problem
To truly understand the value that Securisyn is providing, let's run through a scenario that frequently occurs in hospitals and emergency rooms. 
A patient is put on a ventilator. The breathing tube is placed into a generic holding device that uses tape for stabilization. Someone or something accidently pulls on the tube and it moves, causing fluid to slip past the tube and into the lungs. The patient develops ventilator-associated pneumonia. Now the patient needs to extend their hospital stay to treat the pneumonia. 
And, because this is usually deemed an "avoidable event," hospitals must pay for the remainder of the patient's stay. So for just this one patient, hospitals lose thousands of dollars in revenue.
Adopting this technology is a no-brainer. Not only can hospitals save more lives, but they should also reap bigger profits. 
Given how large hospital systems are, the cost of adopting the SolidAIRity device is miniscule. And given the benefits of lowering patient mortality and avoiding the expensive litigation that follows, adoption of the device should happen more rapidly than it does for many new medical devices.
Differentiated Technology
Securisyn's technology is easy to understand. The secret sauce is in its patented Interlock device.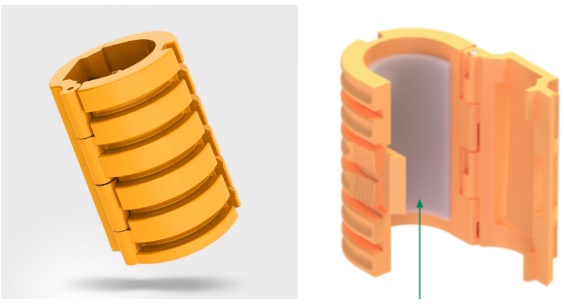 This device can be used on any commercial breathing tube and will be the centerpiece for all of Securiysn's product offerings. Inside the clasp is a strong adhesive layer that provides maximized bonding to the breathing tube. The ribbed structure provides strong force resistance to external movements (by the patient or clinician). 
The SolidAIRity product (shown below) is Securisyn's first release that utilizes the Interlock system.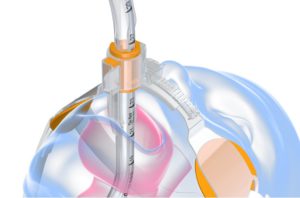 The padding in the device is designed to increase surface area, leading to less skin irritation and fewer pressure-related injuries.  
In theory, this technology sounds good. The question is, does it actually work?
To test its SolidAIRity Flex device, Securisyn conducted a trial on 74 patients in a large urban Level I Trauma Center and suburban community hospital in Colorado. It assessed tube slippage, unplanned extubation and pressure-related injuries. 
The study found no tube slippage, no incidents of unplanned extubation and no pressure injuries in these patients. None. That's pretty compelling, in my book.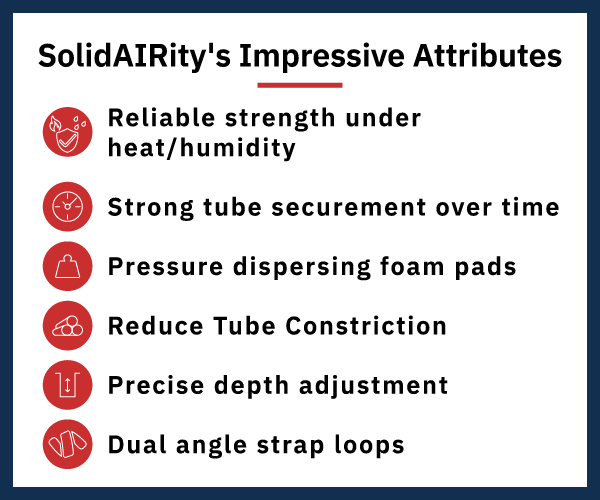 When I first learned of Securisyn, I couldn't believe that its technology didn't exist yet. Securisyn has plugged a big hole with great technology. In preparing for its commercial launch, the company is entering a new phase. 
So how will it do?
Great Tech Opens Doors — This Team Does the Rest
Tech success doesn't always mean commercial success — especially in the medical space. Medtech founding teams — which typically consist of doctors, surgeons, engineers, inventors and product specialists — aren't always adept at getting buy-ins from the important players in their ecosystem.
And without these critical buy-ins, a company can find itself slogging its way to the kind of adoption it knows it deserves but that remains tantalizingly out of reach.
This is not a problem with Securisyn, thanks to its well-rounded founding team. President and CEO Mark Bruning has the calm confidence of a business veteran who's been there before. Securisyn isn't his first rodeo. Mark most recently led a pediatric home healthcare company to a successful private equity exit. Before that, he served as president of American Medical Response — one of the nation's biggest ambulance providers. 
His wingmate and co-founder is Arthur Kanowitz. Arthur is the company's chief medical officer and chairman. As an emergency physician, he's spent 32 years mastering the ropes of the emergency medicine space — with a focus on airway management. 
They complement each other perfectly. And the proof is twofold. First, they've done a fine job jumping through all the necessary hoops needed to get to commercialization — including patent filings, initial clinical studies, and raising both dilutive and non-dilutive (my favorite kind) capital.
For their next act — which is scaling manufacture, sales and adoption — they've firmly placed Securisyn on the path to success. Securisyn's pre-revenue phase is drawing to an end. In January 2023, with the launch of its Endotracheal Tube Stabilizers, the company will begin serious revenue generation. 
60 Days of Due Diligence Drives New Demand
Things are looking good for Securisyn thanks to a couple of big wins. 
The first is its almost too-good-to-be-true arrangement with Michigan-based SunMed. As a global manufacturer and distributor, SunMed serves more than 97 countries and has factories in China and Mexico. It has agreed to a "Guaranteed Minimum Revenue" contract with Securisyn regarding its adult SolidAIRity Flex product.  Although we can't disclose the minimums, the contracts guarantee seven-figure revenues for Securisyn in each of the next three years. 
I should note that the guarantee comes with a proviso. If SunMed fails to sell the full agreed-to minimums, it must pay Securisyn the remainder to make good on the guarantee. If it chooses not to, it loses its global marketing exclusivity rights to Securisyn's products. 
Despite the backdoor escape clause, I consider the agreement very solid. SunMed will begin manufacturing Securisyn's new products in its Mexican plant in July 2023. Amazingly, it's also providing the upfront capital, including all the tooling and soft goods costs. 
The last thing SunMed wants is to be the manufacturer but lose its global distribution exclusivity rights.
The guaranteed revenue numbers themselves don't blow me away. But I still consider it a big win. The minimums — which are on the conservative side — are likely to be renegotiated at higher levels for years two and three. SunMed has also committed to selling Securisyn's two new products that will be introduced in 2024. And it will expand its marketing from just the U.S. to Europe and elsewhere beginning in 2024. All that means more revenue rolling in.
But what really makes it a coup in my eyes is SunMed's due diligence. SunMed took Securisyn's product to its customers to confirm there was a receptive market for its products. Price/product/market fit was validated in the only place it counts: among real customers. SunMed is widely known and respected. Securisyn passed its test. In doing so, its brand got a valuable reputational boost.
Securisyn's second big win was with Premier. It's one of healthcare's largest hospital-focused buying groups with 440 hospital clients representing 4,300 hospitals in addition to 250,000 practitioners outside of hospitals. 
Securisyn was chosen to participate in Premier's coveted Technology Breakthroughs program, which identifies new tech products with the most promise and disruptive potential and includes them in Premier's portfolio of offerings. Premier will begin selling Securisyn's products in January 2023. An important part of this is that Premier's 300-person salesforce is incentivized at a higher level to sell Breakthrough Technology products. Once the two-year contract ends in December 2024, Securisyn expects to segue into a normal three-year contract cycle with Premier.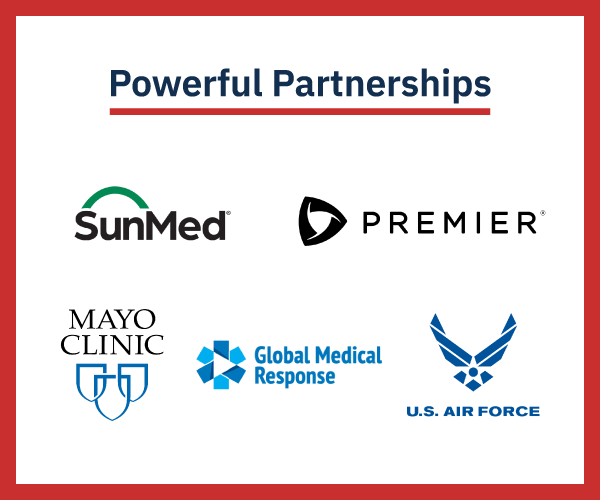 A De-Risked Opportunity
Securisyn is bringing endotracheal tube stabilization into the 21st century. And it's about time. Because 33,000 avoidable deaths per year associated with unplanned extubation is frankly unacceptable. Securisyn realized this in 2015 and has worked tirelessly since then to get this product commercially ready for a 2023 launch. 
Investing in Securisyn at this stage means counting on a successful launch of its SolidAIRity Flex. Of course, this is by no means a given. There is still a long way to go before we know for sure that Securisyn has achieved product-market fit. And even if it does achieve it, it doesn't guarantee huge revenues. At just $75.5 million (in 2021), the global endotracheal tube securement market isn't very large. A big reason why? It excludes tape as part of the market size. That's no small thing when tape is what most practitioners use. Securisyn's product is much better than tape or the generic tube stabilizers offered today. So I believe the market size is significantly understated. 
I'm willing to give Securisyn the benefit of the doubt — especially since it's one of the most de-risked medtech companies I've come across. 
The company does not need to go through FDA trials. It has partnerships with two world-renowned medtech distributors — one of which includes guaranteed revenue. And its valuation isn't stratospherically high like many medtech firms. 
This investment opportunity has the potential to save tens of thousands of lives in the process. And it offers a feel-good, de-risked investment opportunity with attractive upside. 
---
Deal Details
Startup: Securisyn Medical
Security type: Crowd SAFE
Valuation Cap: $40 million
Discount Rate: 20%
Minimum investment: $100
Where to invest: Republic
Deadline: January 1, 2023
---
How to Invest
Securisyn Medical is raising capital on Republic. To get started, visit the Securisyn Medical raise page. Be sure to review the deal page and offering documents thoroughly before making an investment. When you're ready, click the blue "Invest in Securisyn Medical" button. Enter in the amount you want to invest, starting as low as $100, and then move through the required steps. Make sure that your investment is confirmed, and then you're good to go.
Risk
Startup investing is inherently risky, and startup investors should expect to hold their investments without liquidity for five to 10 years. Never invest more money than you can afford to lose.