Our broken healthcare system has no shortage of startups trying to fix big stubborn problems. 
The opportunities are plentiful. That's the upside. But the reason there is so much opportunity is that healthcare in the U.S. has been so resistant to change. And that's the downside. 
There you have it. The beckoning and the reckoning — healthcare's two faces.  
You can consider them two sides of the same coin. The question for you as an investor is, which side do you trust the most? Or fear the most? Is it the beckoning of large, unaddressed opportunities that draws you in? Or do you dare ignore the reckoning that follows from solutions that don't catch on?
Healthcare must rank among the most unpredictable sectors in accepting and adopting great solutions to major problems. And make no mistake, Cabinet Health — the company I'm showcasing today — has a great solution to a large and growing problem. 
So I have great news for you. Cabinet Health will have no trouble avoiding the sand traps and ambushes that have doomed so many other medtech companies. 
That's because Cabinet Health is sidestepping fussy doctors, bureaucratic hospitals, status quo-loving insurance companies and all the other players that get in the way of great ideas becoming great money-making solutions. 
Cabinet Health is bringing its solution straight to the consumer. 
High Quality, Low Prices
Cabinet Health is on a mission to rescue your medicine cabinet. Right now, it's a haven for unrecyclable plastic. 
We're all guilty of harboring plastic that is profoundly damaging to the environment. But we have a pretty good excuse for our med-related plastic waste. We don't have a choice. All our pills and medicines — whether they're over the counter (OTC) or prescription — are sold in plastic bottles. It's not our fault. 
But Cabinet Health offers us a different choice. The company sells pills in glass jars. Consumers keep those glass jars and then receive their refills in eco-friendly pouches. 
To make sure American consumers do not spurn its solution, Cabinet Health offers a trifecta of advantages over traditional medicine companies. 
The product is high quality.

Cabinet Health's OTC meds are higher quality than name-brand companies' meds. Quality usually isn't a problem for OTC meds. But there have been cases where incorrect dosages were listed or active ingredients were found to contain carcinogens or heavy metals. These things happen because nobody bothers to double-check the products. Cabinet Health is fixing this problem through batch-testing — adding an extra level of safety to OTC purchases.  

It's affordable.

Cabinet Health provides about 20% more meds than name-brand companies with a customer's initial purchase. And with refill orders, it also gives customers a 20% discount on the price while still providing 20% more pills.

It's well-designed.

Consumers who appreciate a nicely designed bottle will be drawn to Cabinet Health's products. The glass jars not only sport a simple and attractive design, but they're also stackable. 
An Offer Consumers Can't Refuse
As consumers, we're running out of excuses. Cabinet Health is giving us lower prices, more pills, higher quality meds and attractive bottles. But it's not quite "The Godfather" territory. It's an appealing offer… but an offer we can't refuse? We need more. 
And Cabinet Health has more to give. On top of everything else, it has a whopper of a clincher: sustainability. Those eco-friendly pouches I mentioned? That packaging is 100% compostable.
More and more consumer packaged goods (CPGs) — including food, beverages and cosmetics — are sold in sustainable packaging. More than 50% of CPG growth in the past five years comes from sustainable brands. That alone is impressive. But what makes it even more remarkable is that sustainable CPG items constitute only 16% of total CPG market share.
Sustainability is a powerful driver — perhaps the single most powerful driver — of market growth for CPG products. And there are hundreds of OTC and prescription meds that come in non-sustainable packaging. It's a huge and growing market.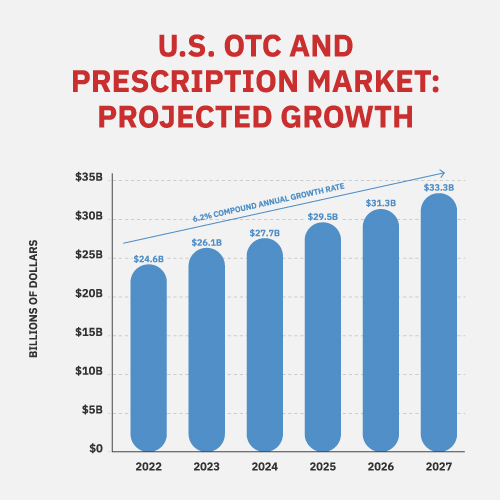 And, yet, Cabinet Health is all alone in tackling this problem. What the heck is going on?
A Pathway for Rapid Growth
Both prescription drugs and OTC drugs are heavily regulated in the U.S. Cabinet Health needed two years of testing in government-approved labs to prove that its packaging works. But the company has gone far beyond what government regulations require. Cabinet Health subjects its entire supply chain to its own sustainability objectives. As a result, it has achieved carbon neutrality for all its incoming and outgoing shipments.
It wasn't easy to do. And it won't be easy for other companies to do. But as Cabinet Health carries out its growth plans and proves product/market fit at scale, other companies are sure to follow. It's naive to think that Cabinet Health will have this lucrative market to itself forever. But it does have a two-year head start. And that's if another company begins its FDA-required testing program today. In reality, its head start is closer to three years. 
In the meantime, you can expect Cabinet Health to double down on its growth plans. Between its own website sales and those via Grove Collaborative (a marketplace for sustainable products) it has a fast-growing e-commerce business. About 75% of its $17 million of revenue this year (see the chart below) will come from e-commerce. 
This is the last year Cabinet Health will rely on e-commerce sales for its growth. Its products will be in half of Target's stores beginning next April. Walgreens, Walmart and others could be next. Cabinet Health is in discussions with a number of national retailers. The company expects to announce more deals with more retailers in the coming months. 
If all goes according to plan, by 2024 or 2025, only 25% of Cabinet Health's projected $90 million to $100 million worth of sales will come from e-commerce. It may be a stretch, but because of its partnership with a powerful pharmaceutical supplier, it's not nearly as much of a stretch as you probably think.
Cabinet Health's Ace in the Hole
When I talk about the advantages that accrue for startups with a powerful partner, I have companies like McKesson in mind. McKesson operates a vast network of 6,000 franchises. It delivers a third of all pharmaceuticals used in North America. And it likes Cabinet Health.
Where this will lead is anybody's guess. But the mutual benefits make complete sense to both parties. McKesson is prioritizing sustainability. What better company to partner with than Cabinet Health? Cabinet Health is prioritizing rapid growth. What better company to partner with than McKesson?
They're beginning a pilot project this month. McKesson is white-labeling Cabinet Health's sustainable packaging system to support McKesson's own branding strategy. Both companies see huge possibilities. It should work. But — as always — the market will have the final say. 
With or without McKesson, Cabinet Health aims to be a national household brand by 2024 or 2025. From my investor's perspective, the pathway is a lot clearer with McKesson than without. There is a risk that the arrangement won't work out. 
But since Cabinet Health's valuation is capped at $75 million, the risk is more than reasonable. Its revenue to (capped) valuation multiple will be 4X to 5X this year, which is already very fair for investors. But as long as CEO and founder Achal Patel sticks to his plan, it will soon be considered far too low. Cabinet Health is already well on its way to developing a more robust revenue model. It's adding retail to its e-commerce channels. It's supplementing OTC meds with prescription meds. And it's adding a subscription service to generate recurring revenue. Future multiples should climb well over 5X and settle into a range of 6X to 10X.  
At 6X — the bottom of this range — next year's $50 million revenue projection would result in a $300 million valuation. Your (paper) return would be 4X after one year. 
Or if you're curious as to what it would take to "merely" double your return next year, the numbers look even better. At a 6X multiple, Cabinet Health would need to aim for a revenue target of just $25 million. In other words, even with a massively disappointing revenue performance next year, investors would still be looking at a 100% return on their investment. 
As with any startup, the journey could still be bumpy. But it's much easier to absorb setbacks when the price you're paying cushions such blows while making best-case scenarios even more rewarding. And that makes Cabinet Health one of the most compelling examples of a low-risk, high-reward investment opportunity I've seen in a long time. 
---
Deal Details
Startup: Cabinet Health
Security type: Crowd SAFE*
Valuation cap: $75 million
Minimum investment: $150
Where to invest: Republic
Deadline: August 16, 2022
---
How to Invest
Cabinet Health is raising up to $1.07 million on Republic. If you don't already have a Republic account, you can sign up for one here. 
Once you verify your account and are logged in to Republic, visit the Cabinet Health deal page. Be sure to review the Cabinet Health deal page and offering circular thoroughly before making an investment.
Then click the blue "Invest in Cabinet Health" button. Enter the amount you want to invest, starting as low as $150, and proceed through the required steps. Be sure your investment is confirmed, then you're good to go.
*NOTE: The security you will be investing in is a Crowd SAFE. A SAFE is a Simple Agreement for Future Equity. An investor makes a cash investment in a company, but gets company stock at a later date, in connection with a specific event. The Crowd SAFE is a modified SAFE that is better suited for crowdfunding.
Risks
This opportunity, like all early-stage investments, is risky. Early-stage investments often fail. Cabinet Health will likely need to raise another round of funding in a year or two, if not sooner.
If it executes well, this shouldn't be a problem. But that's a risk worth considering when investing in early-stage companies. The investment you're making is NOT liquid. 
Expect to hold your position for five to 10 years. An earlier exit is always possible but should not be expected.
All that said, I believe Cabinet Health offers an attractive risk-reward ratio.