Deal Details
Startup: Smart Soda
Security type: Stock Purchase Agreement
Share price: $0.50
Valuation (cap): $10.7 million
Minimum investment: $100
Where to invest: Republic
Deadline: December 2, 2020
---
To know why I'm so excited about Smart Soda — which is bringing healthy (and tasty), vitamin-infused, flavored sparkling alkaline waters and sodas to the market — you need to peek inside my fridge…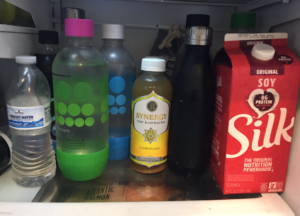 There's non-dairy milk. A couple of Soda Stream bottles (we have the machine). A stainless steel bottle for my powdered Gatorade drink. A half-drunk bottle of spring water. And a kombucha. 
Five years ago, it looked a lot different. Back then, my fridge was stocked with a couple of bottles of soda (Coke or Pepsi),  root beer — and maybe orange juice or apple juice. If I was treating myself, a cream soda might have snuck in.
Sugary sodas and juices used to be the norm for me. But they're not anymore. And I'm not alone. There's been a massive change in the beverages people prefer. Because so many people want to drink healthier, they're demanding drinks with less sugar, fewer calories and more antioxidants. And they — understandably — want to have healthier drinks both at home and out on the town.
Sure, grocery stores offer some of these drinks. But good luck finding healthy drinks at restaurants, soda fountains,  vending machines and workplaces.
The sales for Coca Cola, Pepsi, A&W and other big soda companies are declining. And that decline doesn't just affect the soda companies themselves. It also impacts complementary businesses — like ones that manufacture the soda dispensers that restaurants and cafeterias use. 
When it comes to soda dispensing machines, Lancer is the go-to manufacturer. As Coke and other legacy soda companies spread their wings globally, Texas-based Lancer grew into a major global player right alongside them. But things have changed. Lancer can no longer rely on Coke — or the other large soda companies — to fuel its growth. 
In search of a new growth driver — ideally one with the potential to make a deep and enduring market impact — it came upon a startup called Smart Soda. The two companies were a match. And they struck a deal. 
Lancer is putting its extensive U.S. and global network to work for Smart Soda. It's a smart move by Lancer — and a huge win for Smart Soda. Smart Soda is primed to take the beverage industry by storm
Smart Soda has already caught the attention of other big and powerful companies like Uber, Bon Appétit Management Company and 7-Eleven. And it's supplying dozens of restaurants, entertainment venues and corporations. 
So, what the heck is Smart Soda doing that's making such a big impression on industry players? It's giving consumers what they want  — healthier sodas that can be purchased at restaurants or grocery stores. 
Smart Soda is one of the first companies to tackle this market. And it's doing so by employing two distinct business lines. 
One is selling RTD (ready to drink) bottles. Smart Soda has a premium line  and a value line for its bottled drinks. Amazon is already carrying its value line. And other stores have been lined up for future distribution, including Costco.
But most of the roughly $1 million it's projected to make comes from its other line of business — proprietary soda dispensing machines. They make 32 flavors. And they have a special touchless feature that allows you to order through a mobile device — perfect for these COVID-19 times. In addition to supplying Uber's four massive campuses, Smart Soda is running a test with 7-Eleven… and it's doing quite well so far. 
If things continue to go well with 7-Eleven, it could be a massive win for Smart Soda. 7-Eleven opens 500 new stores a year and renovates another 500. That's a big opportunity. 
And then there's Lancer. Lancer supplies 7-Eleven's traditional soda machines. And while those machines aren't about to disappear, Lancer sees the writing on the wall. High-calorie and unhealthy sodas are losing popularity. Smart Soda's natural, vegan, kosher, antioxidant-rich and gluten-free sodas are filling a growing gap in the market. That's where the growth is — and Lancer knows it. 
The Uber deal also opens the door to some potentially very interesting marketing opportunities. Uber is big — but the opportunity here goes way beyond Uber itself. Uber was introduced to Smart Soda by a Bon Appétit Management Company rep. Bon Appétit services more than a thousand hospital, university and corporate cafés and cafeterias in the U.S. And it's owned by Compass Group, which services tens of thousands more globally. 
Through its relationship with Bon Appétit, Smart Soda has a foot in the door as it tries to reach this massive global network. Mind you, it still has to prove itself before the door opens more widely. But there's a pathway here to rapid global expansion if things fall right. 
For Smart Soda, this is just the beginning. The company plans to launch a Smart Soda home products business line — featuring CBD-infused sodas as one of its first offerings. And it will also supply homes with a mini-soda machine that makes vitamin and mineral infused drinks with a choice of flavors that will appeal to both parents and kids.
This playbook — expanding into home products while also serving the restaurant/soda dispenser market — is tried and true. Smart Soda co-founder Lior Shafir learned it during his past work with SodaStream (best known these days for its home carbonation machine).  Lior was the exclusive distributor of SodaStream Pro in the U.S. And he was quite successful there. 
Pepsi ended up buying SodaStream for $3.2 billion (six times revenue). Disruptive beverage companies have a short but very successful history of being rewarded for their innovative products. Coca Cola bought Glaceau's Vitaminwater for $4.1 billion (11.7 times revenue). Dr. Pepper bought BaiBrands for $1.7 billion (7.4 times revenue). And Unilever acquired Tazo for $384 million (3.4 times revenue).
Now Lior is taking his deep knowledge of how to grow a disruptive beverage business in a highly competitive U.S. market and applying it to Smart Soda.
Lior and fellow co-founder Julia Solooki spent last week training Lancer's U.S. reps on Smart Soda's products. With powerhouses like Lancer (and Bon Appétit) helping Smart Soda sell its products, Lior expects to embark on a rapid revenue growth period immediately. He thinks Smart Soda can reach nearly $20 million in revenue by 2022. And he hopes to IPO by then (or possibly even before). 
Smart Soda is raising on the Republic portal at a $10.7 million valuation (which comes to $0.50 a share). COVID-19 couldn't stop their progress, though it slowed down their retail plans regarding their RTD bottles. A new year is around the corner. And Smart Soda has big plans. Though there's a lot of hard work to be done, the future looks extremely promising for Smart Soda. 
---
How to Invest
Smart Soda is raising up to $230,000 on Republic. If you don't already have a Republic account, you can sign up for one here.
Once you verify your account and are logged in to Republic, visit the Smart Soda deal page.
Then click the blue "Invest in Smart Soda" button. Enter the amount you want to invest, starting as low as $100, and proceed through the required steps. Be sure your investment is confirmed, then you're good to go.
And if you're an accredited investor and willing to invest $5,000 or more, you can do it directly with the company by clicking right here. 
Risks
This opportunity, like all early-stage investments, is risky. Early-stage investments often fail. Smart Soda might need to raise another round of funding in a year or two, if not sooner.
If it executes well, this shouldn't be a problem. But that's a risk worth considering when investing in early-stage companies. The investment you're making is NOT liquid.
Expect to hold your position for two to five years. An earlier exit is always possible, especially given Smart Soda's future plans. But it should not be considered a given.
All that said, I believe Smart Soda offers an attractive risk-reward ratio.