DEAL DETAILS
Startup: Wefunder
Security: Preferred Stock
Round size: Side-by-side round — up to $5 million under Reg CF
Valuation: $160,000,000
Share price: $2.19862
Minimum investment: $100
Investment portal: Honeycomb
Deadline: April 30, 2022 (The round is already filling up — don't wait to invest)
---
For the first time ever, Wefunder has opened a funding round for itself that everyone can invest in. This deal is operating under the new Regulation Crowdfunding (Reg CF) $5 million limit. 
As I write this, Wefunder has already raised more than $2 million through crowdfunding investors like you (note: on the deal page it will show over $5 million raised, but that includes $3 million from their accredited funding round. There is still space in the crowdfunding [Reg CF] round — for now).
I'm going to keep this recommendation brief, because I expect this round to fill up quickly. Plus, you all should be familiar with Wefunder by this point.
Let's start with some of the highlights from Wefunder's deal page.
$200+ million annual run rate in funding volume (GMV)

February 2021 results: $982,911 revenue, 98% gross margin, $662,543 expenses, $302,723 net income

More than $5 billion of follow-on financing into startups first funded on Wefunder

5X+ year-over-year growth in investment volume from Q4 2019 to Q4 2020

More than 40% market share in Regulation Crowdfunding in Q4
In short, Wefunder is killing it. And I believe that offering investors a chance to buy a stake in its platform is a savvy move that will increase loyalty among investors.
Growth and Traction
Wefunder has scaled its business impressively up to this point. Here's a chart showing quarterly revenue through Q4 2020.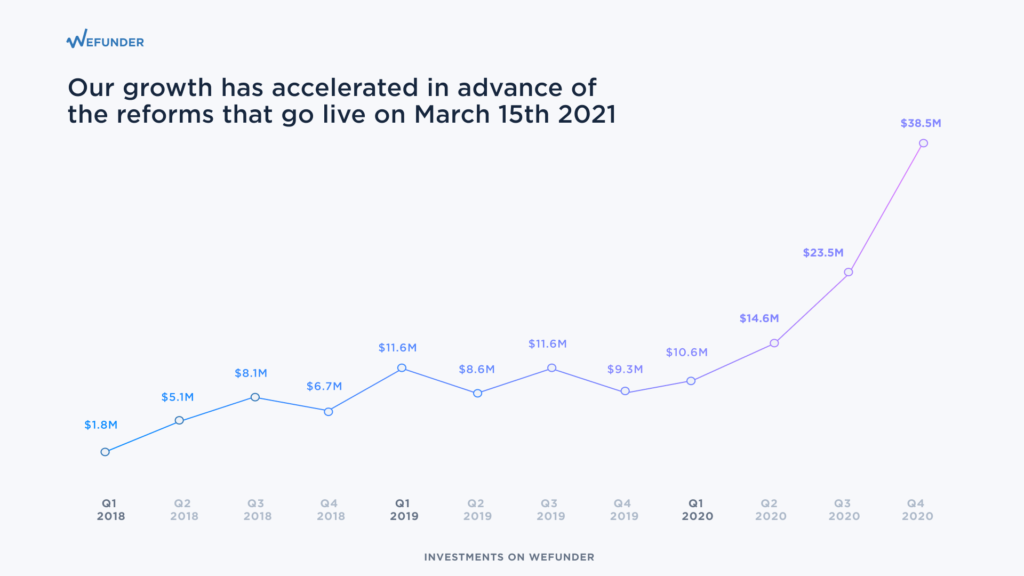 Now that is pretty darn impressive growth. And with the new $5 million Reg CF limit, growth should accelerate even further from here.
Next, let's look at Wefunder's share of the equity crowdfunding market. Again, this slide is from Wefunder's deal page.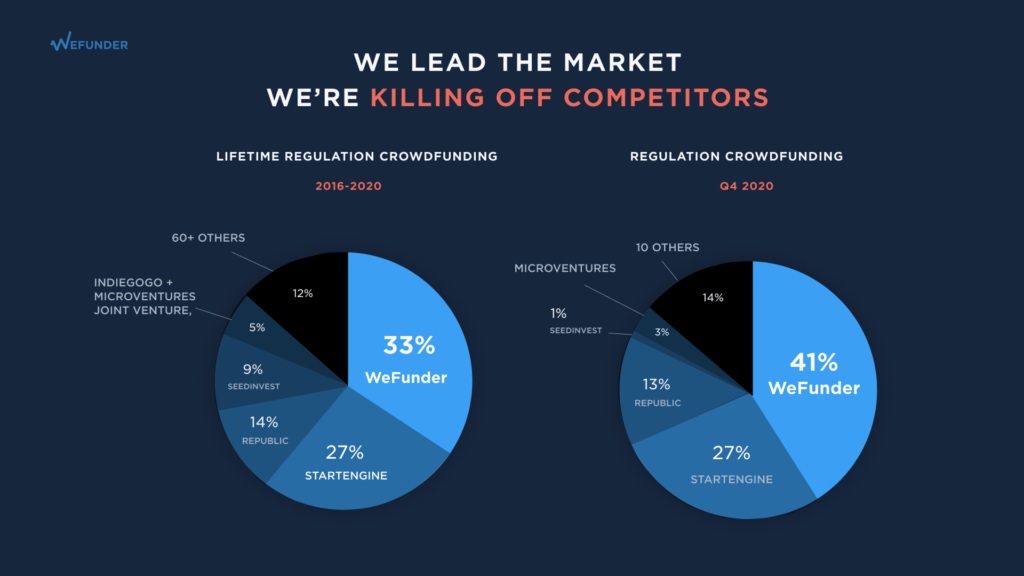 Wefunder has an impressive portfolio of companies which has raised more than $5 billion after their initial Wefunder rounds.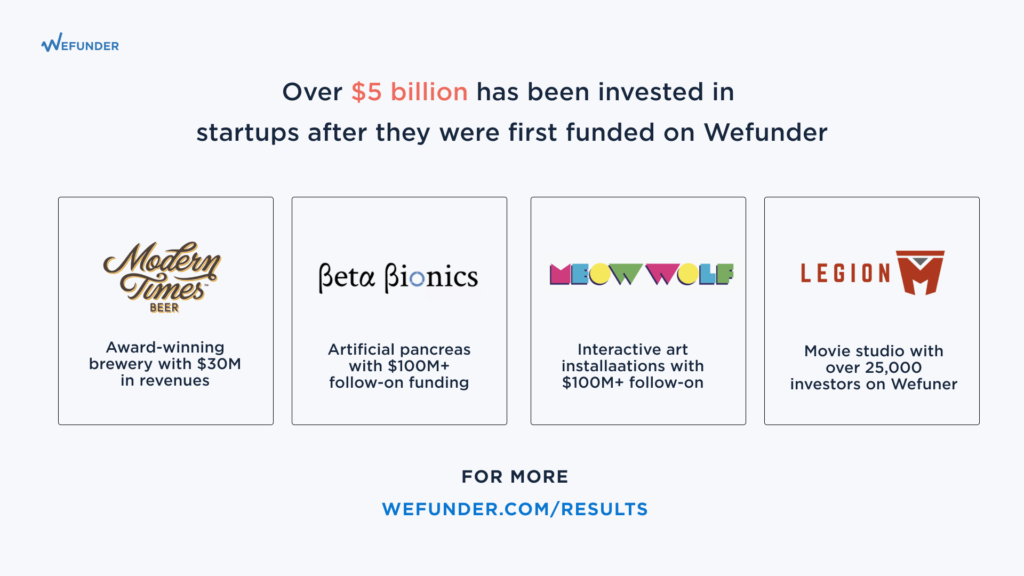 The team has ambitious but attainable goals for 2021. I'm especially bullish about the European market launch, which is an opportunity similar in size to the U.S.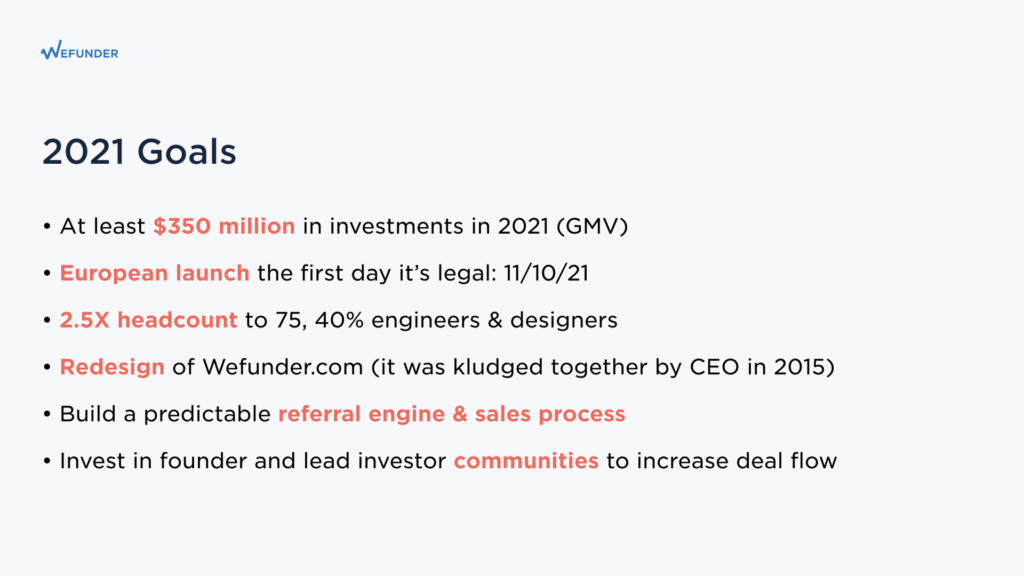 Wefunder has come a long way since we first met the team in 2016. This is an opportunity to invest in a company that has a great chance of being a multi-billion dollar company in the near future. Wefunder is capital-efficient and currently profitable, which is quite impressive for such a fast-growing company.
I believe this round's valuation — at $160 million — is very fair. With such impressive growth behind it and strong catalysts (especially the $5 million Reg CF limit and European expansion) driving it forward, this is an excellent opportunity to make a long-term investment in the future of capital formation.
All the information you will need to make a decision is on Wefunder's deal page. The broader public does not truly understand the potential here. But I expect that many of you — as startup investors — do. I strongly recommend taking a look at this opportunity. And I recommend doing it soon, as I expect the $5 million limit will be reached shortly. Wefunder has barely promoted this opportunity yet. When they do, space won't last long.
---
How To Invest
Wefunder can't legally host their own funding round on their own main portal. So the platform has partnered with Honeycomb to host the deal. Here's a note it posted on the offering page.
We've always wanted to allow our users to invest in Wefunder Inc, even if they were not accredited investors. We built Wefunder so anyone, even if they were not wealthy, could invest in the companies they cared about.
However, it may not be allowed for Wefunder Inc to fund itself under Regulation Crowdfunding via our funding portal subsidiary, Wefunder Portal LLC.
So, to be safe, we've partnered with Honeycomb Portal LLC, an unaffiliated funding portal not owned by us, to serve as the intermediary in Wefunder Inc's Regulation Crowdfunding offering.
Due to these restrictions, this deal is hosted on a Wefunder subdomain (honeycomb.wefunder.com/wefunder). Simply go to that page, enter the amount you want to invest (starting as low as $100) and click the red Invest button. You'll need to login, or signup if you don't already have an account. Be sure to confirm your investment, and then you'll be good to go. 
Risks
This opportunity, like all early-stage investments, is risky. Early-stage investments often fail. Wefunder might need to raise another round of funding in a year or two, if not sooner.
If it executes well, this shouldn't be a problem. But that's a risk worth considering when investing in early-stage companies. The investment you're making is NOT liquid. Expect to hold your position for five to 10 years. An earlier exit is always possible but should not be expected.
All that said, I believe Wefunder offers an attractive risk-reward ratio.