Upstack — the outstanding company I'm presenting to you today — finds, vets and provides companies with software developers from all over the world. It makes money from charging its clients an hourly rate that is about 37% more than the rate it pays its developers.  
Its timing is absolutely spot-on. Remote work is on the upswing. And the availability of developers seeking full-time employment is dwindling.
The result? The number of companies that need Upstack's services has exploded. 
Our economic world has become much smaller since the pandemic hit. Shortages in one part of the world quickly affect other parts of the world. Negotiations no longer require long-distance flights. Instead, a video call that takes seconds to set up does the trick. 
And then there's the biggest change of all: the growing prevalence and acceptance of remote work. Initial resistance quickly gave way to an appreciation of its many advantages. Count tech companies among the converted. 
But it took a wild roller coaster ride to get them there. When the pandemic panic first set in, tech companies responded with massive layoffs. Then — faster than many expected — tech rebounded. And thrived. 
Companies began growing faster, spending more and hiring more. And seemingly overnight, tech talent became scarce. 
Upstack leaned in. 
With a global pool of more than a thousand highly vetted software developers, it provided dozens of companies with the immediate software talent they needed to get their tech projects off the ground and done on time. 
Let's be clear. The pandemic did not save or even revive Upstack. But it did give the company a nice shot of adrenaline. And it boosted an already strong growth phase that began in 2018. Revenue from 2018 to 2020 shot up 245%, as the two big market drivers reinforced each other. A shortage of software talent grew worse. And remote work rapidly gained widespread acceptance.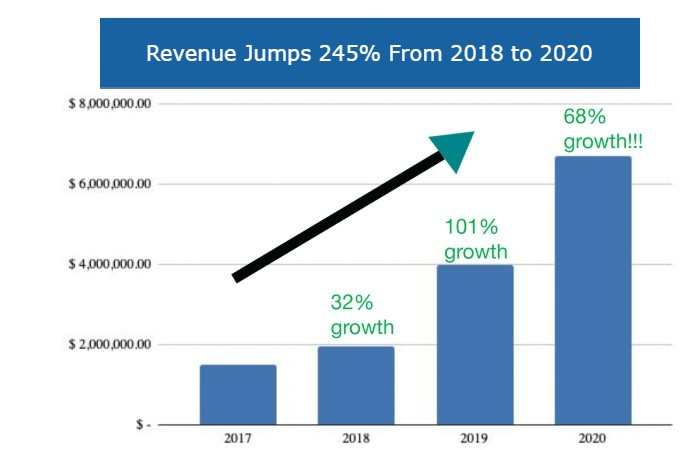 After the pandemic, more employees will return to their workplaces. But the world's view of remote work has changed for good. The convenience, flexibility and cost savings it provides are now widely acknowledged. There's no going back. 
The market has arrived at Upstack's door. Call it what you want — good luck or Upstack's sheer stubbornness in persevering through the lean years. But over the last 18 months or so, a distributed workforce went from being a bug to a feature.  
This is huge. Instead of prodding demand, Upstack is riding a growing wave of demand. And because this is a global phenomenon, the company will be able to expand into more countries faster and more easily. 
But it also requires a shift in the company's growth strategy and mentality. Instead of nurturing resources, Upstack needs to increase them. Before it reaps the financial reward that is now within its reach, it has to first boost ad spend, platform functionality and marketing and operational activity across the board. 
And that takes money, which is good news for investors like you. Upstack has chosen to raise money from retail investors. And that means YOU have the opportunity to partake in Upstack's financial reward. 
By the Numbers
More so than most startups I've come across, Upstack's time is now. And the "now" is looking better and better.
Revenue in the fourth quarter of 2020 came in at $1.7 million. In the first quarter of this year, it increased to $2 million. 2021 revenue is expected to reach $7 million. And it could go higher. Based on Upstack's June revenue (the most recent month the company has reported revenues for), the annual run rate is $12 million. 
Its early bird valuation is $80 million. Going by the $7 million expected revenue, that's a little more than a 10-times revenue multiple. At the $100 million valuation, it's less than 15-times. Either way, the valuation is fair. 
Of the 1,500-plus vetted software developers Upstack has in its system, 81 were working on projects at the beginning of 2021. That increased to 97 by the spring. It's now at 130. By the time you read this, it should be up to 140. That's 59 more than at the beginning of the year. Upstack founder and CEO Yossi Mlynsky is aiming for 200 by year's end. That's 60 more — roughly matching what it's done so far this year. It's a very feasible goal.
Vulnerable Competitors
Upstack is not the only game in town. Considering the gamut of companies offering freelance platforms, job boards, recruiting services and development shops, there are dozens of other companies Upstack must contend with. 
But Upstack is more than holding its own. It began like most startups do — targeting smaller companies. More specifically, its fast-growing startup peers. They require both speed and quality in finding and onboarding developers. And Upstack delivered. Its reputation spread. And Upstack began servicing bigger and bigger companies. It now has more than 120 clients, including TaskRabbit, MealPal, Gartner and several Fortune 500 companies.
The companies that are most similar to Upstack are Toptal and Upwork. They each generated more than $300 million in revenue last year. Both are formidable competitors. But, as Yossi says, they are vulnerable. Toptal, in particular, is having problems scaling. 
"Our platform is faster, the matching AI capability is industry-leading and we have a team that is superb at making sure our clients are 100% happy with our services and their user experience," he said. 
Yossi also says there's plenty of room for another company to scale revenues and become a major force in the space. Upstack, he says, is on its way to becoming that company. Like many founders, Yossi has several coals in the fire. But it's Upstack that dominates his time and gives him the most reason to think big. "If Toptal were to IPO, it would get a massive valuation, easily topping the unicorn bar. My goal is simple. I want to be the Lyft to Toptal's Uber."
These things are easier said than done. So when I see a startup actually meeting or exceeding its self-imposed standards, I see a pathway from potential upside to actual upside. Upstack has a ways to go, but it's on the right track.
---
Deal Details
Startup: Upstack
Security type: Preferred Shares
Valuation: $100 million ($80.00 million for investors who contribute to the first $500,000)
Share Price: $95
Minimum investment: $100
Where to invest: Wefunder
Deadline: April 30, 2022
---
How to Invest
Upstack is raising up to $1.07 million in this round of funding on Wefunder. You'll need to sign up for an account there if you haven't yet.
Once you're signed in to Wefunder, head over to the Upstack raise page. Now enter the amount you want to invest and click the red "Invest" button on the right-hand side of the screen. The minimum investment on this deal is $100.
Risks
This opportunity, like all early-stage investments, is risky. Early-stage investments often fail. Upstack will likely need to raise another round of funding in a year, if not sooner.
If it executes well, this shouldn't be a problem. But that's a risk worth considering when investing in early-stage companies. The investment you're making is NOT liquid. Expect to hold your position for five to 10 years. An earlier exit is always possible but should not be expected.
All that said, I believe Upstack offers an attractive risk-reward ratio.