Editor's Note: This recommendation was co-authored by KingsCrowd Senior Investment Research Analyst Léa Bouhelier-Gautreau.
My young colleague Léa Bouhelier-Gautreau is almost as well-traveled as I am (pretty remarkable since she's about one-eighth my age). We love to swap war stories and, believe me, she has some good ones. 
One that really stuck with me was about her time in Malawi, a rather poor country in southeast Africa. Léa was conducting a study of Malawi's startup ecosystem. One day, she and some colleagues from a local startup traveled to a remote school in order to install solar-powered lights. 
When she arrived at the school, she immediately noticed holes in the wall. Teachers explained that the U.S. Agency for International Development (USAID) had installed electric wires and light bulbs in the classroom to help students study after sunset. It was a great idea except for one small problem.
The school was not connected to the grid. And even if it was, it couldn't afford to pay for the electricity. A couple of teachers from the school took the bulbs home, where they at least got some use.
Having participated in a USAID project in a small provincial town in southern Russia, I can say this story absolutely rang true. It's not just the U.S. Too many Western projects in emerging countries fail from a basic lack of understanding of local conditions and cultures. It seems completely avoidable, but I've heard many stories like this one. And so has Léa.
There are plenty of lessons here — not only for government policymakers but also for investors. This story points to how risky it is to back American (as well as Western) entrepreneurs operating in emerging markets.
Launching American products and services in these markets is fraught with difficulty. To be successful, entrepreneurs need to listen to feedback day in and day out and adjust their products to current conditions and needs. They must make a real commitment to constantly improve solutions and refine marketing strategies.
This is easier said than done. When applied to developing countries, American know-how often devolves into American know-it-all. And when that happens, everything unsurprisingly goes south. To be effective, American know-how needs to be sprinkled with large helpings of humility and patience. Unfortunately, these qualities are in short supply among American companies doing business in developing countries.
Paying Attention to EVERY Detail
Amped Innovation is the exception to this rule. It has spent the last seven years in the trenches in Africa — not only selling products but also learning about local needs and frustrations. It took a while, but as a result, the startup was able to create the perfect kits of solar and battery systems for emerging countries. It sells its kits with in-house designed lights, TVs, and soon with fridges through a network of local distributors.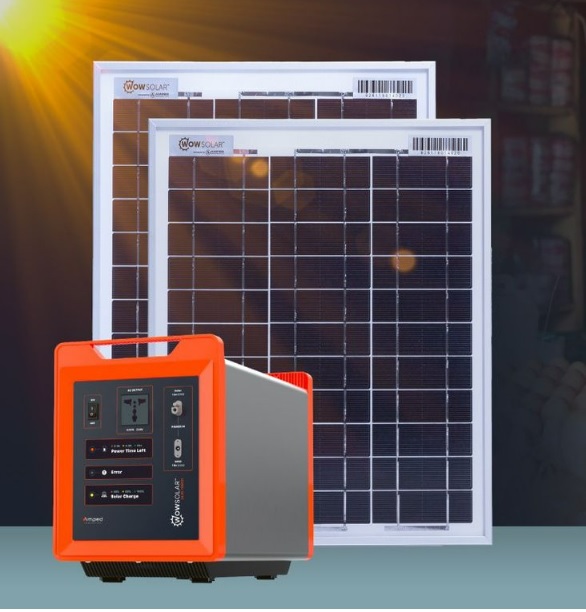 Amped Innovation's WOWsolar Hub
And in doing so, Amped Innovation is also solving a pressing need: bringing clean power to low-income households and small businesses.
From the very beginning, Amped Innovation understood that other Western companies offered flawed products that were ill-suited for use in Africa. But while it knew it did not want to follow their playbook, Amped Innovation had no playbook of its own to fall back on. That's why it used the past seven years to learn what makes the African market tick — so it could make products that are far superior to the products that other Western entrepreneurs provide to their African customers.
Let me give you a few examples:
Unlike most of its competitors' batteries, Amped Innovation's battery doesn't have a fan. Instead, it has a large surface that evacuates heat. That's because the dust in sub-Saharan Africa would go through a fan and destroy the battery in less than a year.

Ants cannot eat the battery's glue. Yes, you heard me right. I've lived in developing and warm countries myself and can attest to the fact that the housing architecture allows ants an easy entrance. And if they can eat the battery's glue, they will make a feast out of it.

The battery is easily repairable with just a screwdriver and components that can be found locally. The distributors always have a few inverters to replace them if they fail. This reduces cost and waste for customers and makes the company's product more attractive than its competitors' products.
There's more. Amped Innovation's engineers designed its battery's inverter using 10 times fewer components than its competitors. I visited its facility and inspected the inverter myself. I'm not an engineer, but I was impressed. Its lines were clean, and the product was surprisingly light. And because it costs much less to make than competitive products, its price tag is much lower while still achieving one of the biggest gross margins in the industry. All the work that went into the battery and converter makes Amped Innovation's product hard to replicate and its price hard to beat. 
This really makes the company defensible — and it says a lot about the engineer's genius. 
Amped Innovation's solar and battery systems are up to three times cheaper than its competitors' products in the same markets. It even uses the PAYGO (Pay-As-You-GO) model — a system widely used in Africa — to allow clients to pay for the product over the course of nine months free of interest, as most of them do not have the capital to pay for the product in one transaction. And if customers stop paying before the end of the reimbursement period, the company will prevent the product from working until the customer starts paying again. Amazingly, Amped Innovation's solar products cost less than buying diesel generators over the same amount of time.
Amped Innovation's 2022 revenue of $4 million is more than acceptable. And here's why. First off, my rule of thumb (from hard-won personal experience) is that it takes roughly twice as long to get marketing campaigns off the ground in developing countries than in Western countries. The revenue will come. And that's because the company has achieved far more important goals than early rapid revenue generation. It can now legitimately claim both product superiority and cost leadership. 
The table is set. Unlike its competitors, Amped Innovation is giving its customers exactly what they need: affordable products that work. And the timing couldn't be better.
Now or Never
Amped Innovation's solution would not have been such a good investment opportunity a few years ago. It would have been considered too expensive. But the product's price has dropped significantly, and the product it's replacing — the diesel generator — is becoming more expensive.
Solar panel prices have dropped by 8.9x in the last 13 years, while we're all feeling the pain of escalating gasoline prices. Global inflation is also pushing households to look for cheaper energy alternatives, and investing in a solar and battery system is one of them.
Nigeria is one of the company's biggest markets. It has 3 million diesel generators and 92 million citizens who lack access to electricity. The Nigerian government does not want any more diesel generators and is implementing several programs to encourage solar power use in the country. According to Amped Innovation co-CEO Andi Kleissner, the Nigerian government will provide a $300 rebate for customers who install the company's system. That's huge! Amped Innovation's most expensive system, Power Hub, costs just $326 to $456. 
When Amped Innovation talks about affordability, it's really talking about two things: the cost of the appliances and TVs and the cost of the power needed to operate them. Amped Innovation offers lower prices on both fronts. That's true affordability. And the company is doing it better than its competitors. 
It points to an enticing upside. As flawed as Amped Innovation's competitors are, they are thriving. In Kenya, Sun King claims to have already sold lights and TV solar kits to more than 82 million people. Sun King raised $260 million in 2022. Its product, by the way, is more expensive than Amped Innovation's.
EcoFlow raised $100 million at a $1 billion valuation in 2021. Not only are its products more expensive than Amped Innovation's products, but it also uses a fan and a lithium-ion battery. Its product's life span is four times shorter than Amped Innovation's lithium-phosphate battery and fan-free product.
If Sun King and EcoFlow can prosper in Africa, there's no reason why Amped Innovation can't do the same. With lower costs and superior products, it should do a lot better. 
A Smart Pivot in a Tricky Market
Amped Innovation has already shown that it can handle the ups and downs of operating in countries that are more economically volatile than the U.S. or other developed countries. In 2021, high inflation reduced Amped Innovation's solar battery TV kit orders. The team immediately responded by heavily promoting its cheapest item — its lighting kits. As a result, Amped Innovation sold four times more lighting kits than it did in 2020 and managed to maintain its revenue. It was a tricky sales pivot that allowed the company to avert a down year despite market instability. Amped Innovation clearly has the experience to navigate the economic instability that might come in 2023 or thereafter.
There's a reason why thousands of Western companies do business in emerging market countries. There is money to be made. The markets tend to be more wide open. And growth trends that have run their course in the U.S. are often just gearing up in emerging markets. So if you get it right, the rewards can be huge. 
But these markets are very different from the U.S. market and pose their own challenges. I've personally seen many companies flourish in these countries and many companies fail. More concerningly, I've seen many companies that have done well in Western markets fail miserably in developing countries for all kinds of reasons. The most common reasons are deficiencies in market timing, product fit, product affordability, understanding the market, and local hires and/or partners.
Amped Innovation gets all of those things right. While admittedly early, it is right now on a pathway to reach — or exceed — the same valuations as its older competitors in a few years. Andi expects the company to be able to break even at $8 million in annual revenue — only twice what the company said it would make in 2022. Rapid revenue growth and profitability should be just around the corner.
Investing in a startup operating in sub-Saharan Africa isn't for everybody. Executing growth is hard enough in the U.S. It's a greater challenge in Africa. With that said, Amped Innovation has met that challenge through hard work and an uncommon attention to detail — in both product development and go-to-market execution. 
Amped Innovation is not the only company drawn to Africa's upside. It's part of a growing group of Western startups that are making impressive headway in the sub-continent and attracting large amounts of investment capital.
The icing on the cake is that many of them — including Amped Innovation — are also solving serious humanitarian and environmental problems. They believe, as I do, that Africa's time has come. That its immense problems can be (and are being) monetized. And that applying Western technology and innovation can be very effective — and profitable — when done thoughtfully. Plus, Andi and her co-CEO Kurt Kuhlmann have proved themselves to be nothing if not thoughtful and capable leaders. 
It's not only Africa's time. I'm convinced it's Amped Innovation's time too. 
---
Deal Details
Startup: Amped Innovation
Security type: Crowd SAFE
Valuation cap: $35 million
Minimum investment: $100
Where to invest: Republic
Deadline: February 1, 2023
---
How to Invest
Amped Innovation is raising capital on Republic. If you don't already have an account with Republic, you can sign up here.
Once you're logged in, visit the Amped Innovation raise page. Be sure to review the raise page and offering documents thoroughly before making an investment. When you're ready, click the blue "Invest in Amped Innovation" button. Enter in the amount you want to invest, starting as low as $100, and then move through the required steps. Make sure that your investment is confirmed, and then you're good to go.
Risk
Startup investing is inherently risky, and startup investors should expect to hold their investments without liquidity for five to 10 years. Never invest more money than you can afford to lose.