Using the Early Investing website is about to get easier!
For the first time since we launched in 2013, we're updating the look and feel of our website. And our entire mission is to make it easy for you to use and find all of the information you need to become a smarter investor in startups, crypto and cannabis.
On the redesigned home page, you'll be able to easily see ALL of our latest market research and analysis, market data and video podcasts. We've made it dramatically easier to find and access member-only First Stage Investor, Crypto Asset Strategies and Pre-IPO Profits content. And all of the key information you'll need to help you invest like a venture capitalist will be at your fingertips.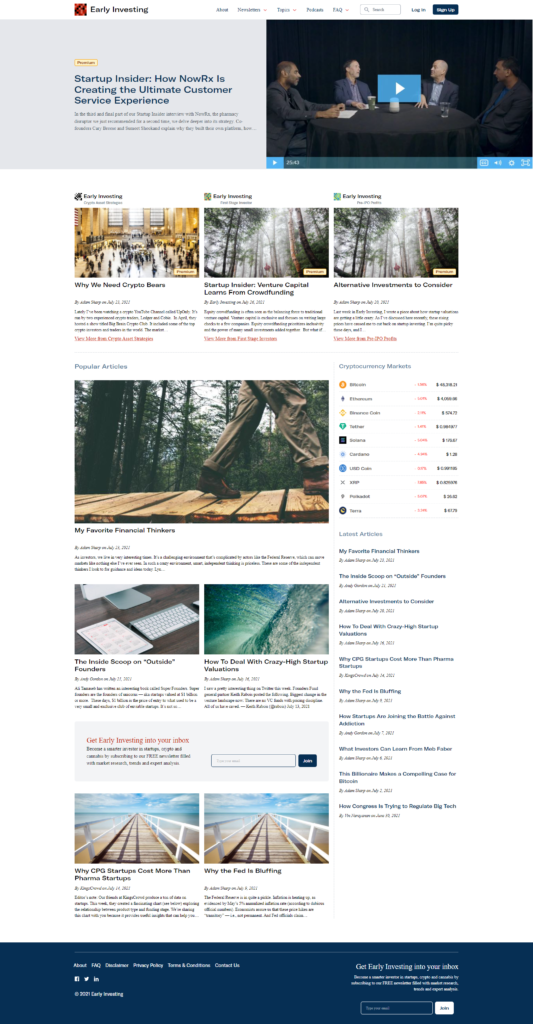 A preview of the new Early Investing home page
We have more than 100 companies in the First Stage Investor startup portfolio. And each position is now being tracked by the KingsCrowd portfolio tool.
We're now tracking the crypto markets with a live data feed, so you'll always know what the top cryptocurrencies are doing — and how the First Stage Investor and Crypto Asset Strategies portfolios are performing.
And we're integrating KingsCrowd's startup data into our coverage and analysis so you'll have the latest data to help you make your investing decisions.
We've also upgraded the website's navigation to make everything easier to find and improved the technology powering our site to make it a faster experience. The site will also be easier for you to use on your cellphone and tablet.
Early Investing's updated website debuts next week. We can't wait for you to try it out. And we really hope you enjoy the new experience.