Deal Details

Minimum investment: $100
Raising up to: $1.07 million
Security Type: Promissory notes (Revenue sharing interests)
Length of term: Until the repayment amount of 1.5X is repaid
Interest rate: Dependent on two factors: future revenue and amount raised
Fundraise period: Ends August 15, 2017
Investment portal: MicroVentures
---
Dear First Stage Investor,
We're recommending a different kind of opportunity today – a chance to earn cash immediately.
It's called "revenue sharing" or "revenue participation."
Basically, they're loans (technically "promissory notes") made to companies such as the one I'll be introducing to you today – Napa Valley Distillery (NVD).
These loans come in two flavors.
Some are capped. When you get back your loan plus whatever amount was promised above that, the deal is done.
Some are uncapped. Your interest income keeps coming until revenues dry up.
Today's deal is capped at 150%.
It doesn't give you the high-ceiling financial rewards of startup equity investing. But it provides other advantages, including…
A much shorter wait to cash out your gains. Payments are made quarterly, beginning when the current quarter ends and the next one begins. Your first cash payment comes within three months at the most.
A focus on revenue, not profits. Your income stream comes from the company's revenues. The company doesn't have to make a profit. It doesn't even have to approach breakeven. Profits simply don't enter into the equation, casting aside the biggest unknown that comes with startup investing: Will the company ever make a profit?
No worries about future funding. Will the company make it to its next round of fundraising? Again, not really an issue here. With payment based on revenues, investors need only look at current and projected revenue.
An ability to generate high single-digit and double-digit interest income (per year). Your challenge is to make sure the risk is low.
This is why I'm focusing my analysis on risk. I want to show you that the risk for this deal is extremely low and represents a legitimate opportunity to put your money to work… and get returns significantly beyond what other "safe" income investments in government or corporate bonds would give you.
Napa Valley's Award-Winning Distillery
Let's unpack this opportunity and see what we have…
You'd be investing in an established, revenue-producing micro-craft distillery. 
Family owned and operated, NVD produces more than a dozen small-batch and limited-release spirits, including the award-winning Meyer Lemon Liqueur and Napa Vodka. It has more than 35 labels in all.
Some of NVD's Spirits
As an aside, its competitors make five at the most.
NVD is probably best known for creating Napa Vodka, a handcrafted vodka made with single vintage Napa Valley Sauvignon Blanc wine grapes. It was named one of the top 50 spirits in the world by Wine Enthusiast Magazine when it was released in 2011.
The company's 12,000 square-foot production facility houses a tasting salon and event center, and a second vintage bar shop and tasting room is located in downtown Napa Valley.
It also operates a "Distinguished Bar Club." Members are sent bottles of spirits, bitters and barware every quarter, as well as invitations to exclusive events.
NVD provides tours and tastings on-site, which helps drive retail sales and club memberships.
Revenue Run Rate Nearing $2.5 Million
Last year, NVD pulled in $1.8 million in revenue. At its current rate, this year it'll have between $2.2 million and $2.4 million.
Its revenue growth is mostly based on Napa Valley's flourishing tourism trade. Some 5 million tourists explore the Valley's vineyards every year.
NVD also generates online and over-the-phone sales, plus revenue from marketing partners and wholesale distributors.
It wants to raise $1 million. NVD plans on using the money to expand operations allowed under California's groundbreaking "Craft Distillers Act."
The law went into effect January 1 of this year. It allows artisanal distilleries to host private events,  serve cocktails and operate a restaurant on-site.
It also permits direct-to-consumer sales.
Prior to the law?
Purchasing a bottle at a California distillery was illegal unless there was an on-site liquor store owned and operated by a third party.
The law made NVD's current success possible. No coincidence there.
Arthur Hartunian – the co-founder and CEO of NVD – was instrumental in getting the law passed. As president of the California Artisanal Distillers Guild, he lobbied hard for the bill.
And now he wants to take full advantage.
Leveraging New Law on Craft Distilleries
NVD already hosts private events… does tastings… and sells bottles.
But it doesn't have a restaurant, which the new law permits.
So it's not allowed to serve cocktails, beer or wine (unless they're part of an event the company is hosting).
That's the big missing piece: a fully operating kitchen and restaurant.
It would allow NVD to serve cocktails, beer and wine any time of day. It would also let NVD offer a new cocktail and food pairing service.
The kitchen and restaurant would generate additional revenue from the food, the pairings and the greater volume of spirit sales that would result.
NVD also plans to develop an additional tasting bar, hospitality lounge and event center in the second smaller building it owns.
And, finally, the company plans to accelerate production of its current line of craft spirits, increase wholesale sales with distributors in California and New York, and pursue additional export opportunities.
In return for funding to do this, NVD is offering investors 10% of the company's revenue until they make their principal back, plus 50%.
A Low-Risk Opportunity
Your payment would come off the very top – from gross revenues. These are revenues before expenses and taxes.
The risk is very small. NVD's business is well-established, with growing profits and revenue…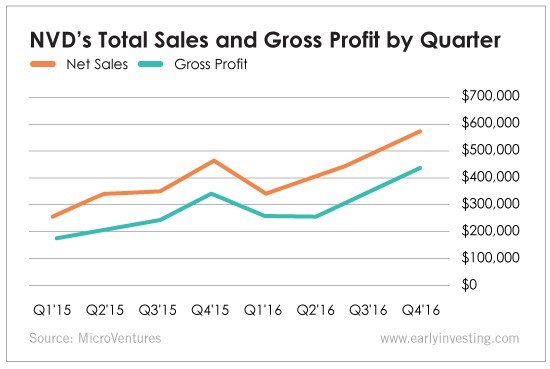 NVD is adding 100 members to its club every month. (Though it's less when taking churn into account – it loses 100 every three months.)
It has 2,500 members right now. At $320 per year for membership, NVD makes about $800,000 in annual recurring revenue.
It makes another $800,000 from sales at its Napa Valley downtown tasting room and bar shop.
Its internal growth drivers will only get stronger, especially when the funds from its current raise are put to use.
The externals also look positive.
In 2015, the craft spirits industry generated roughly $2.4 billion in retail sales. Volume grew 27.4% per year from 2010 to 2015. Impressive.
On top of that, the distilled spirits market has been mostly driven by growth in high-end premium and super premium products – NVD's specialty.
Amazingly, the hype still reverberates around beer.
Fact is, this is the seventh consecutive year that distilled spirits have gained market share relative to beer.
NVD is a growing business with solid internal and external growth drivers. Its short-term debt (about $110,000) and long-term debt ($190,000) burdens are not excessive for a company of its size and growth.
The last potential risk factor to consider? The company's co-founder, proprietor and master spirits maker, Arthur Hartunian.
Founder's Stewardship Defined by Success
Arthur is responsible for creating the company's entire product portfolio and personally manufactures many of NVD's spirits to this day. He's also involved in the day-to-day operations of the company.
I had a couple of long conversations with him.
It was obvious that Arthur is passionate about craft cocktails and spirits, which comes as no surprise. You usually start an enterprise like NVD as a labor of love. And Arthur hasn't lost his enthusiasm. It was still good to confirm this.
I was more interested in Arthur's business acumen. We talked about overseas markets, California's unusual alcohol distribution structure, his competitors, go-to-market strategies and the challenges of running a restaurant.
I asked him why he chose this way to fund his expansion rather than take out a bank loan. I asked him about individual members of his team and what they did well and not so well. His answers revealed an intimate knowledge of how to run and grow a business.
I was impressed.
Arthur has a good team and he manages them well. Additionally, he has skin in the game. He has put about $100,000 of his own money into the company, something we see as a great positive.
My conclusion? The level of risk is very low.
Extremely negative and unforeseen circumstances would have to occur for the risk level to become a concern. A serious illness? A global recession? Not likely, but they do represent a low level of risk you should take into account.
A Double-Digit Income Stream
With that said, a worse-case scenario that's unlikely but not impossible is that sales go flat – at $2 million a year.
Okay, let's do some quick math…
Paying back 10% revenue, investors would get $200K annually.
If NVD raises its maximum amount ($1.07 million), it would take five years to pay investors back their principal and another 2.5 years to pay them their additional 50%.
That's a 5.5% compound interest rate – not great, but remember, this is a worse-case scenario.
Okay, here's a more realistic scenario. NVD raises $600,000 (current amount raised is $323,000) and its revenue increases to an average of $3 million over the following three years. That's only a 13% revenue growth rate per year, by the way – an extremely conservative calculation.
Investors would then get their principal back in two years. It would take another year to receive their 50% promised gain.
In this scenario, investors would make 15% (in annual compound interest) for a relatively low-risk loan.
One more scenario: Let's say more revenues in the next few years average $3.5 million – a more realistic growth calculation, in my opinion. And let's say NVD raises the max amount of $1 million.
It would take just over four years to make your 50% profit. Your annual compound interest rate would be 10%.
So, your high-probability range of income made on this deal ranges from 10% to 15% annual interest.
Remember, the two main risks – that the company would go out of business or its revenues would collapse – are very unlikely.
But there is some risk. This is not like investing in government bonds.
I believe it's a great deal. Of course, the final decision is yours.
NVD's deal is live on the MicroVentures site. Check it out here.
How to Invest
This deal is being hosted on microventures.com, a licensed broker and dealer. We have worked with MicroVentures on a number of recommendations over the last few years.
Adam and I have seen how well they've taken care of our members. No worries there.
The first step (if you don't have a MicroVentures' account yet) is to go here.
Then simply click the orange "Sign Up" button and follow the site's instructions.
If you run into problems at any point, please call our friends at MicroVentures directly at 1.800.283.9903.
Invest early and well,
Andy Gordon
Founder, First Stage Investor