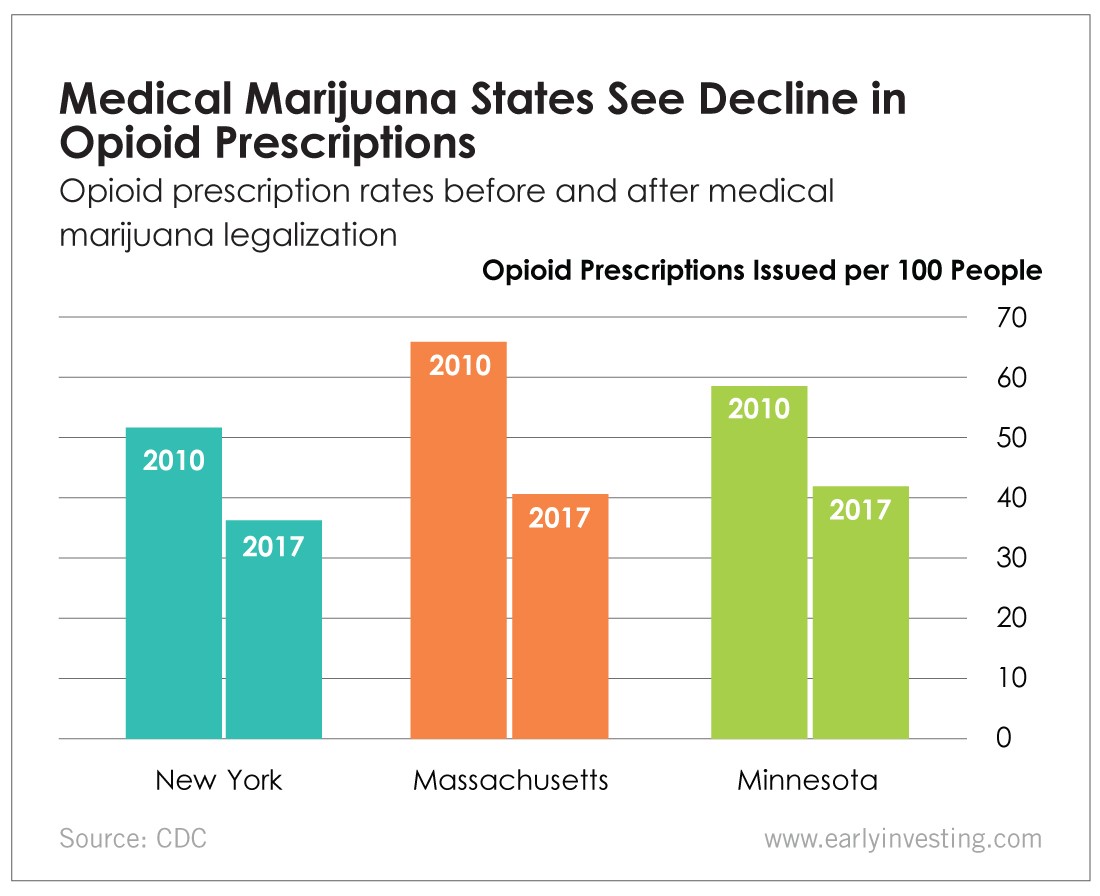 In the late 1990s, pharmaceutical companies began promoting prescription opioids as a treatment for pain. Pharmaceutical companies and medical organizations assured doctors that there was a very low risk for addiction. So doctors began prescribing them at higher rates.
Fast-forward to today. Prescription opioids are now known to be dangerously addictive drugs.
According to the latest CDC data, which was collected in 2017, more than 47,000 Americans died that year from opioid overdoses, including prescription opioids. And about 1.7 million Americans suffered from substance use disorders related to prescription opioid pain relievers.
The crisis would likely be worse if it wasn't for medical marijuana. Medical marijuana, as we've reported many times before, has the potential to treat a long list of medical conditions, including pain, epilepsy and others that are often treated with opioids.
By 2017, 29 states had legalized medical marijuana. And that year, nearly every state that legalized medical marijuana saw a decrease in opioid prescription rates from previous years. Today we're going to look at three states in particular.
Our chart shows the opioid prescription rate per 100 people in New York, Massachusetts and Minnesota in 2010 (pre-medical cannabis legalization) and 2017 (post-legalization). And the difference is stark.
Massachusetts legalized medical marijuana in 2013. From 2010 to 2017, its opioid prescription rate dropped 41%. Minnesota, which legalized medical marijuana in 2014, saw a 31% drop. New York also legalized medical marijuana in 2014. Its opioid prescription rate fell 25%. New York's 2017 opioid prescription rate was the lowest in the country.
New York has been building on this progress. In 2018, New York lawmakers authorized the use of medical marijuana to treat opioid addiction.
Enlisting medical cannabis in the fight against the opioid crisis is a smart move – not just for patients, but for the government too. Researchers from the University of California San Diego and Weill Cornell Medical College discovered that medical cannabis was associated with a nearly 30% reduction in Schedule III opioids received by Medicaid patients.
"[I]f all the states had legalized medical cannabis by 2014, Medicaid annual spending on opioid prescriptions would be reduced by $17.8 million," the study projected.
This is why medical cannabis legalization is a no-brainer. Legalization means fewer patients are forced to settle for addictive (and sometimes ineffective) drugs with nasty side effects. More patients are able to turn to cannabis as a safer option. And the government saves millions of dollars.
Medical marijuana is making a difference. The reduction in opioid prescription rates is a sure sign of that.
Good investing,
Allison Brickell
Assistant Managing Editor, Early Investing