Editor's Note: Three important things to note today…
First, if you'd like to invest in Thuzio and haven't yet, make sure you do so immediately. Its round closes tomorrow!
Second, the Early Investing team will be taking time off for the long Labor Day weekend. So you won't see a First Stage Investor article in your inbox on Monday. But we'll be back to business as usual on Tuesday.
And third… it's a week of warnings. Hurricane Dorian is due to reach Florida over the weekend. So today we're featuring a piece from our friends at KingsCrowd about a startup investment you should avoid. And there are three big reasons why…
---
Key Deal Stats
Raising platform: MicroVentures
Valuation cap: $6 million
Security type: Crowd notes
Minimum investment: $100
As of August 9, 2019, Hoplite Power has raised $7,900 of a minimum target of $25,000.
In our ongoing series of rating crowdfunding deals, today we're diving into the latest company to seek funding from the crowd: Hoplite Power. Hoplite Power has created a charge-sharing network for smartphones through its kiosks, called Hoplite Hubs, and battery packs.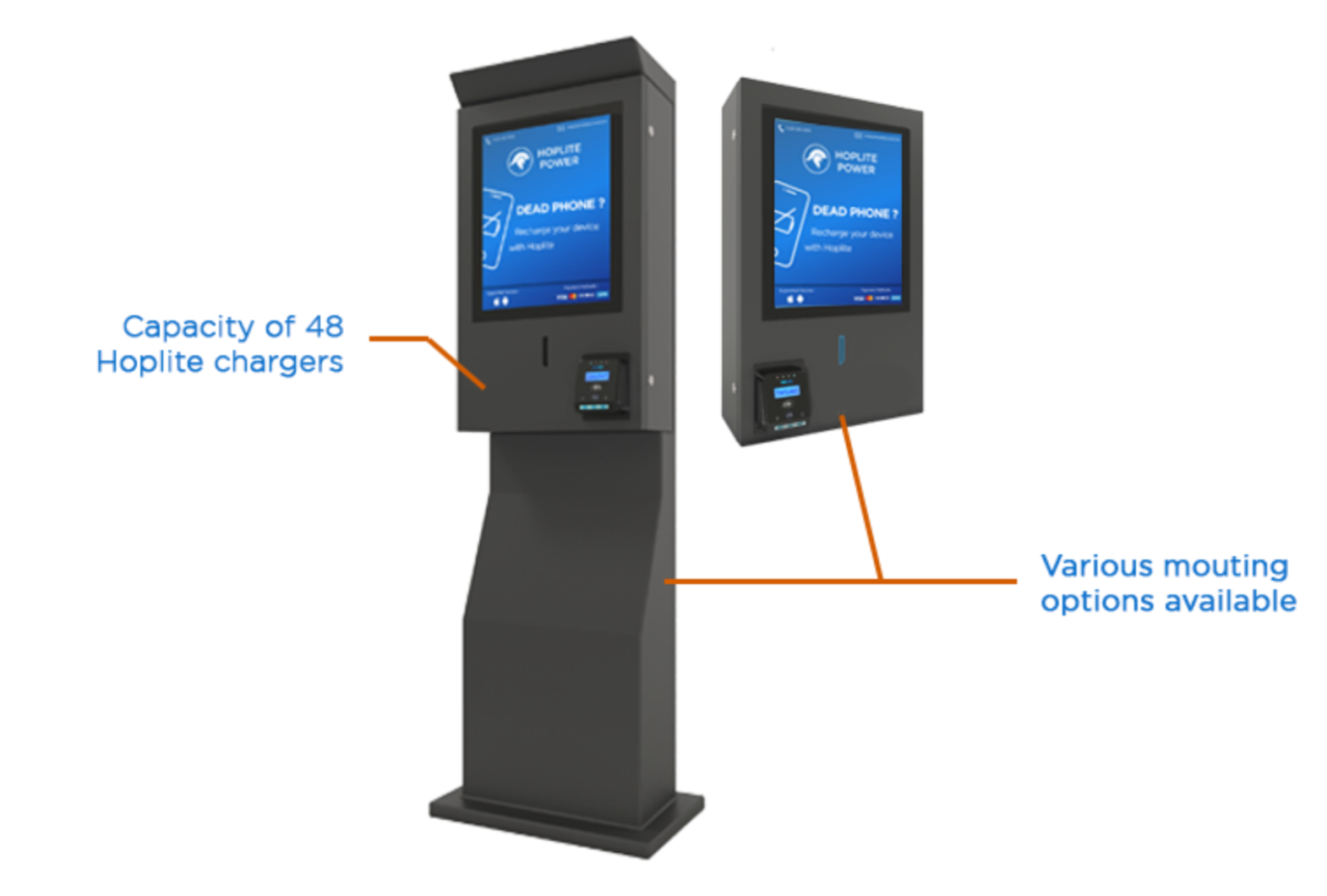 Image Source: Hoplite Power via MicroVentures
Approximately 80% of Americans use smartphones. A considerable part of our daily routine has become connected to our smartphones. Making calls and texts, clicking and uploading pictures, streaming music, booking a cab, making payments, and more. Bottom line: Keeping a smartphone on you, and fully charged, has become a necessity.
Hoplite Hubs seeks to alleviate "battery anxiety" with its mobile battery chargers. The process is simple. Chargers can be rented from Hoplite Hubs in the Hoplite network, paid for, used and then returned to the Hubs.

Image Source: Hoplite Power via MicroVentures
Hoplite Power allows users to charge their smartphones anywhere they want. It's also noteworthy that its chargers do not tie you to one location, as do most other public charging options.
Benefits aside, Hoplite Power's business model has inherent flaws that make us skeptical of its sustainability.
First, as no doubt has already occurred to the reader, there is a wide variety of companies already doing the same thing. Among the well-established competitors, Hoplite Power does not provide the needed differentiation to make its product unique in the market.
Below is our deep dive into the potential drawbacks of Hoplite Power as a prospective crowdfunding investment.
Hoplite Power: Raising on MicroVentures
1. Lack of Differentiation
Hoplite Power fails to offer differentiation to its end user. To the consumer, it is just another phone charging kiosk with no meaningful unique features compared with its competitors.
Hoplite Power is part of an industry with established market players. NRG Energy, ChargeItSpot and FuelRod have been active for longer than Hoplite Power and sell what Hoplite offers in more locations.
Since it is a commoditized offering with no brand loyalty, companies win simply by having distribution (as in having a lot of charging station locations). With no key differentiators to speak of, how Hoplite will win significant market share in a crowded market is not understood.
2. Business Model
Hoplite Power's business model currently relies on one revenue stream: charging fees. Revenue is generated at a rate of $2.99 per day for the first 24 hours of Hoplite rental, and $1.99 per additional day for a maximum of six extra days. However, the company incurs additional expenses through revenue sharing with its host partners (think Citi Field).
Hoplite Power plans to generate more revenue through advertising on its kiosks, though the idea is still in development.
This is unfortunate – 2018 saw total revenues of just $9,724 from the rental of 2,092 Hoplites. At that rate, to generate just $1 million in revenue (profit is another matter…), 250,000 Hoplites would need to be rented out.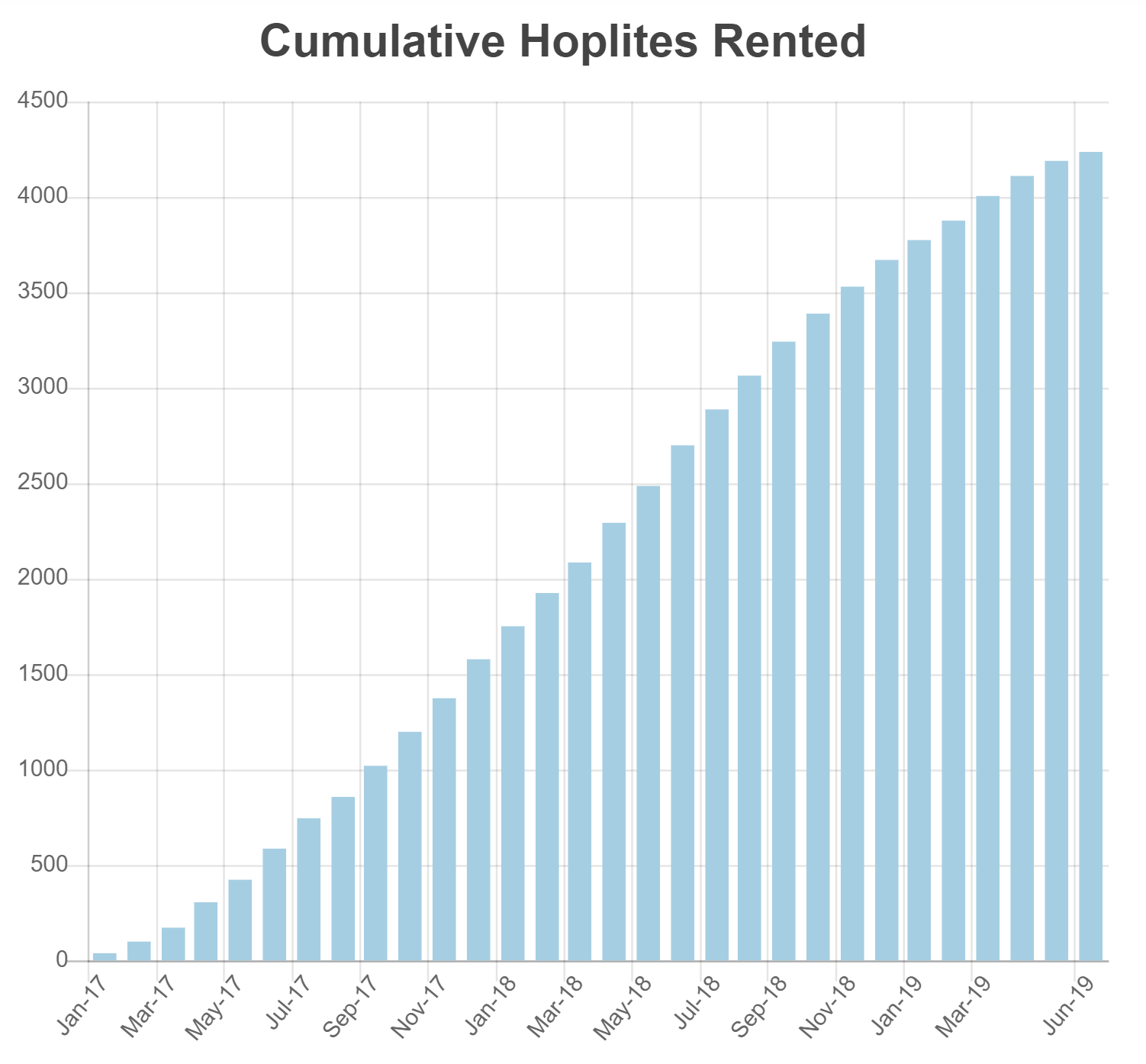 Chart Source: Hoplite Power via MicroVentures
The Hoplite Power business model is dependent on a single, shared revenue stream. This concentration strikes us as dangerous, if for no other reason than the process of renting a Hoplite can be expensive and inefficient for the user in some cases – i.e., it's useful only in a pinch.
3. Lack of Scalability
Hoplite Power launched 16 first-generation Hoplite Hubs under its pilot program, while the five second-generation Hoplite Hubs were expected to be launched in July of 2019 at New York's Citi Field.
Hoplite Power's growth is, in our estimation, confined to placement in large venues. Scalability becomes tethered and dependent on big business to host them. Capital, marketing and public relations are crucial to expansion and maintaining a competitive position in the market – all expensive propositions, especially with so many other similar companies in the space.
The Rating: Underweight Deal
Hoplite Power is actually in a rather large market, and one we found attractive recently for another company called CHRGR, which we rated as a Deal to Watch.
The reason for this is because of the unique approach CHRGR has taken to entering the market with a mobile charging solution, which provides free disposable battery chargers to its consumers through its more than 10,000 venues (e.g., bars and restaurants).
By the way, these types of venues typically do not want large kiosks in their venues, so the fact that CHRGR can offer a non-kiosk solution alone lets it play in a broad set of venues that kiosk companies cannot even touch.
When you look at what CHRGR is doing, it is coming into the market in a segment of venues that is fairly untapped with a free solution for the customer. The customer simply grabs a charger from the bartender or staff member and doesn't have to return the device, as the cost is covered by sponsors.
Sponsors include Instagram, Red Bull, Lyft and American Express, who all see an opportunity to save the day for users and create an engaging brand experience by providing a free charger that users don't need to return so they can keep having fun.
This advertising model across more than 10,000 locations drove more than $700,000 in revenue in 2018, despite CHRGR being just slightly older as a company than Hoplite Power.
Additionally, CHRGR was raising at an $8 million valuation cap with more than $700,000 in revenues and a clear path forward to expansion and monetization. Hoplite Power, on the other hand, has raised more than $1 million and has been around for two years, but generated less than $10,000 in 2018. Despite this, it is raising at a $5.5 million to $6 million valuation cap in this round.
The comparison of value just doesn't seem to be there for the organization to make this worthwhile for investors based on our assessment and comparative analysis with the recently closed CHRGR deal.
For a clear indicator of how Hoplite Power is not providing the best deal for investors, consider this: CHRGR was selling on a valuation cap that represented an 11X premium to current revenues versus Hoplite Power, which is selling on a valuation cap that represents a 600X premium to current revenues.
A lack of differentiation, traction and overvaluation in a hypercompetitive market led us to assign Hoplite Power an Underweight Rating.
If you have any questions regarding the underweight rating of Hoplite Power, you can reach us at hello@kingscrowd.com.
Sincerely,
Chris Lustrino
Founder and CEO, KingsCrowd