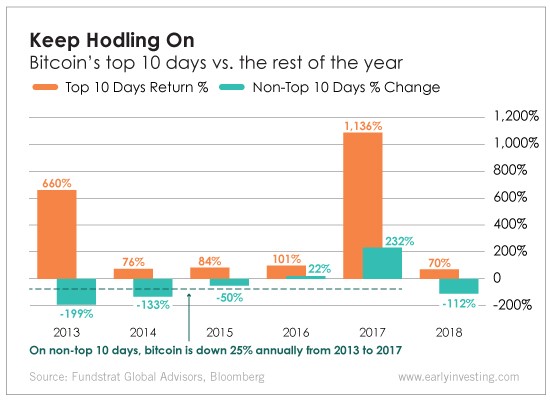 At Early Investing, we like to hold our crypto. We believe that, despite the volatility in the crypto market and the scary dips that can happen, crypto is ultimately growing in value. And it will eventually overtake the fiat currency system.
Taking this view means adopting a long-term approach to investing.
Tom Lee, co-founder and head of research at Fundstrat Global Advisors, has calculated bitcoin's return if an investor had not owned the crypto for its 10 highest-returning days each year.
The top 10 days drastically outperformed the rest of the year – especially in 2013 and 2017. The non-top 10 day returns were negative in four out of the past six years. The dotted line shows the annualized return from 2013 to 2017 would be negative 25% if an investor had missed the 10 best days in each year.
As Adam Sharp pointed out recently, investors are emotional beings. They are susceptible to fear and greed, and that can undermine their judgment. An investor who's new to crypto would probably look at that chart and feel both fear and greed – fear for the dips and greed for the dramatic highs. They might try to jump in and out of the market to profit from those highs and escape the lows.
But the fact is it's extremely difficult to pinpoint the bottom of a market. Bitcoin's volatility just adds to the degree of difficulty. And the fact that most media headlines are fixated on price (instead of bitcoin's market cap and growing institutional adoption) just adds to the pressure to sell.
According to many different publications over the years, bitcoin has met its demise 322 times.
Yet it's still here… at a $6,700 price and a $114 billion market cap as I write.
This is why taking the long view is so important. It may look (and feel) terrifying to see crypto prices take turns soaring and plummeting. But the closer crypto gets to mainstream adoption, the more the markets will stabilize. And it's getting closer all the time.
Take heart and hold your crypto – even when it makes you queasy. This roller coaster has its loops, but it also has a steadily rising baseline. Remember that.