Crypto Market Musings
Crypto investors might finally be seeing the light at the end of the tunnel. Over the past month, bitcoin has risen 25% to reach around $21,000 as of this writing, and ethereum is up by nearly 30% at a price of $1,560. 
This rally was most likely caused by institutional investors with over the counter (OTC) desk holdings of bitcoin. OTC desks allow buyers and sellers to trade crypto directly and are mostly used by institutional investors that make massive transactions. These bitcoin desk holdings show an increase of 70%, according to Glassnode. And this activity seems to be spurred due to inflation softening. The Consumer Price Index showed a 0.1% decline in December. The Producer Price Index also dropped 0.5% in December — the largest drop since April 2020.  
Even though crypto is supposed to be a hedge against inflation and protection against the centralized financial system, the crypto market has been largely driven by market sentiment and the economy. As we have seen over the past few years — and especially last year — crypto has traded as a risk asset that's extremely sensitive to inflation news and strongly correlated with the stock market.
The decline in inflation is giving investors some hope that the Federal Reserve might ease interest rate policies after seven brutal hikes in 2022. Regardless, the crypto market is experiencing a lot of volatility right now. If you have been following Early Investing regularly, you know that crypto's volatility could be a good opportunity for traders to take advantage of. 
What Yasmin Is Thinking About
Recently, macroeconomic factors have been the biggest driver of the crypto market. The market has been reacting more to investor sentiment than the actual value or development of cryptocurrencies. But I don't want us to forget that crypto is a complicated technology that keeps improving. So in the long run, as crypto becomes more advanced and widely accepted, I think its technology will be appreciated more and its usability and progress might become the driver of prices.
One of these advances we are going to see soon is the Ethereum Shanghai upgrade, which is set to launch in March. The Shanghai upgrade is Ethereum's next big milestone after the Merge of September 2022. This upgrade will introduce a few Ethereum Improvement Proposals (EPIs). One of them is to allow investors to un-stake their staked ethereum and give them the opportunity to liquidate their ethereum. That means validators will have the opportunity to receive a reward for the first time since the Beacon Chain launched in 2020. (For context, the Beacon Chain was created as a first step to move ethereum to PoS. Ethereum then fully transitioned to PoS during the Merge.) There were a few other EPIs the Shanghai upgrade first introduced, but developers decided to mainly focus on un-staking for now. 
With all of that, what does the Shanghai upgrade mean for investors? 
With 13% of ETH currently staked, this could have an impact on its price. People have been waiting to un-stake their ETH for a long time. So we might see an ETH dump because validators probably want to make a profit on their staked ETH and rewards, especially since it has been a difficult journey for them with all the FTX news and the Terra Luna collapse. Some might even want to stop investing in crypto entirely. However, this also depends on the price of ethereum when the Shanghai upgrade is released. Some validators might choose to hold if they staked ethereum at a higher price. So for now, the best thing for investors to do is keep an eye on ethereum's price as the release gets closer. 
In the long term, the Shanghai upgrade should eliminate the main risk associated with staking ethereum — lack of liquidity. In turn, this could attract more validators to earn interest without worrying about liquidity, and thus have a positive effect on the price.
And Finally…
ChatGPT, an AI chatbot created by OpenAI, has been a hot topic recently. I have been asking the chatbot random questions about random topics, including crypto. Here's a recent question I asked it about crypto: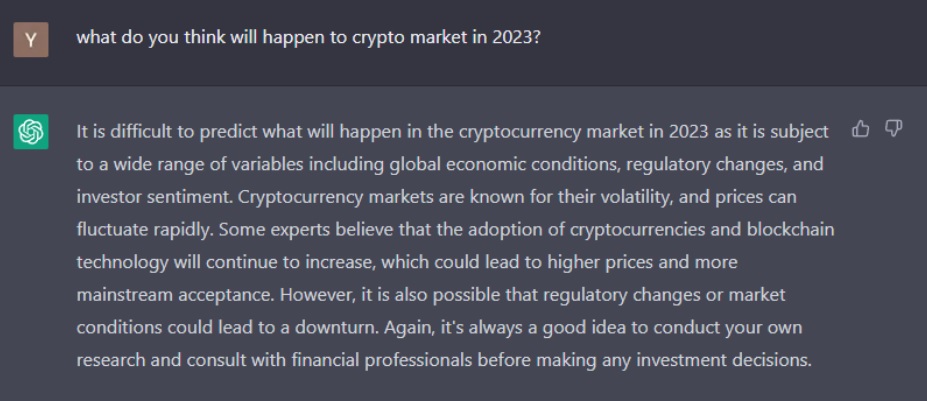 Thanks for nothing, ChatGPT.