Sometimes, numbers need a little bit of context…
There are 466 crypto funds created to date… nearly 100 just this year… and more than $7 billion in crypto funds waiting to be unleashed…
These figures come from a new study by Crypto Fund Research. The growth of assets managed by crypto funds has also been impressive…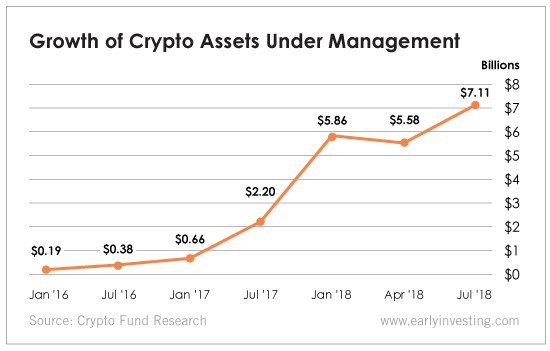 But let's not get carried away. Compared with traditional hedge funds, this is peanuts.
The top 500 non-crypto hedge funds manage around $1 billion or more of assets…. each!
More than 700 hedge funds were launched in 2017, and there were 156 crypto fund launches in 2017, according to the Crypto Fund Research report.
Crypto fund investing is just scratching the surface.
It isn't so much in its infancy as it is in its pre-infancy.
It's more like an incubation period.
Crypto funds account for less than 0.1% of total hedge funds' assets.
Crypto's Mysterious Behavior
But there is something interesting – some would say even mysterious – going on here.
Logic would dictate a downturn in funds launched this year. Bitcoin prices have fallen after peaking in January.
No eyebrows would have been raised.
After all, fund creation in 2017 was seen as the result of rapidly rising bitcoin prices. A slowdown this year would have been viewed as an understandable reaction to falling prices.
Further, these are professional investors who nurture the savings of the wealthy. They pay attention to how prices are trending.
Yet, the opposite happened.
Crypto funds are on pace to beat last year's total launches… despite sluggish prices and a continuing lack of regulatory clarity from the government.
The question is…
WHY?
I've identified three big reasons.
1. Transformational technologies. Transformational technologies don't grow on trees. Before the blockchain came along, there was the internet. Before that? We had the car, airplane and television. And before that, we had Edison's light bulb and Franklin's electricity. That roughly averages out to transformational technology coming along once every other generation. There's FOMO at play here, but that's not the whole story. Imagine if the stock market went south. How many funds would be starting or increasing their stake in the S&P 500, DJI or Nasdaq? NONE. So why have professional investors ignored falling prices and jumped into bitcoin?
2. The proving grounds. We're about to find out how well these technologies work and if they can scale. Over the next two years, more than 75% of the active fintech blockchain projects will go from proof of concept to live production. In the meantime, the crypto and blockchain industries are attracting many of the world's best developers, entrepreneurs… and investors. Marc Andreessen (Andreessen Horowitz)? Check. Fred Wilson (USV)? Check. Mike Novogratz? Check. Benchmark and Sequoia? Once again, check.
And now we see other VC money pouring in, catching up to hedge funds investing in crypto. Take a look at this chart…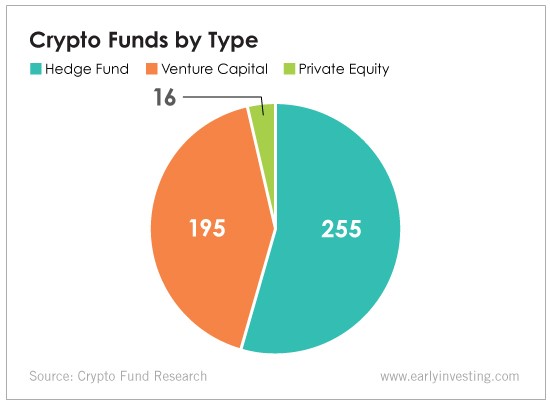 Existing tech/fintech VC firms are expanding their investments into blockchain startups and launching their own blockchain funds.
3. The beginning of the end of the final hurdle. Here's why you need to pay attention to my Co-Founder, Adam. He's seeing what professional investors are also noticing: the establishment of secure, regulated custody of crypto for institutional investors. The lack of a custody solution has kept institutional investors out of the crypto markets. But that barrier is about to go away. "It's being built out right now," Adam says. "The 'institutional catalyst' theory that I (and others) have proposed is on track. In fact, the case is stronger than ever."
Bitcoin isn't getting the most positive press these days. But serious and professional investors understand how little this matters.
They know bumps are part of the journey. They've avoided knee-jerk reactions to falling prices. Instead, they're focused on the enormity and unusual upside of the investing opportunity.
Invest early and well,
Andy Gordon
Co-Founder, Early Investing