How to Buy Our Recommendations on Binance
Binance is the world's largest cryptocurrency exchange (by volume). Its headquarters are in crypto-friendly Malta, but the exchange has offices throughout the world and a strong presence in Asia. The fees are low at around 0.1%, and even lower if you buy with its native cryptocurrency, Binance Coin (BNB).
Binance employs top-notch security and blockchain engineers. It keeps the vast majority of coins in "cold storage," and I consider it to be an extremely secure exchange.
These are our recommendations that trade on Binance:
OmiseGO (OMG)
Nano (NANO)
Ark (ARK).
First, you'll need to register for an account with Binance here. You may be asked to upload a picture of your license or passport for verification purposes. This is normal, and exchanges do it because of "know your customer" (KYC) laws.
You'll receive a verification email. Be sure to check for that and follow the instructions.
Binance is a "crypto only" exchange. You can't buy with dollars or other fiat money. Most coins are priced and traded in bitcoin (BTC). So you'll need to purchase (or move) bitcoin from somewhere else first and then transfer it to your Binance BTC wallet.
You can buy the bitcoin on Coinbase, Gemini or a local exchange if those aren't available in your country. Personally, I like Coinbase because of its rock solid security reputation, insurance, etc. (You pay a little more at Coinbase, and the customer service isn't great, but we're still in the early days of crypto.)
Let's go through the transfer and buying process now. It doesn't take long, and once you figure it out, it'll be a piece of cake.
Moving Bitcoin to Binance
Step 1: Log in to Coinbase or the wallet where you're sending bitcoin from. Now switch to your Binance account and click on the "Funds" tab. (On a desktop, it should be in the upper right corner.)
Step 2: Click on "Funds," and then select "Deposits."
Step 3: You will then see a message that says "Select coin to deposit." Search for bitcoin or BTC, and click on it. Make sure you select "BTC-Bitcoin."
You will then see a screen like this. (Note: Don't use the address from this image. Binance will give you a unique one.)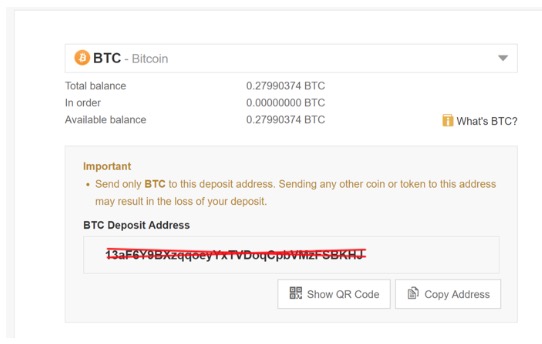 Step 4: Under "BTC Deposit Address," you will see the address that you will send coins to. Select the address and copy it (you can click the "Copy Address," or use CTRL+C on a PC).
Step 5: Now switch back to Coinbase, or wherever you're transferring the bitcoin from. If you're in Coinbase, click on Accounts. Now select your bitcoin wallet you want to send from. Click "Send."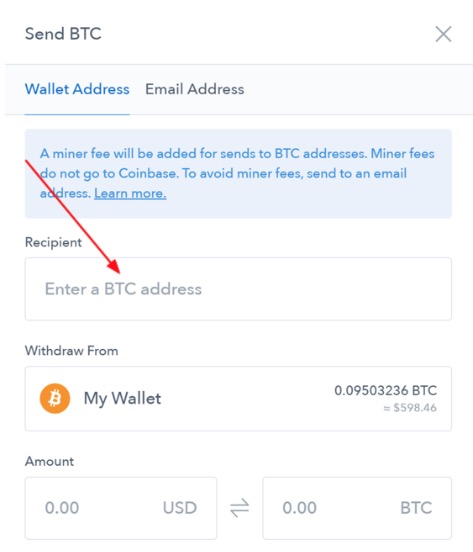 Step 6: Under "Recipient," paste your Binance deposit address (from the first image above).
Step 7: Select the amount you want to send, then click continue. You may be asked to enter your two-factor authentication code again (from the Google Authenticator app).
I recommend sending a small test amount first. Once the deposit comes through on Binance, you'll know you did it right and can send the full amount you want to invest on Binance.
How to Buy
Now that you have some bitcoin in your Binance account, you can make your purchases. I strongly recommend doing this on a laptop or desktop computer.
Return to the homepage of Binance. From there, click on "Exchange" and select "Basic."

In the upper right corner, you'll see a search box. Search for the ticker of the coin you want to buy. For example, if you wanted to buy nano, you'd search for NANO and select NANO/BTC. This is the "trading pair" where you can buy nano with bitcoin.
Now look to the middle of the page, past the charts. This is where you place trades. Remember, these coins are all priced in bitcoin (so the pricing is going to look strange). Remember, we're buying a coin that may cost $1 with a coin worth $6,000. So we're using only tiny fractions of a bitcoin to buy each altcoin.
I'm going to continue using nano as an example here.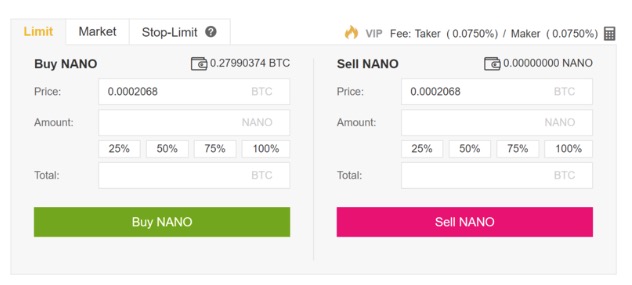 If you're new to trading, I recommend using the "Market" buy tab. This will automatically buy the lowest priced coins currently being offered.
Enter the amount of coins you want to buy (and the price if you're using a "limit order"). Then click on the green "Buy NANO" button (or whichever coin you're buying).
Confirm the order, and if asked to, enter your Google Authenticator code to confirm the trade (this is a security measure).
Congratulations, you've made your first purchase on Binance. It's a leading crypto exchange, and it offers access to many of the leading altcoins from across the world.