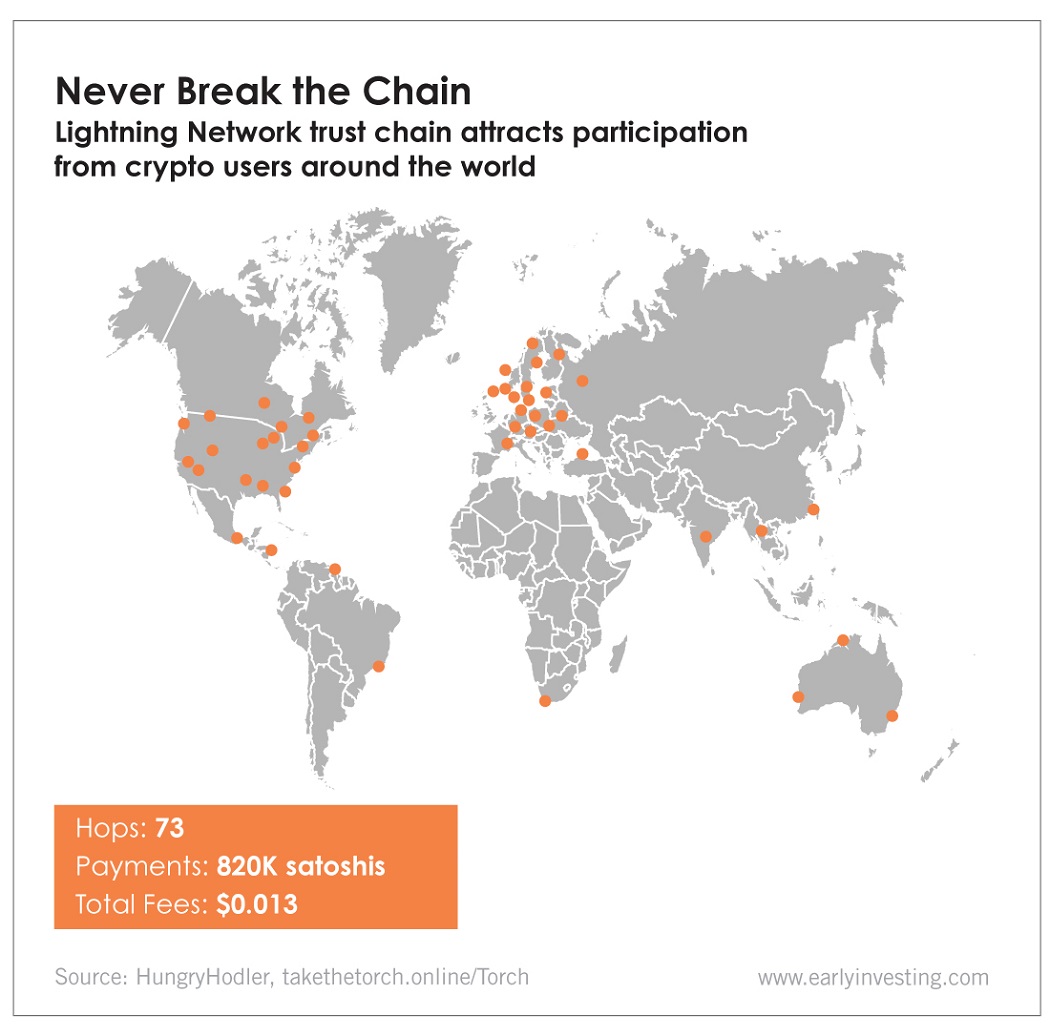 Sometimes, it's hard to explain why something goes viral. There are lots of cute baby videos on YouTube, for example. Somehow, Charlie bit my finger – again! went viral (866.8 million views and counting since 2007), while others didn't.
Sometimes, though, it's easier to understand why something goes viral – like the Lightning Network "trust chain."
Twitter user hodlonaut started the trust chain by saying he would pass on 100,000 satoshis (the smallest unit of bitcoin) to the first person he trusts. And that person should pass the payment – along with an additional 10,000 satoshis – to another trusted user (and so on and so forth).
Hodlonaut told CoinDesk, "The reason I started this was just to have some fun with the lightning network and maybe spread more awareness. I thought it would maybe do five or six hops and then die, without many people noticing."
But the trust chain has gone much further than anticipated. Last Tuesday, 139 people in at least 37 countries were participating, and payment had reached around 820,000 satoshis. As of today, 176 participants turned the chain into 2.96 million satoshis (around $107).
What hodlonaut didn't count on was the passion of the bitcoin community and just how much they wanted to participate in something that demonstrated the growth of bitcoin.
Just look at how bitcoin true believer and Twitter and Square CEO Jack Dorsey jumped into the game when crypto podcast host Matt Odell tweeted at Dorsey, "You ready to carry the torch? Send me an invoice for 2,860,000 sats."
Dorsey responded by posting the requested invoice. When Odell sent the funds, Dorsey passed the torch to Lightning Labs co-founder Elizabeth Stark.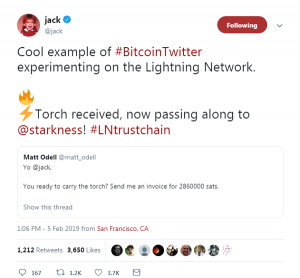 This isn't the first time Dorsey has publicly supported bitcoin. He has repeatedly praised the crypto on Twitter, saying bitcoin is the only crypto he owns. "Bitcoin is resilient. Bitcoin is principled. Bitcoin is native to internet deals. And it's a great brand," he tweeted.
Adam Sharp has been saying the same thing for years. Bitcoin's strong brand and dedicated community are just two reasons why it's so successful. And the trust chain is a testament to that community.
Ti Kawamoto, who participated in the chain and made a video illustrating it, said it best:
The #LNTrustChain showed the world: 1. Lightning works and it's amazing. All of us who've used it in a solo context (buying stickers, playing games, etc.) already knew it, but this experiment was the first widespread public demonstration of its power.

Even in beta, with super early infrastructure, there are solutions that make sending/receiving over LN easy to figure out. Can't wait to see how this matures. The community is just incredible. Casually passing around what's now ~$85USD to internet strangers…

And feeling comfortable with it speaks to the overall character of this group of enthusiasts. Random people will step up to contribute to projects like this and help move things along where they can. Really glad to have been a part of this!
This demonstration has been a big moment for crypto. The crypto community really wants bitcoin to work – and to work well. And this experiment has been working. That's inspired more people to participate and take notice. Yes, this is just a small sample of the Lightning Network's potential. But the energy and excitement surrounding it is undeniable.
Just imagine what the excitement – and usage – will be like when the technology has been perfected.