Grab a 100X Gain on This $100 Billion "Smart Play"
By Andy Gordon, co-founder of First Stage Investor
Editor's note: this recommendation for Keen Home, a unique "smart home" startup company, is now live. 
Imagine living in a home where your appliances, HVAC, TVs and entertainment system, lights… everything that matters to you, in other words… were all controlled through your smartphone or a device like Amazon's Alexa.
People have coined this vision of the future the "smart home"… "connected home"… "home automation"… or a "home 'Internet of Things (IoT).'"
McKinsey & Company says IoT could become an $11 TRILLION MARKET by 2025.
That's nearly a decade away. But companies are already competing in this potentially uber-lucrative market.
SmartThings from Samsung took in $250 million in revenue in 2014.
Dropcam makes smart video-monitoring cameras. It was acquired by Nest for $555 million in 2014. Nest makes smart thermostats.
Nest itself was bought out earlier that year by Google. The price? A cool $3.2 billion.
Now, everybody knows Google has plenty of cash. But a $3.2 billion purchase? For a smallish thermostat company? What gives?
Well, this is what happens when the stakes are high. Companies seek any edge they can find. Or buy.
And – make no mistake – the stakes in this market are very high.
That's why we're giving you an early "sneak preview" of a smart home startup with a brilliant idea and the execution chops to match.
Not if, but When
IoT is not an "if" proposition. It's a "when" proposition.
It's only a matter of how fast the market will expand.
BI Intelligence, to take one estimate, is forecasting a 67% compound annual growth rate (CAGR) to the end of the decade.
Homeowners know about it and are eagerly awaiting it.
The technology is here. Sure, it's going to get better. But the key component – the sensor – is available right now.
What's holding back this market is not technology, but compatibility.
Sensors from different companies – offered via different platforms – can't talk to each other.
This has slowed things down. Tech giants like Apple, Google and Samsung, as well as traditional communications players like Comcast and AT&T, are vying to be THE COMPANY. The one that controls the communications protocol. The one that all the other IoT companies have to integrate with.
But the IoT startup I'll be introducing you to today has found a way around this kerfuffle.
It's launching its home-connected devices at the perfect time… when more people are relying on their mobile devices than ever before.
Preview: Keen Home Poised for Growth
We're not issuing a recommendation on this company… at least, not yet.
You see, it's too early for that. The company is still "testing the waters" on SeedInvest's website. This is what many companies do to determine if there's enough interest to go forward with an actual fundraise.
We've done our research on the company. We've spoken to the co-founders. We've analyzed the sector it's in. My Co-Founder Adam has been following this company for a few years.
And we're convinced the company will make a good investment opportunity.
That said, we still don't know the valuation of the company during this round of funding – that will be released along with the offering circular if/when the deal goes live.
So why bother with a "sneak preview"?
One, we're extremely impressed with the company.
Two, nearly 3,000 people have expressed interest in investing in this company – to the tune of more than $21 million (via the SeedInvest website). This high level of interest should strongly encourage the company to proceed with its raise.
And three, I want you to be familiar with the company before it goes live. That way, you can make a decision quickly.
So we're giving you an early heads-up. Hopefully, the company will decide to do a fundraising round on SeedInvest… we'll get the deal terms… and we'll then be able to issue you an immediate recommendation at the very beginning of its raise.
That way, everybody who wants to invest will be able to.
So remember, the following is a preview and not a recommendation.
Targeting Inefficiencies
In the next decade, almost every home in the U.S. will become "smart."
Other countries will follow suit.
It all adds up to astronomical profit potential. This growth has triggered startups to rush into the smart home market.
But here's the thing. They're all funneling into one of three segments – lighting, thermostat and security.
Competition in these "big three" is fierce.
But there's a part of the home that has been ignored… where the technological underpinnings have gone without any upgrades for 60 years or so!
It is one of the leading causes of energy inefficiency in the typical home.
This is the part of the home our startup company has targeted. A wise choice.
It has no competition.
The solution is straightforward and easy to understand.
The technology is state of the art but also readily available.
The challenge is merging great software with great hardware.
Not the easiest thing to do, thank goodness. Otherwise, other companies would see what our startup is doing and copy its product.
It took several iterations for our startup to get it right. And now it has.
Its products are extremely well-designed, meaning…
They work well – and do what they're supposed to do.
They're easy to use… and smart. They learn as they go.
And they look great – a critical aspect for a product at the intersection of home efficiency and home decor.
In short, this is what makes this company an attractive investment opportunity:
It's operating in a vibrant, explosively growing market… with no competition… while offering affordable and well-designed "smart" products.
It's no surprise that the company has snagged several venture capital investors, including one of Shark Tank's highest valuations ever from Robert Herjavec – who many observers think is the show's shrewdest shark. He's now an equity holder and advisor to the company.
Okay, let's dig deeper into this company, so you can see for yourself why I'm so impressed.
Zone the Home
A few years ago, Ryan Fant, an MBA student at NYU Stern, was spending his Thanksgiving vacation at home with his family. It was very cold outside and very warm inside – for which he was grateful.
And then it dawned on him.
He was in the living room hanging out with the rest of his family. The thermostat read 76 degrees.
But the entire house was equally warm. The kitchen and dining room. The upstairs bedrooms. The third floor guest rooms. Even the basement lounge area. Warm and cozy all. And also devoid of people.
What an enormous waste of energy, he thought. And – thinking of his dad – unnecessarily high utility bills.
He talked it over with his friend and fellow MBA student Nayeem Hussain. They both reached the same conclusion…
There has to be a better way.
So they began researching the topic.
They found out that homes typically have two to four rooms that are too hot or too cold.
And discovered that a person spends time in 20% of their house, but heats or cools 100%.
In fact, more than 90% of homes in the U.S. have only one HVAC zone.
The more they learned, the more convinced they became that having one thermostat – no matter how "smart" it was – was like having one light switch…
Not enough for one home.
Back at NYU, they consulted with professors, mentors, other entrepreneurs and investors. A "secret" business plan emerged.
They were on to a solution that was breathtakingly simple and potentially very profitable because nobody else had been able to execute such an idea at scale.
They spent the next eight months with their heads down, prototyping a "Smart Vent."
Its purpose: To redirect airflow to only those rooms that needed it.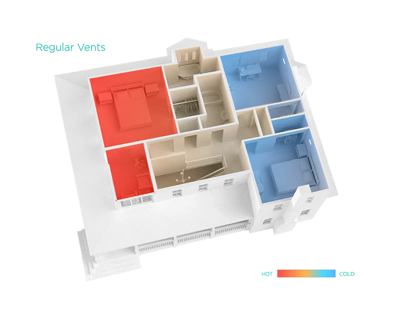 It was programmed to be intelligent and intuitive. For example, a bedroom would automatically get air conditioning at night in the summer. During the day, its vent would be closed.
Users could also open and close vents remotely using an app on their smartphones.
The prototype was a big hit. So in 2013, Ryan and Nayeem founded Keen Home and further refined their Smart Vent.
By the end of 2013, they had a sleek product that could lower energy costs by 30%. Ryan touts the cost-saving benefits of closing off certain air vents during certain hours of the day this way…
"You can make a 3,500-square-foot home as efficient as a 2,000-square-foot home."
In the eight months since it's been commercially available, Keen has grossed more than $2.3 million in sales.
And its products have generated a great many favorable reviews. Digital Dapper says…
"Some options on the market want to replace all your vents. That would cost more than $2,000. Keen recommends that you eventually replace up to one-third of vents in your home. Our bedroom is too warm during the winter. With the Keen Smart Vents, we can partially close these vents using the app and help keep the room much more comfortable. The Keen Smart Vents communicate back to our Nest as well."
CNET says… "The vents look slick. A small LED light recessed in the structure of the vent itself is the primary means of communication between user and device. And for the most part, its blinking patterns are easy to understand: green for 'connected,' yellow for 'searching for connection,' and so on."
Wired calls them the "brilliant air vents you never knew you needed."
What the press says is one thing. What customers think is the ultimate litmus test. Here is where Keen really shines: 31,000 vents have been sold since last November. And less than 1% have been returned.
Speaks for itself, doesn't it?
A Recipe for Success
What could go wrong? We're not being negative. It's a question we ask ourselves about all the startups we're interested in.
So let's look at all the ingredients Keen possesses to be a success.
The product/technology works. It really does lower heating and cooling bills.
The product addresses a need. Nobody wakes up in the morning thinking, "I've got to do something about my vents today." It may not be an obvious need. But it's one of those ideas that makes so much sense, it makes you wonder why it took so long for a company to target vents. And who doesn't want to pay lower heating bills? The customer need is very real.
The company has diversified its distribution channels. Keen Home's products can be found in Lowe's, Best Buy, Amazon, Newegg and Build.com. The company has proven its ability to work with big-box retailers and top tier e-tailers to reach millions of customers all over North America.
The market is expanding. By now, you should know this. The smart home market is big and growing. The "Global Smart Homes Market Report 2015" says it's set to expand at a 17% annual compound growth rate to the year 2020. Another report says it'll be worth around $77 billion by then. Another source puts the size of the global smart home market at $121 billion by 2022. Let's just say that in big round numbers, we're talking about a $100 billion market at the beginning of the next decade.
The founders know how to lead. Building a hardware product isn't easy. I've had several conversations with co-founder Nayeem. He and Ryan are doing a good job not only on the manufacturing side but also on the marketing side. They've sold more than $2 million worth of Smart Vents. And they've signed deals with Lowe's, Best Buy, Amazon, Homewerks' ProChannel and others. We've been extremely impressed with their marketing, communication and product skills.
The business model works. The founders made an early strategic decision to integrate their vents into as many systems as they could. It was the right move. Their Smart Vents work with Nest, Apple's HomeKit, Wink's Connected Home Hub and Lowe's Iris. Samsung's SmartThings users can integrate Echo (the Alexa voice) with Keen's Smart Vents.Keen is also working on plans to integrate with Ecobee, Apple HomeKit, Honeywell's Lyric platform and the growing Control4 community.
The company has built-in defensibility. The product took years to develop and tweak to the point where it was consumer-ready. Keen has filed three utility patent applications (still pending) to protect its designs. Between its strong product design, IP portfolio and technical expertise, we feel that Keen has built a strong defensive moat.
The product is scalable. The profitability will get better with scaling as cost per unit goes down. It now costs about $40 with a sale price of roughly $85. As costs go down, the price will too, and margins will increase. It's all good.
Upside Versus Risk
The Smart Vent is Keen's first product but certainly not its last. Ryan and Nayeem point out that Keen Home is not a "vent company." It's a multi-smart-product brand that adds intelligence to a home's core functions.
Keen is working on a slew of new products…
Recently launched is an air purification device – a Smart Filter for your Smart Vent with automatic replenishment based on a razor and blade model. Smart Filters "click" into a Smart Vent's removable faceplate to provide high-quality air purification and odor neutralization.
The company's filter service is called Keen Air Care, which provides automatic Smart Filter replacements for up to four Smart Vents every 90 to 180 days.
It's Keen's first recurring revenue product (but, I'm betting, not its last).
In the pipeline? Smart sump pumps. An energy monitoring system. And a home disaster prevention system (like preventing mold, flooding broken pipes and electrical shorts).
All of these products would be the "first of their kind" made available to homeowners. Most importantly? Keen Home's products take care of deep pain points for their customers.
Clearly, the company's upside isn't limited to Smart Vents. Still, as Keen's initial product, it draws double duty as a beachhead into the home and establishing Keen's credentials as a cool smart home device supplier with top tier partnerships.
The risk isn't a clunker or two down the road. It's how Keen's Smart Vents (and Smart Filters) do right now.
Not all of the ensuing products have to be hits. But the Smart Vent really does.
Its success will likely make or break the company.
It's important you know this… So listen carefully. This is important…
Keen snagged a three-year 35,000-unit deal with Lowe's for its Smart Vents. That comes out to nearly 12,000 units a year.
For a company of Keen's size, that's a huge contract. But here's the really exciting part.
Within six months of making its first shipments, Keen blew way past the 12,000-unit schedule.
Before the year was out, it had shipped NEARLY 15,000 OF THE 35,000 SMART VENTS – WHICH WERE SUPPOSED TO TAKE THREE YEARS TO SHIP.
The merchandise people at Lowe's live and breathe customer demand trends. Even if they were playing it safe, they should have known better. They quickly added 5,000 units to their initial order of 10,000 units.
Very telling in my book, but it could be one of those one-off scenarios – an exceptional case, in other words.
Except that this summer, it happened again… this time with Best Buy. In a pilot program with the company, demand once again jumped ahead of demand. After the initial order in July, Best Buy had to reorder twice more in the following two months.
And Nayeem told me that retail may not even be Keen's most promising channel. He sees the professional channel – like HVAC contractors, home builders and architects – as a lucrative market. He said Keen will be ramping this channel up in 2017, if all goes according to plan.
Early investors don't have the luxury of analyzing tons of sales data. So I'm looking for signals that others may not notice but that give vital clues.
In this case, clues of exceptional upside.
Admittedly, this sign comes very early in the game. But Keen blasting through what must have looked like an ambitious sales objective just months ago resets the risk-reward equation for me.
Which simultaneously increases the upside part of the equation and reducing the risk part.
It's a signal that elevates Keen from a potentially good opportunity with a nice upside-to-risk ratio to a GREAT OPPORTUNITY with EXCEPTIONAL UPSIDE compared to risk.
Investment Details
Keen Home is open for investment now on SeedInvest.com.
You can invest and view the company's full profile on SeedInvest here.