The crypto markets were hit hard on Wednesday. Bitcoin briefly dropped below $8,000 after starting the week at just over $10,000. Many altcoins were hit even harder.
As I write this, bitcoin is trading around $8,368.
So… what happened? This is just what bitcoin does occasionally. Just when things are starting to look up, it will surprise us and take a big (temporary) hit. In my opinion, this is nothing to be concerned about.
As for what specifically caused this drop? I believe it's a combination of two things.
First, the market was expecting a bigger impact from the launch of Bakkt, the institutional bitcoin futures trading platform owned by Intercontinental Exchange. The volume Bakkt achieved on day one was lower than expected. But Bakkt, for now, is a short-term trading platform, so we shouldn't expect much long-term buying support from it.
I am paying much more attention to Fidelity Digital Assets and Coinbase. Fidelity's crypto operation is bringing on institutional clients who I expect to buy and hold for the long run. Fidelity is one of the most trusted names in investing, and it has the potential to onboard long-term institutional buyers, which will support the price going forward.
Coinbase recently stated that it's bringing on $200 million to $400 million from institutional clients per week.
Second, bitcoin's estimated hash rate dropped by approximately 40% on Monday.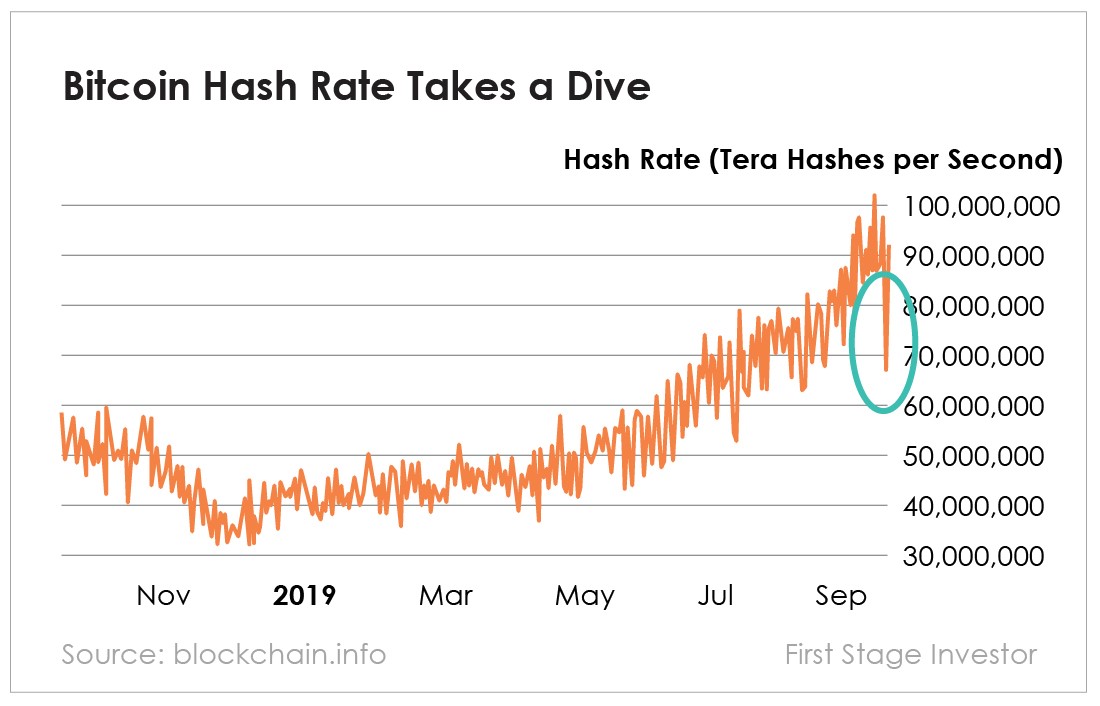 The hash rate is the amount of processing power that miners are currently employing on the bitcoin network. However, it's important to note that this number is just an estimation based on previous blocks.
A Cointelegraph user came up with the best reasoning yet as to why the hash rate dropped so sharply. It has to do with upgrades being performed to Bitmain S9 miners. As explained by Cointelegraph…
The next diff [difficulty] increase in 2 days will push previous gen S9s (roughly 50% of the network) below profitability. Last week an unrestricted firmware for S9s was posted and every large farm operator is working at a feverish pace to get approximately 3 million machines updated. The new firmware has optimizations that squeeze the very last bit of efficiency out of the S9 lowering the watts/thash-sec from 96W to ~80W. Some machines can perform with no degradation to speed, while older machines must drop performance by ~30% to achieve the same results.
Regardless of what caused the hash rate drop, it appears to have spooked the markets.
Outlook Going Forward
I continue to prefer bitcoin over altcoins in this environment. Bitcoin has a large lead on all the competition in terms of adoption, volume, liquidity and brand recognition. In addition, it is the only coin with widespread, real-world adoption.
Bitcoin also has a very strong upcoming catalyst in the "halving" that will occur in May 2020. After the halving, there will be half as much new bitcoin coming on the market every month. This will be a monumental change for bitcoin. Halvings occur only every four years and have been extremely bullish catalysts the previous two times, in 2012 and 2016.
Of course, it's possible that bitcoin will fall further before ultimately rebounding. But I believe it will rebound and that it's very likely we'll see new highs in the next year. Bitcoin offers an excellent risk-reward scenario at these levels.