How to Buy My First Three Recommendations
Do you have a Bittrex wallet funded with bitcoin?
If so, you're ready to purchase my first three recommendations in Crypto Asset Strategies!
If not, you'll need to follow the steps below:
Once you have a Bittrex account funded with bitcoin, you can use the instructions below to purchase my first three cryptocurrency recommendations.
Step 1: Log in to your Bittrex account.
Step 2: Find the "Bittrex Markets" header and locate the search box on the right-hand side.

Step 3: Search for the name of my first recommendation by typing in the coin's name: OmiseGO (OMG).
NOTE: You'll repeat this process for my other two recommendations:
Ark (ARK)
Vertcoin (VTC).
Step 4: Once you see OmiseGO populate in the search result, you'll click on the blue letters that say "BTC-OMG." See image below.

Step 5: Now you're on Bittrex's OmiseGO page. On the right-hand side, you'll see OmiseGO's current price, denominated in bitcoin. You'll also see the U.S. dollar equivalent amount. Use these prices to determine how much OmiseGO you'd like to purchase based on how much bitcoin you have in your account.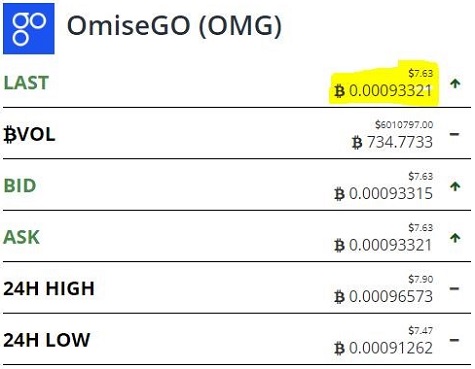 Step 6: Under the "Trading" header, you'll find an order form for purchasing OmiseGO. In the "Units" field, you'll type in how much you'd like purchase. (Fractional amounts are okay.)
In the "Bid" field, you will enter the price you wish you pay. I recommend selecting "Ask" from the dropdown menu, as it represents the lowest price currently being offered.

Step 7: You'll leave the limit as is and keep the order as "Good 'Til Cancelled." Then you'll review your order total. Remember, the price will be denominated in bitcoin (BTC). When you're ready to purchase, you'll click the blue button that says "+ Buy OmiseGO." Then you'll be asked to confirm your transaction.

Step 8: Voilà! You've just purchased OmiseGO. Your purchase should be completed quickly, since Bittrex has excellent liquidity. You can check the order status by clicking on the "Orders" tab in the upper-right-hand corner of your screen.

Step 9: Complete this process for each of my other first three Crypto Asset Strategies recommendations:
When I recommend ICOs in the future, I will cover instructions in a separate report.