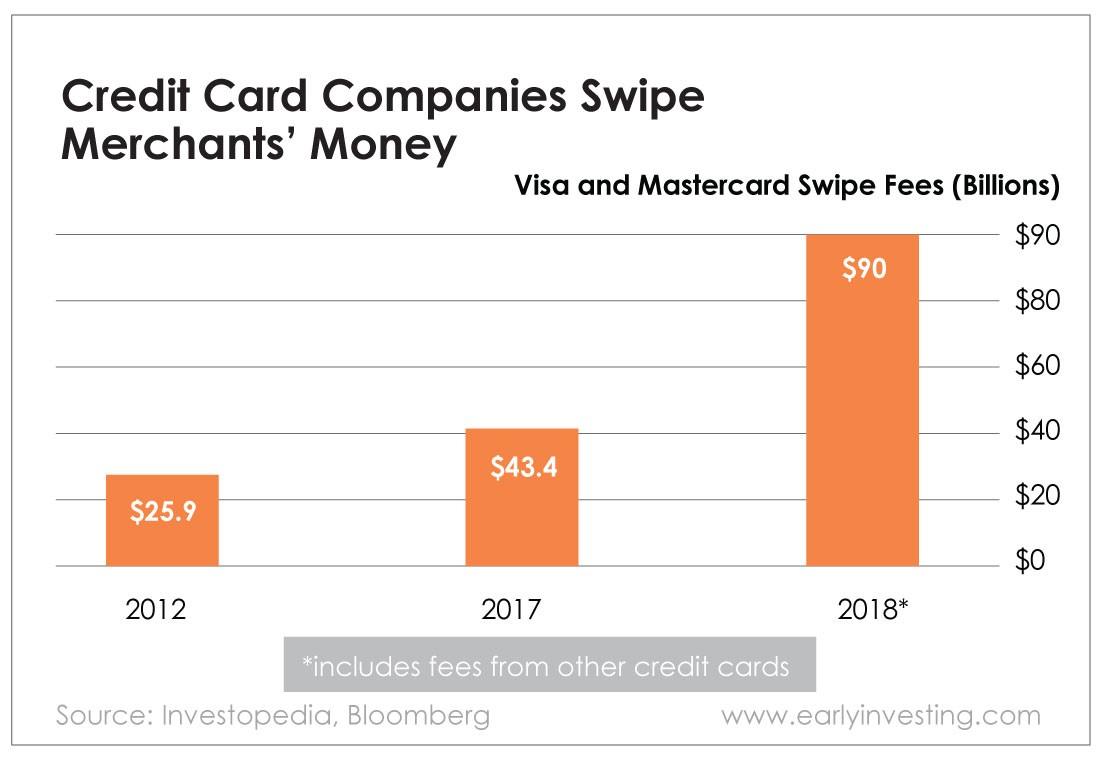 One of my favorite places to get lunch is a local deli down the street from my office. It's a small, family-owned business. Every time I stop by to order, the same person makes my sandwich and the same person rings me up at the register. And every time I pay for my lunch, I notice a little sign taped to the front of the register: "$7 minimum for credit cards."
I almost always forget to bring cash and usually end up buying more to meet the minimum. I wouldn't have to worry about it if it weren't for credit card swipe fees. Swipe fees are a percentage of the transaction that retailers pay to banks every time a credit card or debit card is used to buy something.
As a consumer, I'm only vaguely aware of these fees. I usually think about them only when I'm reminded by small businesses that there's a minimum purchase requirement for credit cards. And then I wonder how much credit card fees cost those businesses.
Turns out it's quite a lot. They cost retailers $90 billion in 2018. In 2017, Mastercard and Visa – the two biggest credit card companies (by a large margin) – charged retailers $43.4 billion in swipe fees. In 2012, Mastercard and Visa "just charged" $25.9 billion in swipe fees.
Just last year, Mastercard and Visa settled a class-action lawsuit filed against them by retailers. In the agreement, the two credit card companies and some banks agreed to pay retailers up to $6.2 billion.
And in February, The Wall Street Journal reported Visa and Mastercard were considering new swipe fee hikes.
It's not just my local deli feeling the strain. Kroger, which operates nearly 2,800 supermarkets through a variety of different brands across 35 states, is expanding its ban on Visa credit cards. The ban will impact 250 Smith's Food & Drug locations in seven states. Kroger first banned Visa in its 21 Foods Co. stores (and five Foods Co. fuel centers) in California last year.
Mike Schlotman, Kroger's chief financial officer, said Visa has been "misusing its position and charging retailers excessive fees for a long time." He added:
They conceal from customers what Visa and its banks charge retailers to accept Visa credit cards. At Smith's, Visa's credit card fees are higher than any other credit card brand that we accept. Visa's excessive fees and unfairness cannot continue to go unchecked.
In an effort to get around these fees, some retailers are trying to get customers to use third-party mobile payment apps. Others use in-house payment systems. Others still use different tactics. Starbucks, for example, encourages users to load funds onto its app or a prepaid gift card. That means Starbucks pays a swipe fee when users load the card or use the app, not every time they buy coffee.
Swipe fees are not just a pain for businesses… they're an example of a broken financial system. Credit card companies and payment processors are middlemen that take a small bite of every transaction they handle. All of these tiny fees add up to cost businesses and consumers real money.
That's where crypto comes in. It eliminates these middlemen and simplifies the transaction process. Imagine retailers and customers having direct, immediate transactions using bitcoin (hopefully with Lightning Network speed) or customers shopping without worrying about markups due to a credit card charge.
I look forward to the day when I can patronize my local deli without worrying about Visa taking a chunk of its profits.