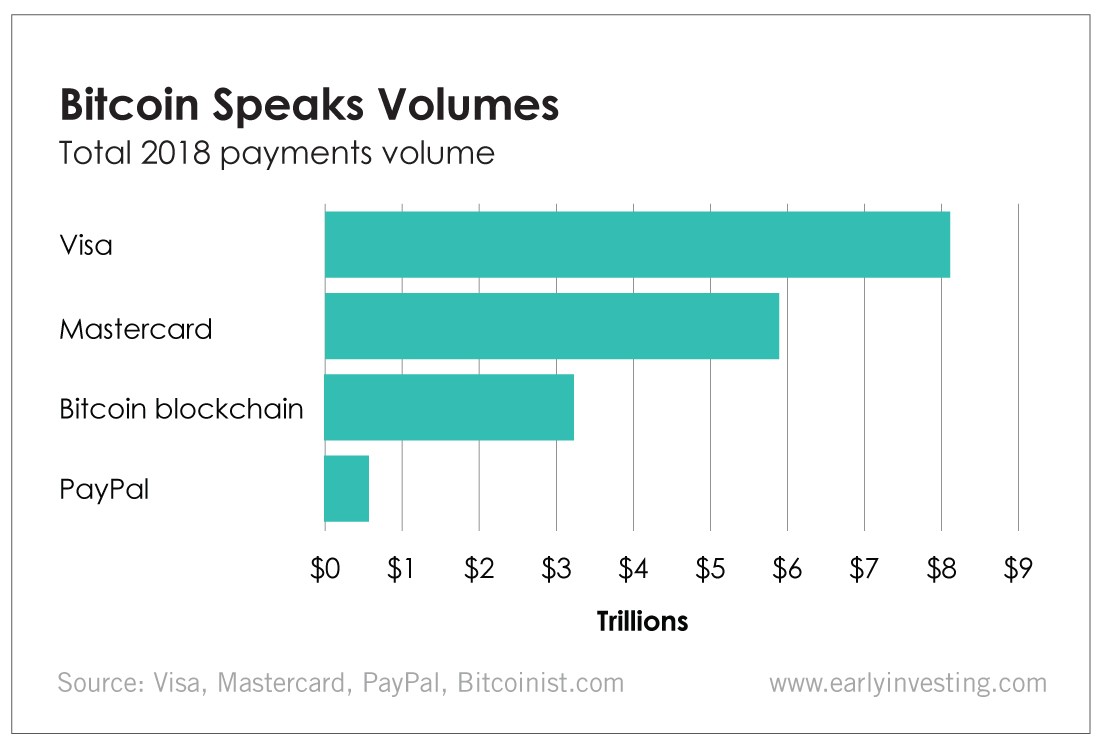 The bitcoin blockchain processed $3.2 trillion in transactions last year. That beats out PayPal, which had $578 billion in payments volume. And it's not too far behind Mastercard ($5.9 trillion) and Visa ($8.2 trillion).
That $3.2 trillion doesn't even include the volume of the second layer Lightning Network, which grew to more than 5,000 nodes and more than 19,000 channels by the end of 2018.
This is a great sign for bitcoin. And it's an even better sign for its future. Here's why.
The Lightning Network, one of the most promising bitcoin scaling solutions available, will keep this momentum going. Lightning allows users to make payments quickly and cheaply. And it's helping bitcoin become more scalable, which has been its biggest obstacle on the way to mass adoption.
The Lightning Network has been taking off since November 2018, when its capacity grew from 125 bitcoin to 450 bitcoin in just two weeks. During the first three months of 2019, the network capacity increased to 1,059 bitcoin. And the number of Lightning Network nodes has been steadily increasing along with it. The network's current capacity is 939 bitcoin, or $11 million. And that's just the testing phase!
This capacity will continue to grow. The Lightning Network has some of the world's smartest developers working to improve it every day. And it's gaining support from other crypto services. Popular crypto wallets, including Electrum, are adding support for the Lightning Network. And Bitrefill, a service that allows users to top up any prepaid mobile phone using bitcoin, is now allowing many Coinbase users to access its Lightning Network services directly from their Coinbase accounts.
The Lightning Network is playing a very important role in driving bitcoin adoption. It's not just improving scalability on a large scale but also making bitcoin more accessible and convenient at an individual level. If someone thinks of bitcoin as an obscure, hard-to-understand asset, they're unlikely to use it. But if they can make a bitcoin payment as easily as a PayPal or Mastercard payment… why not use bitcoin?
Good investing,
Allison Brickell
Assistant Managing Editor, Early Investing