I'm back from a couple of weeks in Europe. I went there to give a speech on cryptocurrencies and was part of a panel on investing in a bear market. I also spent a few days seeing the sights in Barcelona… a place I have fond memories of from when I went there more than four decades ago. (Time sure flies!)
One of the things I saw in Barcelona?
I went into the shop and asked the store clerk if the book was selling. She said it was one of their top sellers. There's as much curiosity about bitcoin in Europe as there is in the U.S.
When the locals asked me what I did, and I answered "invest in bitcoin and other cryptocurrencies," their eyes lit up.
"I want to invest. I just need to learn a little more, " was the most common reaction.
It was interesting to hear this. In the speech I gave over there, I talked about the "hype cycle," pointing out that most of the buying from crypto's "hype cycle" still awaits.
Many recent crypto converts in Europe and the U.S. who now believe bitcoin has real value and is a legitimate investment opportunity haven't pulled the trigger… yet. That's part of the cycle.
They will. It takes a few months to go from being interested to believing to the act of actually buying cryptocurrencies.
I've seen this play out in the U.S. and I'm seeing the same thing in Europe. Interest in crypto is building and is sure to lead to a sustained growth of crypto ownership.
Tales From the Ship
I heard some interesting stories on my Mediterranean cruise. One came from a young married couple on their honeymoon. The young woman knew all about bitcoin. She said her younger brother had set up a mining operation in his basement. He was making great money while bitcoin's price climbed.
But when bitcoin hit $100, its price started to fall. He read the headlines saying that bitcoin had peaked. The mainstream press proclaimed the bitcoin bubble had popped. It was time to get out while you could.
So that's what he did. He walked away. At this point in her story, the woman shrugged.
"Of course, now it's plain as day he made a big mistake," she said. "But at the time, bitcoin's demise seemed so real. My brother was all about riding the wave up. He wasn't a true believer. He was doing it for the money. He had no interest in going down with the ship.
"If he had kept at it or resumed his mining, he'd be a multimillionaire by now. But he sold off his computer equipment for pennies on the dollar. When bitcoin began to climb again, he couldn't go back. It would have been a big investment to re-establish his mining operation and buy basically the same equipment he had recently sold. He walked away for good."
What could I say?
We've all been there. Exited investments prematurely. Listened far too seriously to the talking heads and the journalists who follow the talking heads.
In fact, it's happening right now. And I doubt it will stop anytime soon. Whenever there's a dip, the doomsters come out of the woodwork. Since 2013, bitcoin has been declared dead on at least 299 occasions.
That says it all, doesn't it?
Another story… this one from a brash Frenchman in his 50s. He was in the early stages of learning about bitcoin. When I asked him what he did, he said real estate development, but he was semi-retired and looking into his "next great money making project."
"Crypto interests me greatly," he said.
He wanted to develop a crypto coin-based business. "I think it's going to get bigger and bigger," he said. "I want to be part of it."
His biggest problem, he explained, was that his business partner of 25 years didn't want anything to do with crypto. "What should I do?" he asked me.
I sensed he was trying to latch on to this opportunity with no understanding of what crypto was about. He had no clear sense of how difficult starting such an enterprise and seeing it through would be.
I told him to be prepared to lose all his money. That the blockchain is attracting all the best talent, and he'd have to do the same if he was serious.
I doubted he was. So I left it at that.
One evening, I found myself sitting across the dinner table from a recently widowed woman. Her husband died suddenly and left her with a sizable nest egg. "I know next to nothing about crypto," she said. "Should I invest?"
I told her she could do extraordinarily well if she kne w what she was doing and chose her cryptocurrencies correctly. "It's where you find the biggest financial rewards," I said. "It's also where you find the highest risk."
As for picking the right cryptocurrency, I told her she should rely on an expert she really trusts. I told her we run a service that makes picks for our members after completing an exhaustive vetting process.
I added that this kind of investing is not for everybody, and I didn't think it was for her. I suggested looking into investments that were less volatile and less unpredictable so she could maintain her nest egg and hopefully grow it.
There are thousands of investors who have made millions from buying cryptos. And this is just scratching the surface of the wealth crypto will generate. While investing in this space isn't for everybody, it's something most people should consider… and better sooner than later.
How much you make correlates highly with how early you invest. That said, prices of most cryptos are looking attractive these days. In general, bitcoin averages at least one 20% to 40% dip a quarter.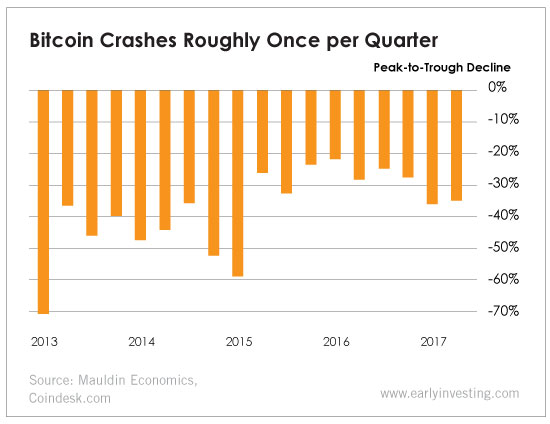 We're in one of those dips right now. It's 35% below its March high of $11,500.
Bitcoin is on sale. If you like buying low, this is a good time to take your shot.