The hottest stock in the world is AMC. Yes, the movie theater chain. On Wednesday it was the world's most traded stock and made up 11% of the total volume on the New York Stock Exchange. 
In March of 2021 — when the pandemic was beginning — AMC had a market cap of $166 million. Today, AMC is worth more than $15 billion. 
I'm not going to do a deep dive into AMC's financial situation because it doesn't really matter. All that matters is that hedge fund shorts are getting squeezed and people are making money. The valuation is really irrelevant. But still, I can't resist a few lowlights.
Debt: $5 billion

Deferred rent: $450 million

Revenue: -84% YoY
AMC shares are completely disconnected from reality. There's simply no way you can justify the current valuation. Here's a chart that shows Google searches for the term "movie tickets" over the last 5 years.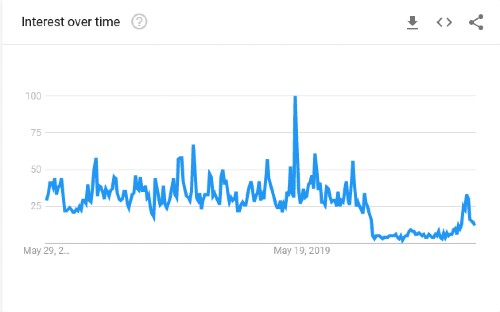 Is the movie theater business going to return to normal eventually? Sure, it's possible. But even if it did, it wouldn't come close to justifying AMC's share price. 
AMC is being pumped on Reddit's WallStreetBets forum and by major influencers like Tyler and Cameron Winklevoss. Cameron recently called for both $500,000 bitcoin and $500,000 AMC on Twitter.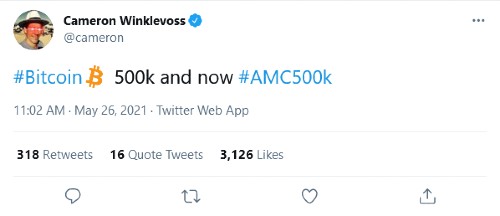 It's clear to many of us that this is a joke to him. He's just gambling some fun money and seeing how far they can push it. Here's another Winklevoss tweet about AMC from back in January.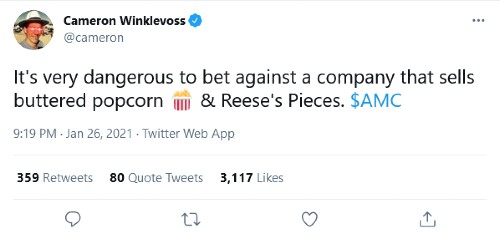 The problem with this is many new investors think he's serious about the stock possibly going to $500,000. They don't understand valuations, earnings multiples and discounted cash flow. Or the fact that at $500,000, AMC would be the largest company in the world. 
For people that don't understand the markets or might be struggling financially, the temptation to get into these "meme stocks" must be overwhelming. And for now, it's working out pretty well for buyers. But I'm concerned this thing is going to fall apart eventually. And when that happens, people are going to get burnt. I'm also concerned that the Winklevoss twins are conflating bitcoin and AMC, as if they're even remotely the same type of investment. 
This is another one of those decentralized stock pumps I wrote about earlier in the year.
I don't see the GME phenomenon and other squeezes as revolutionary. They are remarkably well organized — and decentralized — stock promotion campaigns. And I do believe that WallStreetBets and other retail trader groups will continue to rise in power and influence. I will continue to follow their activities with great interest, rooting for them to make "tendies" (tendies = chicken tenders = profits in WallStreetBets lingo). 
It's a fascinating phenomenon, but it does make me worry about where we are in this cycle. Towards the end of bull markets, retail investors almost always get heavily involved. They make a bunch of money — and then they lose all or most of it. 
Just to be clear, I am NOT saying you should short AMC. This craziness could continue for some time. I have no position in AMC — long or short. And I don't recommend getting involved in this stuff unless you're a professional with an amazing trading track record.