Crypto Market Musings
Despite recent regulatory slip-ups, Coinbase looks like the youngest sibling of the crypto exchange family that can do no wrong. In case you missed it, last week Coinbase reached a $100 million settlement over violations related to anti-money laundering legislation. In short, Coinbase allowed customers to open up accounts without sufficiently checking into backgrounds and had reportedly done very little by way of looking into existing suspicious customers that could be using the platform for illegal activities. The New York State Department of Financial Services fined the exchange $50 million and is requiring another $50 million to go toward beefing up the current compliance system. After the settlement was announced on Wednesday, Coinbase's stock (NASDAQ: COIN) rose 12.2%, closing at $37.70. Bad news for drug traffickers, but good news for COIN holders. As of this writing, the stock is at $42.92 — still up from Wednesday.
What Olivia Is Thinking About
I want to take a step back this week from current events in cryptocurrencies and exchanges. (I hope this is a welcome reprieve from being bombarded with SBF memes.) Instead, I want to break down some 2023 predictions for the world of venture and how exactly the venture climate will impact crypto amid the pending recession. 
According to a report by Galaxy Research, venture capital firms invested $31 billion in crypto companies in 2021. 2022 nearly matched 2021's record highs with $30 billion. But unsurprisingly, venture dollars flowing into crypto companies plummeted on a quarterly basis throughout last year — so much so that the fourth quarter of 2018 saw more capital than the fourth quarter of 2022. 
Many factors contributed to this decline in venture funding — most obviously soaring inflation rates, economic instability, and weak investor confidence in the space following the spectacular collapse of FTX. And crypto does not exist in a vacuum. Just a few weeks ago, I explained how the fall of FTX had a domino effect on artificial intelligence companies. And if you look at bitcoin prices compared to dollars invested in crypto startups, it's impossible to miss the correlation. The declining value of the crypto market has undoubtedly made it harder for entrepreneurs to innovate in the space.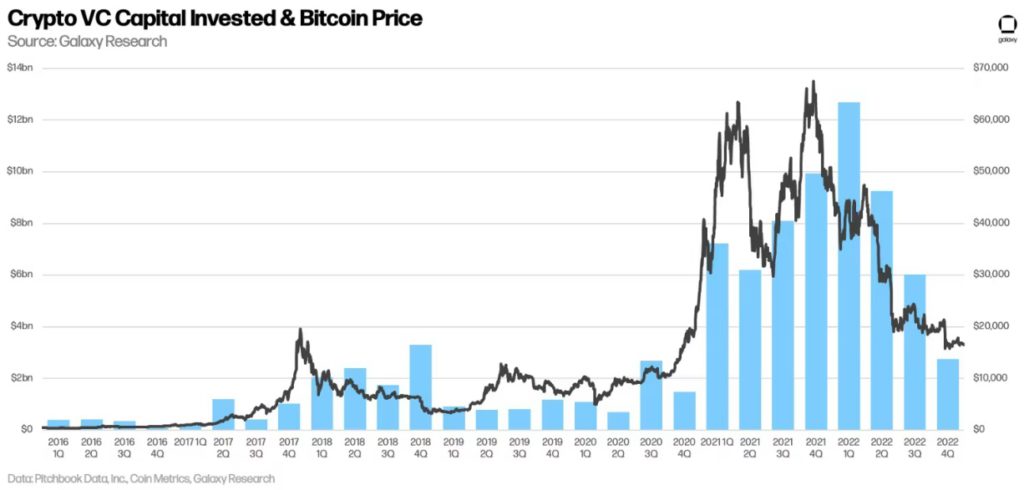 Declining venture dollars fuel one of many predictions for crypto in 2023. It's clear that crypto venture investments will likely continue to decline as we move into the new year, but this might not be all bad news. Crypto and fintech, many argue, were overfunded sectors in 2022. This decline should be considered a rationalization that will force entrepreneurs to up their game while also weeding out superfluous or illegitimate projects. As Mahesh Vellanki for Cointelegraph explains, "new settlement (layer 1s/2s), interoperability (layer 0/bridge), lending and trading protocols will continue to get funded to fill the vacuum resulting from the changes resulting from the recent hacks, treasury shortfalls, regulatory changes and exchange collapses." In my opinion, this may be just what the industry needs to start the new year off on the right track. 
And Finally…
The official Game of Thrones NFT collection launched this week and sold out on the Nifty's marketplace in just seven hours. Despite the demand, many have flocked to Twitter to mock the art, which is… interesting, to say the least. Similar to the season 8 finale, the NFT collection left fans feeling underwhelmed. You can see for yourself here.